Next Up on Game of the Week: Two Catholic School Face-Offs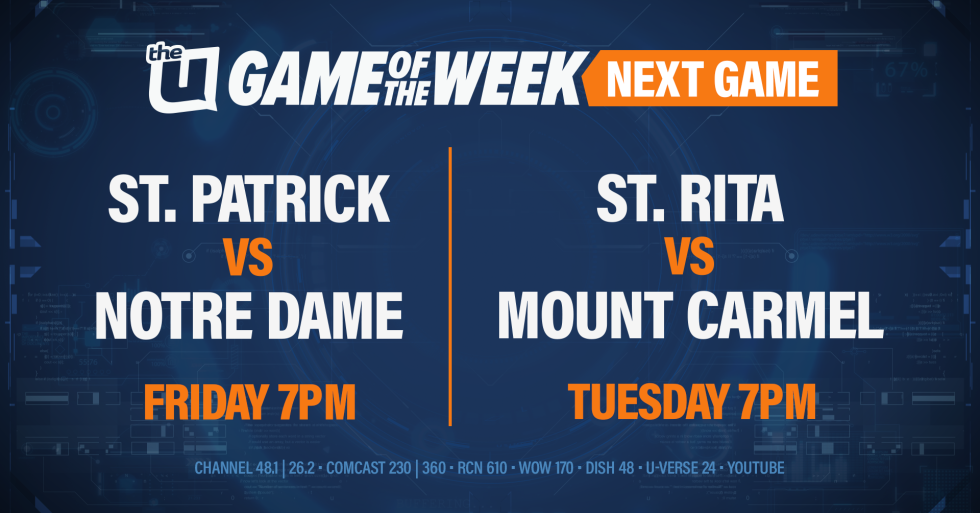 The competition is heating up as Game of the Week continues with LIVE Illinois high school basketball coverage continues. Kicking things off this Friday, January 20, it's Notre Dame College Prep vs. St. Patrick High School at 7P on The U.
These two teams last went head-to-head in early December. The St. Patrick Shamrocks came out on top against the Notre Dame Dons, 59-40.
Notre Dame is now coming off a win over Nazareth Academy 38-36, and is hoping to keep the momentum going in this highly-anticipated rematch against the Shamrocks. Start your weekend off and see which of these teams will get the win, Friday on The U.
Next, it's another Catholic school face-off with #18 ranked St. Rita vs. #10 ranked Mount Carmel, based on Week 3 of Michael O'Brien's Chicago Sun-Times Super 25 Basketball Rankings List. Both teams have had great seasons so far with Mount Carmel up 18-2 in wins and St. Rita with an overall win ration of 11-8. Watch these two teams compete and get the play-by-play from our team of experienced broadcasters, Tuesday, January 24 at 7P.
The U can be seen on Channel 48.1 and WCIU, Channel 26.2, XFINITY 230|360, Astound TV 35, Dish 48, Spectrum Charter 191 and U-Verse 24 and YouTube.