Getting to know Miss Voluptuous USA 2017, Chicago native Christine Houser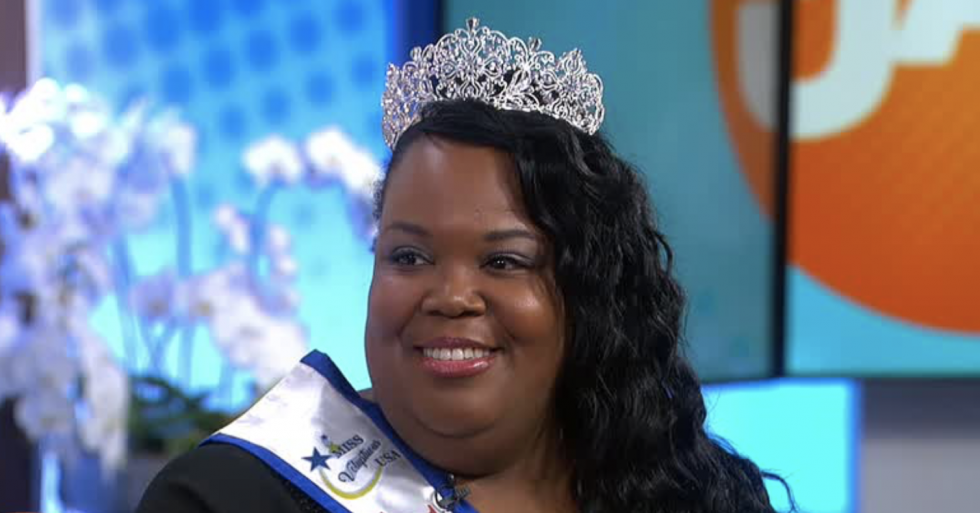 Christine Houser is a newly crowned beauty queen, however her title is not stereotypical. She is the new Miss Voluptuous USA. The Miss Voluptuous Pageant was designed to celebrate plus-sized women of all nationalities who are committed to being a positive example to their communities. The organization reaches past the stage lights and glam. The contestants commit to community outreach throughout the competition and once they are crowned.
The pillars of the organization are truly reflected in Miss Voluptuous 2017, Christine Houser. She is Chicago native with passion for the community. She plans to use her newly acquired platform to inspire girls and fight against bullying. We chatted with her to find out what it really means to be Miss Voluptuous.
What's the preparation like to get to the crown?
Houser: You prepare yourself mentally and physically. There is a process of training including pageant coaches, runway coaches, media relations lesson…. I have been preparing since 2015 for the title.
How have you been changed by the experience?
Houser: I have grown a lot since the very first time I competed, and it's a good change. I have a new outlook on pageants. I have always wanted to do a pageant as a child, but you never know the whole process. All you think of is beauty when it comes to a pageant, but there is so much more.
When was your first pageant?
Houser: My first pageant was in 2015. It was the same pageant. I am the type of person that will try, try, try again. I would have been competing until I got the crown [laughs].
This is not just a standard pageant — you are titled Miss Voluptuous. How does that carry a different meaning?
Houser: We actually have a platform that we must be active within. My platform is against bullying. This is very dear to me because I was bullied as a child. I always wanted to give back in that sense, specifically to children who are going to school and just want to fit in. I never fit in because I did not fit the norm, or so I thought. This pageant meant everything because it was glorifying women with curves and we had to give back to our communities.
What was your favorite community service activity?
Houser: I think the community service project that stands out to me the most was the Bud Billiken Parade. Just seeing all of the little faces, all of the little girls. They were so excited to see all of these women with crowns. They were yelling out, "Look at the queens!" Just to see that they were looking up to us and wanting to do this, as well. It was impactful to see little girls of color saying, "This can be me one day."
How do you feel about the efforts to remake the "princess" image? I just saw a campaign post called "Princesses Eat Doughnuts, Too." They showed the Disney princesses eating a variety of food.
Houser: [Laughs] I think this is excellent, especially for a person like me. By age 10, I started gaining weight. I was a little bigger than the girls in my class. We were told to look a certain way and eat a certain way. I was interested in cheerleading and they did not have a uniform that fit me. I think thats a wonderful campaign, because in real life we do eat donuts, too.
How do you feel your crown can affect girls and women in the community?
Houser: I think that they can see themselves in me or any of the other delegates in the pageant. Just because of the simply fact that it is tangible, its not just on TV or [Disney] Princess Tiana. They are seeing real life princesses and queens. I know that children nowadays are lead by the media. They do not understand the content that they are watching. They believe this is how they should act. The women in the pageant and queens hold themselves to a higher standard. I think that today's youth lack guidance when it comes to respecting themselves. I think they could look to as and say this is cool as well.