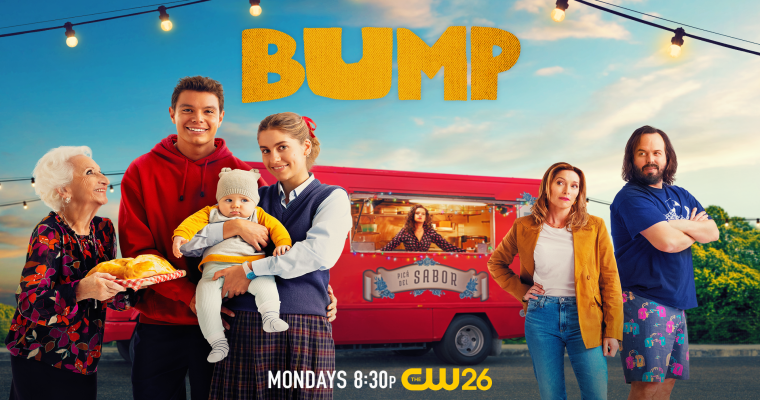 Bump
Mondays at 8:30P
Bump is an Australian comedy-drama series about Olympia ('Oly') Chalmers-Davis (Nathalie Morris, "Almost Paradise," "One Lane Bridge"), an overachieving 17-year-old student who knows exactly where she's going. Her boyfriend, doctor's son Lachie (Peter Thurnwald, "King Kong: Skull Island," "Thor: Ragnarok"), ticks all the right boxes; she and her best friend, Reema (Safia Arain, "One Lane Bridge," "Black Christmas"), share an ambitious 10-year plan: top grades, international relations at a university, work for the UN, save the world.
At school, Oly collapses in agony. She's sped to hospital in an ambulance, accompanied by Angie, and they are both stunned – horrified! – to discover that Oly is in labor. Blindsided, in deep shock, Oly rejects the baby entirely. If she doesn't acknowledge the baby, then she doesn't have to acknowledge how her life has irrevocably changed, or that the baby's father is not her boyfriend; it's Santiago "Santi" Hernandez (Carlos Sanson, Jr., "Legacies," "Malibu Rescue: The Next Wave"), the laid-back son of Angie's major work crush: Chilean soccer coach Matias (newcomer Ricardo Scheihing-Vasquez).
In Season 2, Oly and Santi work to even out the parental load all while continuing to navigate high school.
Videos
Watch the U.S Series Premiere of Bump August 11 on CW26!
In this Australian comedy, things don't always go according to plan. Watch the U.S Series premiere of Bump Tuesday, August 11 at 7P on CW26!