Labor Day Party Recipes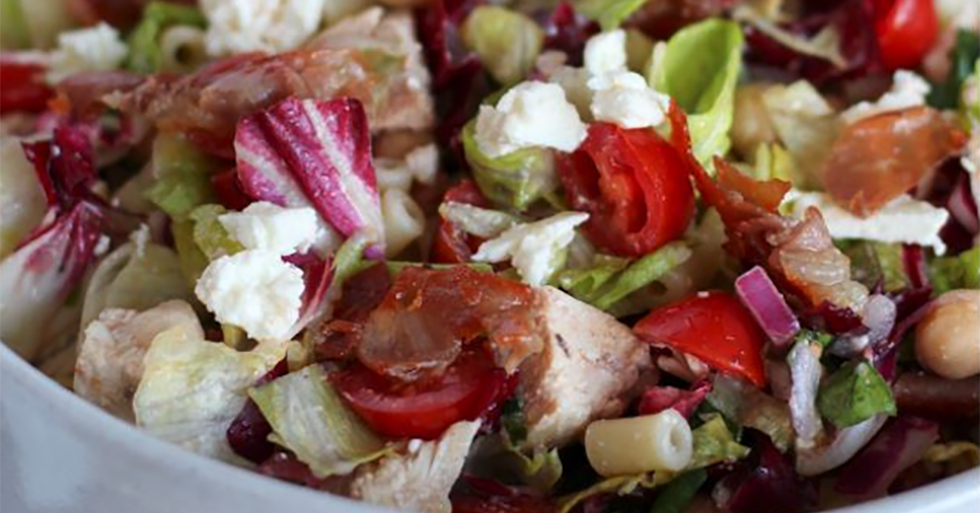 20
min prep time |
25
min total time |
4-6
servings |
average
to make
Portillo's Chopped Salad
Ingredients
1 heart of romaine
1 medium-sized head of iceberg lettuce
1 can of chickpeas, rinsed under water
10 slices of prosciutto, cooked in saute pan until crisp
1 box of cherry or grape tomatoes
1/4 small red onion
1/2 pound Ditalini pasta
1 block of feta (6 oz), crumbled up
2 chicken breasts
1/4 cup of olive oil
1/3 cup of red wine vinegar
salt and pepper
Italian seasoning
Directions
1
Set a pot to boil and cook the pasta noodles until al dente. Rinse and run under cool water. Set aside.
2
Heat a pan with olive oil and pan fry the chicken breasts. I cooked one side for 10 minutes, flipped, and then cooked the other side for another 10. Set aside to cool.
3
While the chicken is cooking, chop your romaine lettuce, iceberg lettuce and radichio. Add to a bowl with chopped tomatoes.
4
Thinly slice or mince the red onion and add that to the bowl.
5
Add chickpeas, feta and ditalini pasta.
6
When the chicken as cooled, cut into chunks and add to the bowl.
7
Cut your prosciutto into bite sized pieces and add to a hot saute pan. Keep an eye on it as it cooks, moving the prosciutto around so none of it burns. Once the pieces are crisp, remove from the heat.
8
In a small bowl, combine olive oil, red wine vinegar, salt, pepper and Italian seasoning. Whisk with a fork and pour over the salad.
9
Stir in the crispy prosciutto last, so they don't get soggy.
10
Serve with Georges DuBeouf Fleurie wine!
15
min prep time |
15
min total time |
4-6
servings |
easy
to make
Pesto Hummus
Ingredients
1/2 cup fresh basil
2 cloves garlic
3 tbsp parmesan cheese
1/2 lemon
2 tbsp olive oil
1 (28 oz) can of chickpeas
salt and pepper
1 tbsp tahini
Directions
1
Combine the basil, garlic, parm, lemon and olive oil in your food processor.
10
min prep time |
10
min total time |
4-6
servings |
easy
to make
Rosé Sangria
Ingredients
1 bottle of Chloe Rosé
1.5 Cups Sparkling Water
1 Cup raspberry lemonade
1 apple
1/3 cup of strawberries
1/4 cup of raspberries
Directions
1
Chop the fruit, mix it all up, chill, and ENJOY!
10
min prep time |
10
min total time |
4-6
servings |
very easy
to make
Raspberry Mocktail
Ingredients
La Croix or sparking water
raspberry lemonade
raspberries