Essentials for new moms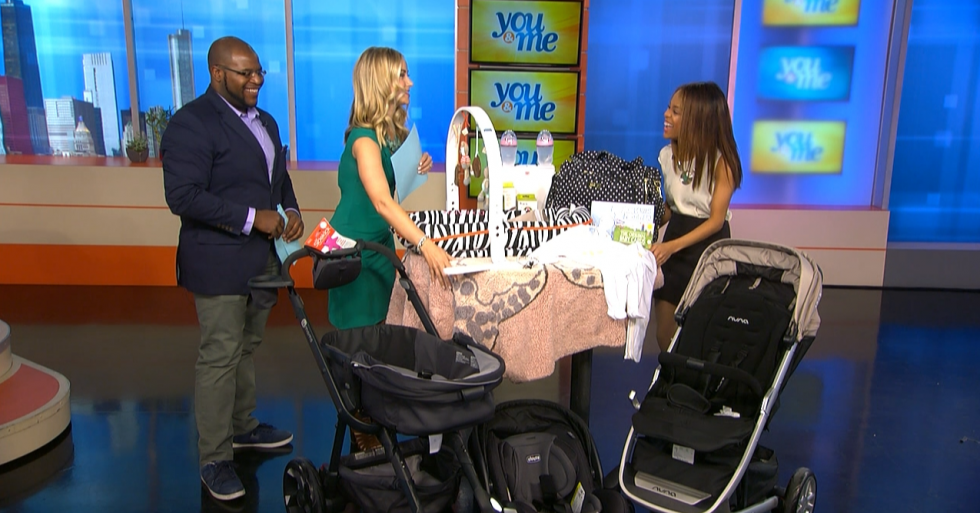 Are you a new mom or a mom-to-be? Preparing for your little one can be overwhelming.
New mom Ashley Barnes of You & Me shares essential products for her baby and gives a lucky new mom a special surprise!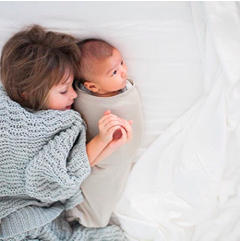 The award-winning Ollie Swaddle is a totally unique swaddle that's made better, feels better and helps your baby sleep better. The Ollie is named after and invented for a baby boy named Oliver—a foster baby that wasn't thriving until Ollie Swaddle founder (and his foster mom) Hindi developed it. It helps improve quality and duration of sleep for all babies (including preemies and high risk) and helps baby self-calm. The super soft patented moisture wicking fabric ensures that baby's temperate is regulated and he/she does not overheat. The Ollie Swaddle has been shown to reduce fussiness/colic and help babies sleep. It can reduce stress in preemies and high-risk infants and ease the pain of colic. It can also help keep baby in a safe, supine sleeping position and prevent sudden jerky arm and leg movements that wake babies up.
The elasticity allows for freedom of movement while the opening at the bottom makes it easy to change diapers. Parents and newborns everywhere need the Ollie Swaddle! The Nature Collection features four new colors—Lavender, Sky, Nest and Stone. The new solid colors are soothing, calming and sleep inducing. Certain colors and patterns can be over-stimulating to your little one's eyes and consequently could have the opposite effect of soothing. The new colors will make baby feel calm, comforted and at peace. Retails for $59.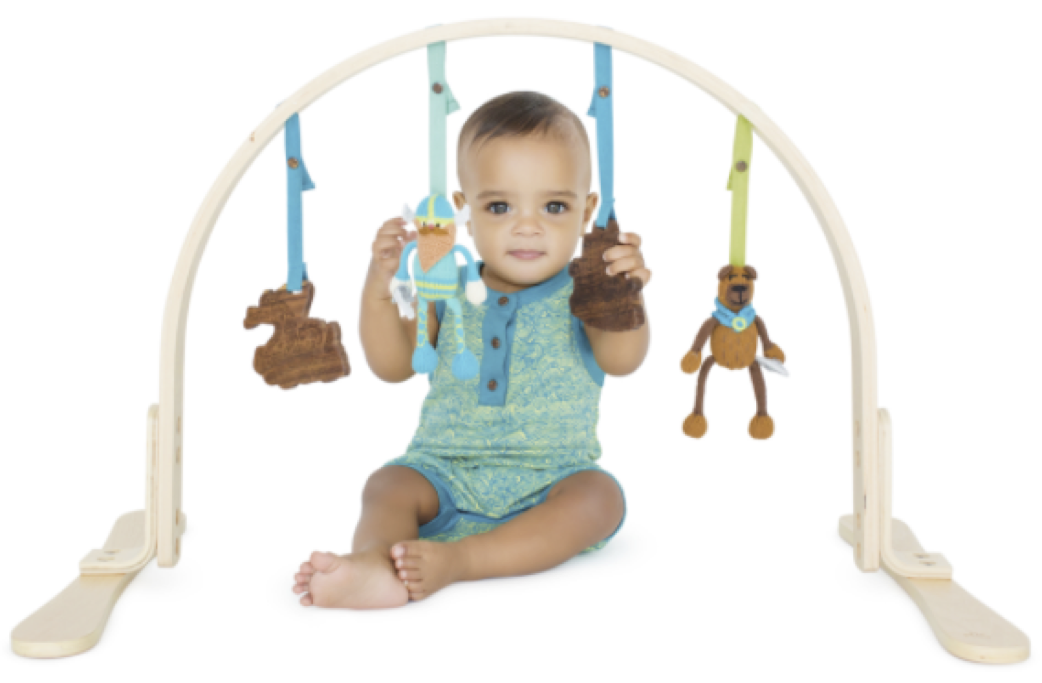 Finn + Emma's eco-friendly and adjustable 2-height Play Gym has a 100% birch wood frame finished with non-toxic stains and lacquers (free of lead, phthalate, nickel, mercury, and VOC's). The wooden toys are non-toxic and made from all natural, untreated indian hardwood buffed with vegetable seed wax. The knit dolls were made with phthalate-free rattles inside and hand knit from organic cotton. All Finn + Emma play gym buddies are interchangeable, can be used away from the Play Gym in the car, the bumper bar of your stroller or on a high chair, and best of all never need a ride home at the end of the playdate. $135.00
Lorena Canals Machine-Washable Rug in Butterfly Vintage Pink or Butterfly Vintage Green
This classic rug will add a vintage yet modern touch and feminine flair to any room or nursery--it's a beautiful specimen that livens up any space! Each rug is individually and carefully handmade, making each one unique. Lightweight for ease in transportation, they are soft and cozy, bringing warmth and sweetness to any room. The machine washable rugs are made with non-toxic dyes and with 100% natural raw materials, making them safe, healthy, and environmentally friendly. Lorena Canals is socially responsible and does not employ child labor in any of their activities. With profits, Lorena Canals finances the education of children in northern India to give them the opportunity to decide their future. Available in Butterfly Vintage Pink or Butterfly Vintage Green, it retails for $266.00.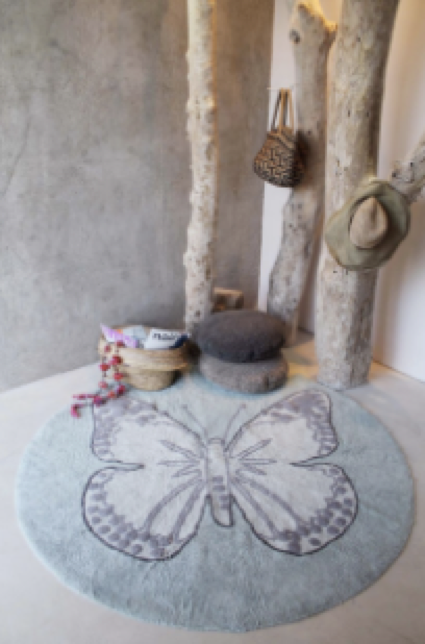 The DockATot baby lounger gives parents a safe, snug spot for little ones to comfortably relax, play, and get in tummy time and sleep with a unique shape and design. Moms and dads love DockATot's portability, as it can go anywhere at anytime so baby can get the rest he or she needs at home and anywhere. For a baby to be perfectly comfortable and safe, we need to think not just about their global climate, but about their microclimate as well. DockATot is hypo allergenic and made with the most nurturing and hygienic fabrics that also have excellent air-permeability. DockAtot provides the ideal microclimate that mimics the womb. It's 100% breathable and even safety tested in the UK for air permeability.
The stylish covers are perfect for chic moms and dads. All covers are machine washable and safety-tested. Choose from a range of designs from neutral to geometric to fit into any existing decor.
The DockATot Deluxe is for tots ages 0-9 months and retails for $185+. DockATot's celebrity following includes: Kim and Kourtney Kardashian, Jennifer Love Hewitt, Molly Sims, Emma Hemming Willis, Missi Pyle, and Tiffani Thiessen. DockATot is a Mom's Choice Award, TillyWig Award, and Silver NAPPA Award Winner and has earned the National Parenting Center Seal of Approval.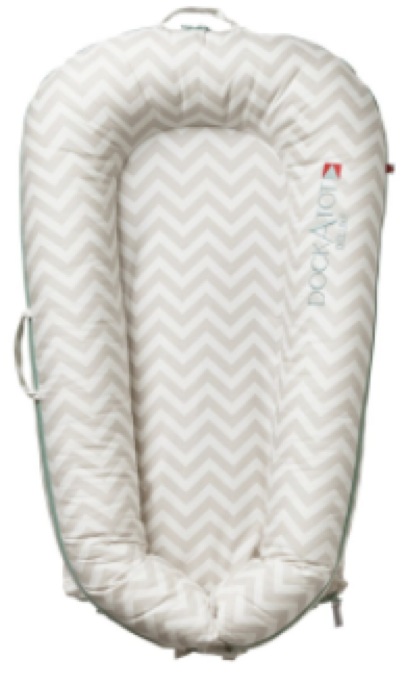 Isabelle Grace Jewelry's Bebe Name Charm Necklace
The perfect gift for a new mom! Features a handmade fine (.999) silver disc charm with a brushed matte finish, inscribed with baby/child or loved one's name and accented with a tiny Bebe charm. Necklace includes one disc name charm (approximately ½ inch) and the Bebe charm on a sterling silver bead chain. Price includes inscription on both sides. Charms are custom inscribed with up to 8 characters on the front and back. Retails for $125.00.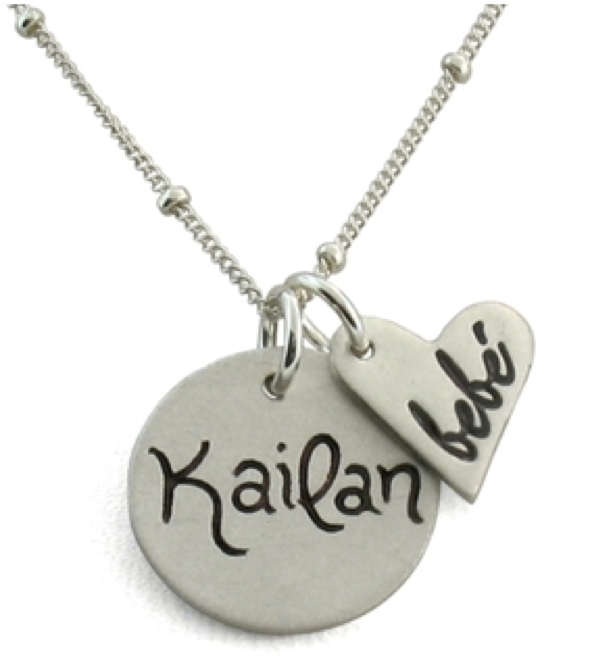 Feltman Brothers Pima Cotton Layette Collection
Feltman Brothers' new Pima cotton layette collection features their beautiful smocked and embroidered trademarks and baby-friendly functionality to create items for everyday comfort and enjoyment. Made exclusively from the softest, most durable cotton grown in Peru, you'll be in awe over how Feltman Brothers stayed true to their heirloom quality while providing items that are perfect for babies the moment they arrive in this world. Moms and dads love he durability of the collection, lasting multiple wears and washes. The new Pima cotton layette collection features adorable designs like a sailboat, little chick, blossoms, a rocking horse, a nautical theme, and butterflies.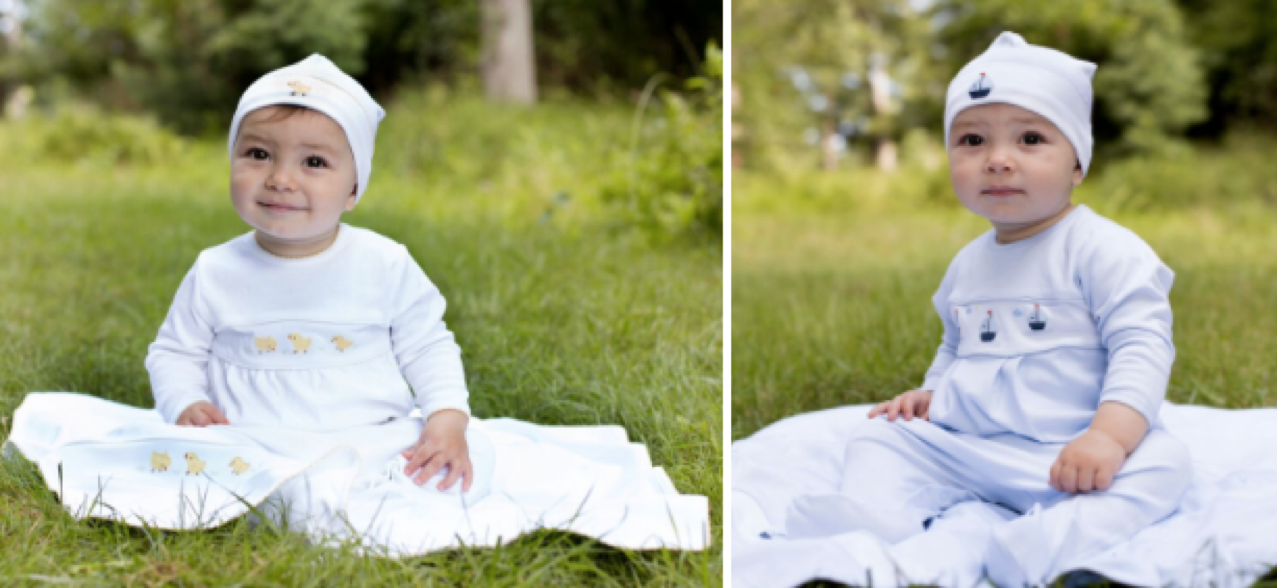 Kleynimals Stainless Steel Toy Keys for Baby
Kleynimals are innovative stainless steel baby toys with adorable animal faces that your child will love. Founded by a mom looking for toxin-free baby keys her baby could play with as an alternative to her real keys, Kleynimals are environmentally friendly, non-toxic, and dishwasher-safe. They are also proudly made in the USA. Kleynimals toy keys retail for $28 and feature safari friends designs- Eli the Elephant, Gus the Giraffe and Leo the Lion. Free of the hazards of lead contamination, sharp edges or the daily grime from the bottom of your diaper bag, Kleynimals toy keys an be custom engraved with baby's name/birth date for an additional charge • Kleynimals is a socially responsible company, donating 1% of every purchase to Healthy Child, Healthy World and another 1% to World Wildlife Fund.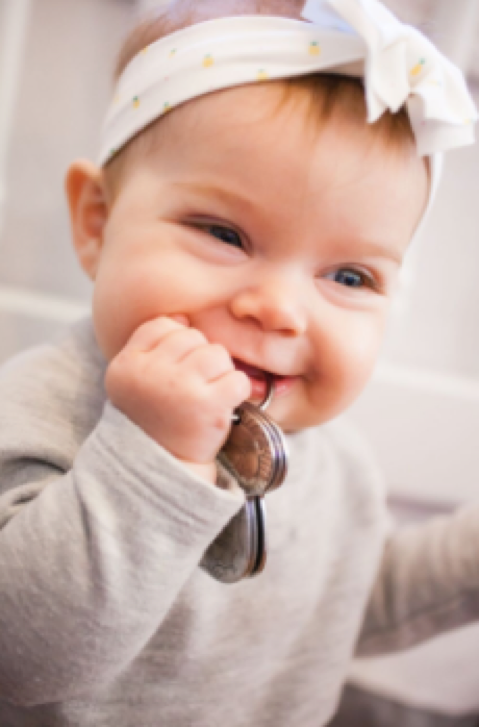 There are many parenting books and guides out there that showcase what to expect, and try to educate new parents, but few offer the very real, fresh, and funny perspective Alison Wong, author and creator of New Mom Comics, provides with her book. Based on her own experience as a new mom, her comics touch on everything from blowouts to breastfeeding with wit and humor that any parent will appreciate! Talk about a parenting book that parents can actually relate to!
Alison's new book is wonderfully curated from some of the most enjoyable comics in her collection, with a view to encourage parents, new and not so new, and let them know that they are not alone! It is so important to remember that perfect parents are a myth and we all need to take the time to laugh at ourselves a little. New Mom Comics: The First Year makes for a great new mom/new baby or baby shower gift! The paperback book is 120 pages long, with some color. Retails for $15. See the newest comics on their Facebook page.