Get to know IHSA Play-by-Play Announcer Dave Bernhard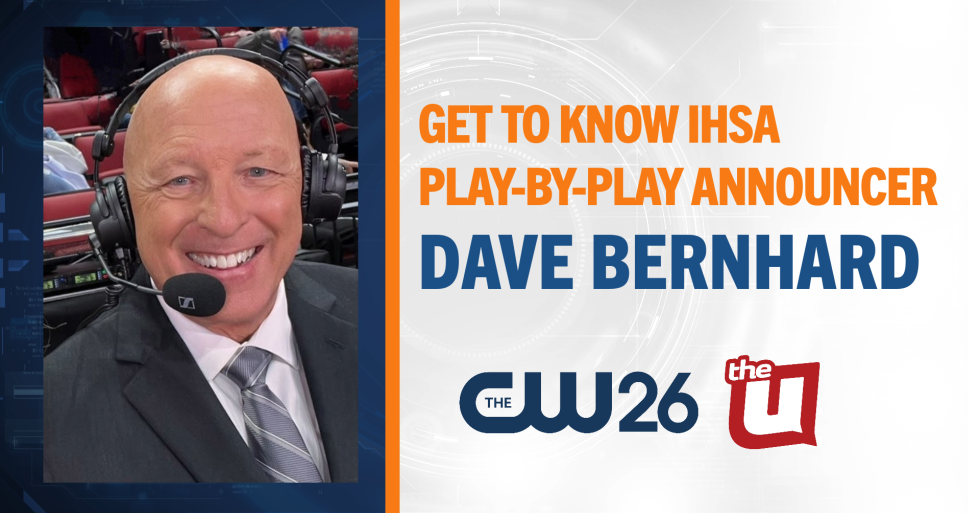 As our live IHSA coverage of the 2023 Football State Finals inches closer and closer, get to know one of the distinguished members of our broadcast team, Dave Bernhard.
Bernhard will be the Play-by-Play Announcer for our State Finals Class 3A, 4A, 7A, and 8A Championship game coverage, providing a detailed description of the action going down on the field. His deep knowledge of IHSA football paired with his storytelling make for an action-packed watching experience where his passion comes through each broadcast.
Bernhard first began working at the IHSA TV Network in 2000. He started with football games but has since announced baseball and both boys and girls basketball. Since the start of his professional career, he has called a total of 264 championship games on TV/stream and at least 10 on local radio. In addition, he has called a total of 780 state finals games including semifinals, 3rd place games, and championships (with four more coming up.) In 2016 Bernhard was awarded the IHSA Distinguished Media Service Award at Slammer Stadium in Joliet as a part of the IHSA Class 3A/4A Baseball State Finals. This award was given in recognition of his nearly 40-year career covering Illinois high school sports in print, television, and radio.
Ever since he was a child, Bernhard felt called to the career of sports announcer. As a student at Beecher (IL) High School, he and his class would watch the IHSA Boys Basketball State Finals. He remembers thinking about how lucky the announcers were and now, years later, finds himself the lucky one. The IHSA network, Weigel Broadcasting and our audience are lucky to have him in the booth.
See him, and the rest of our broadcast team, in our IHSA 2023 Football State Final Championship coverage Friday, November 24, on The U and Saturday, November 25, on CW26.