Fill A Bag, Fill A Bus: Let's End Hunger in Chicago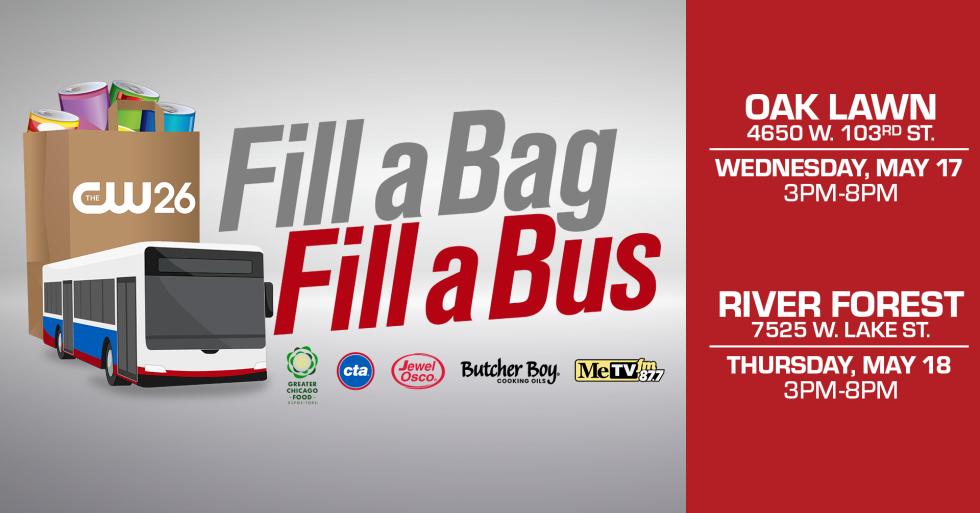 CW26 has partnered with MeTV FM, the CTA, Jewel-Osco, the Greater Chicago Food Depository, and Butcher Boy Cooking Oils for our annual 'Fill A Bag, Fill A Bus' food drive to end hunger in Chicago. We'll be at Jewel-Osco stores asking you to help fill a CTA bus with nonperishable food items for neighbors facing hunger. Your donations of canned goods will go directly to the Greater Chicago Food Depository.

Did you know:
One in five households in the Chicagoland are food insecure.
Summer can be a season of increased need among families with children. Kids who depend on the free and reduced-price meals that they receive at school lose access to that nutritious meal during summer break when school is out.
Food costs have increased for both consumers and the Food Depository. GCFD is now spending twice as much on food as it did two years ago and more than triple what was spent in fiscal year 2020.

If you want to take part:

Wednesday, May 17th, join us at the Jewel-Osco at 4650 W 103rd St. in Oak Lawn from 3P-8P to donate and meet CW26 talk show host and native Chicagoan, Steve Wilkos. He'll be there collecting donations from 3P-6P, so come by and say hello!

Thursday, May 18th, we'll be at the Jewel-Osco at 7525 W. Lake Street in River Forest from 3P-8P where our mission to the fill the CTA bus continues.

If you can't make it to a Jewel-Osco, get in on the action by donating online. Every $1 donated provides 3 meals to hungry Chicagoans.

Just Text CW26 to 91999 or click HERE to donate NOW!

This past December, due to your generosity, we raised 15,000 meals for our neighbors in need. Now, with more Chicagoans in need than ever, help us continue the fight to end hunger in our city!

The Food Depository's most needed items include: canned beans, canned chili, canned soups, canned stews, canned fruits, canned vegetables, canned fish and peanut butter.