Chicagoans respond to Charlottesville tragedy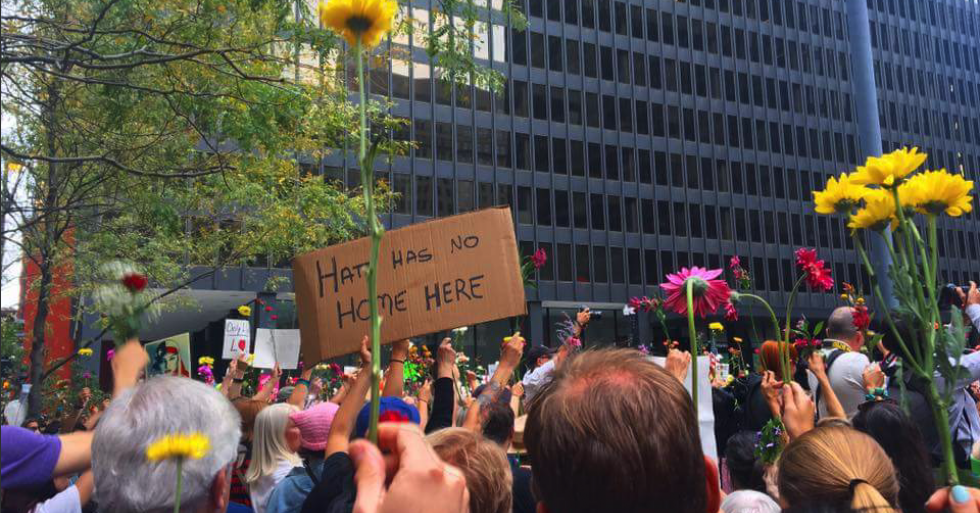 This weekend, tragedy struck in Charlottesville as a protest turned violent when a car drove directly into a group of protestors. Chicagoans united to show support for the victims in Charlottesville. Through social media, people organized and showed their support in downtown Chicago.
Over 1,200 people gathered in Federal Plaza for a vigil organized by Women's March IL. The group held up flowers as a "living memorial" for Heather Heyer, the victim who was killed during the incident. The goal was to come together and denounce hate in America.
@ Chicago vigil to #standwithCharlottesville, a 'living memorial' for #HeatherHeyer, with hundreds of folks raising their flowers. #RIPower. pic.twitter.com/W68QM3Y6lo

— Women's March - IL (@womensmarchIL) August 14, 2017
Another group of protestors from the Refuse Facism movement gathered at Millennium Park and march to Trump Towers. The organizer wrote on Facebook, "We must mourn and we must organize."
There's a Trump protest in Chicago rn pic.twitter.com/IO2PKphRvB

— J-L3N The Trashboi (@DJJ_L3N) August 13, 2017
The spirit of unity and anti-racism sentiments was also reflect by Mayor Rahm Emmanuel in his statement to the public.
"We are saddened by the ongoing events in Charlottesville, and our thoughts and prayers are with the people of Virginia. As Americans, our greatest strength is our diversity, and that is just as true in Chicago as it is across the country. Violence rooted in racism, bigotry and prejudice has no place in our society and must be condemned at every turn. As one of our nation's greatest voices for justice and peace, Martin Luther King, Jr., reminded us all, 'We must learn to live together as brothers or perish together as fools.'"