Tis' the season to be watching CW26's Holiday programming!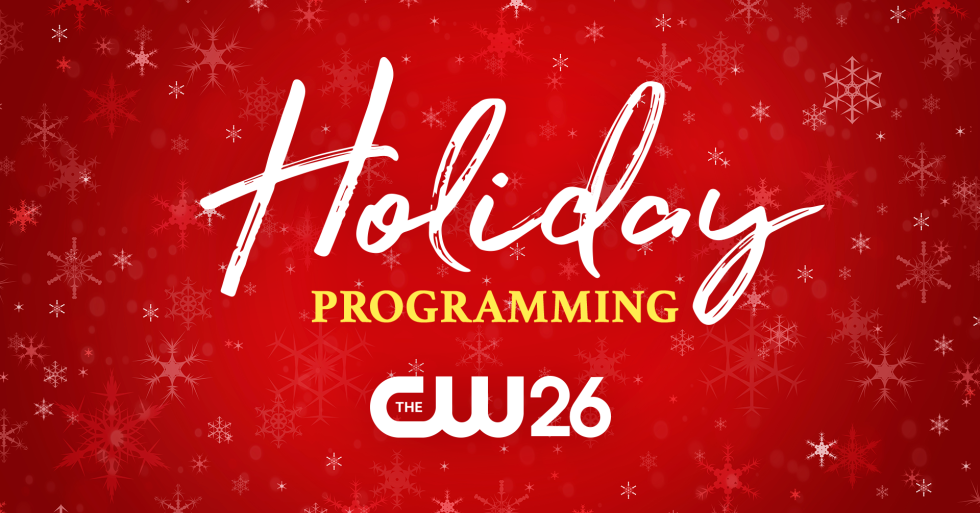 Feel holly and jolly all season long with festive Christmas specials from your favorite CW shows, classic holiday movies fit for the whole family, and the annual iHeartRadio Jingle Ball - only on CW26.
Check out the full programming schedule below and be sure to tune in to CW26 beginning this week.
Grandma Got Run Over By A Reindeer
-Friday, December 23 at 7P
-Based on the hit song, this heartwarming holiday adventure features young Jake Spankenheimer on a quest to track down his missing Grandma on Christmas Eve to prove that Santa Claus is real.
Masters of Illusion: Christmas Magic
-Friday, December 23 at 8P
-This special holiday episode, hosted by Dean Cain, will feature some of today's hottest magicians performing some unbelievable magic tricks.
Christmas Around the USA
-Sunday, December 25 at 7P
-This NEW two-hour special, hosted by Dean Cain and Laura McKenzie, showcases how Christmas is celebrated around the United States of America, highlighting different holiday traditions and festive seasonal displays from all corners of the country.
iHeartRadio Jingle Ball 2022
-Thursday, December 22 at 7P
-This 90-minute holiday music event celebrates the season with performances by the year's biggest recording artists. This star-studded concert will feature performances from many of today's hottest musical stars including Lizzo, Jack Harlow, Charlie Puth, Demi Lovato and so many more!
Christmas Around the World
-Saturday, December 24 at 7P
-Hosted by Dean Cain and Laura McKenzie, this two-hour special showcases how Christmas is celebrated around the world by highlighting traditions from the ancient to modern day, including what various cultures eat for Christmas dinner. Viewers will also get a front-row seat to very special Christmas performances.
25th Annual Family Film Awards
-Monday, December 26 at 7P
-Hosted by Dean Cain and Laura McKenzie, this NEW two-hour special seeks to honor excellence in family-oriented filmmaking for both television series and movies as winners are awarded in a variety of different categories.
Ocean Emergency: Currents of Hope
-Tuesday, December 27 at 7P
-A NEW documentary focusing on the ongoing crisis our oceans are facing and how humanity can chart a better course to help save this fragile ecosystem. Hosts Dean Cain, Laura McKenzie, Elizabeth Stanton and Montel Williams go around the globe to share a firsthand look on the state of emergency our oceans are facing while providing tips to viewers on how to help mitigate this worldwide issue.
Popstar's Best of 2022
-Thursday, December 29 at 7P
- Host Elizabeth Stanton will count down the greatest and most memorable moments and trends of 2022 based on polls from Popstar Magazine.
iHeartRadio Music Festival
-Night One: Friday, December 30 at 7P
-Night Two: Saturday, December 31 at 7P
-Ring in the New Year with a special encore presentation of the two-day iHeartRadio Music Festival featuring incredible performances from some of today's most popular recording artists.