CW26 2022 and 2023 Fall Primetime Schedule Revealed!
May 23, 2022 1:08PM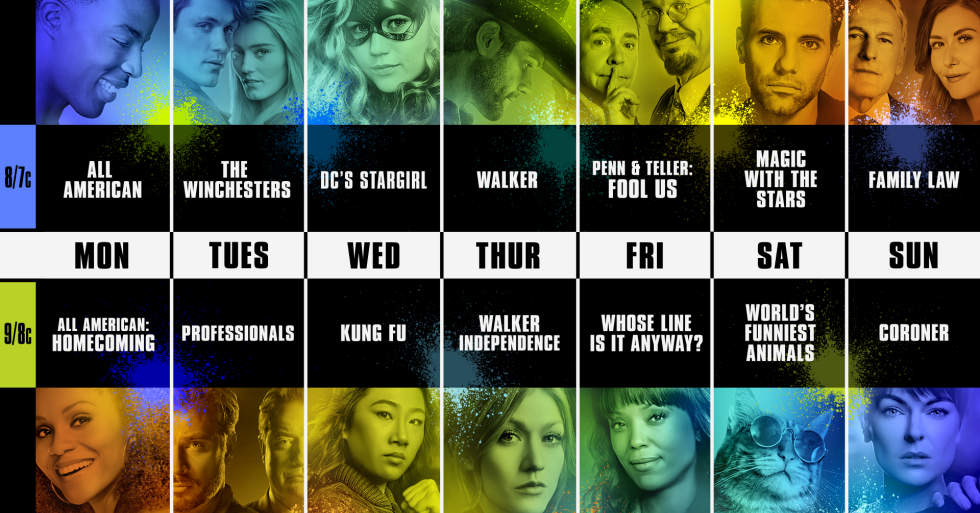 Thursday, March 19, 2022 The CW Network revealed its seven night a week Primetime schedule for the fall. Brace yourself for dramatic prequels such as Walker Independence and The Winchesters, more powerful superheroes in Gotham Kinights who are joining the ranks with Superman & Lois, The Flash, and DC's Stargirl, and brand new story lines that will suck you in with new shows, Professionals starring Tom Wellington and Brendan Fraser and Family Law starring Victor Garber and Jewel Staite.
Monday nights will continue to be all-things "All American" with All American at 7P with All American: Homecoming following at 8P. Walker fans can look forward to a similiar Primetime format and saddle up for back-to-back Western drama Thursday nights beginning at 7P with Walker then continuing on with our new Walker prequel, Walker Independence at 8P.
Wednesday nights we are bringing on the girl power with DC's Stargirl kicking things off (literally) with Season Three at 7P with Nicky Chen coming in hot with new episodes of Kung Fu at 8P.
CW26 continues to be the go-to channel for not just action and drama, but for laughs and awe! You can get them both on Fridays with Whose Line Is It Anyway? and Penn & Teller: Fool Us as well as on Saturdays with Worlds Funniest Animals and our new alternative magic series, Magic with the Stars hosted by Chris Angel, joining the lineup at 8P.
Stay up to date on all of CW26's fall schedule releases, as well as more information on Riverdale's final season when it returns midseason 2023, by following @cw26chicago on Facebook, Twitter, and Instagram