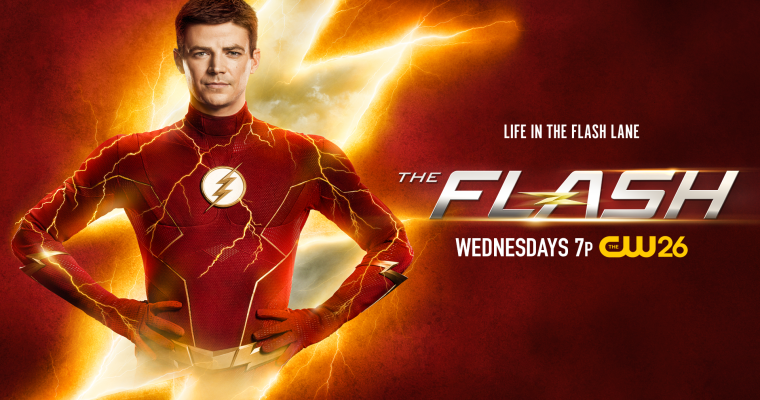 The Flash
New Episodes Wednesdays at 7P!
Barry Allen (Grant Gustin) lived a normal life as a perpetually tardy C.S.I. in the CentralCity Police Department. But his life changed forever when the S.T.A.R. Labs Particle Acceleratorexploded, creating a dark-matter lightning storm that struck Barry… bestowing him with superspeed and making him the fastest man alive — The Flash.
After stopping the Godspeed War last season, it's six months later and Barry and Iris West-Allen (Candice Patton) are now at the top of their game—both in their careers as superhero and reporter and as a devoted couple. But when the powerful alien Despero unleashes near annihilation on Central City, The Flash and his team—Caitlin Snow/Frost (Danielle Panabaker), Meta-Empath Cecile Horton (Danielle Nicolet), the light-powered meta Allegra Garcia (Kayla Compton), brilliant tech-nerd Chester P. Runk (Brandon McKnight) and retired detective Joe West (Jesse L. Martin)—must once again defy impossible odds to save the day. But their victory is short-lived as two new threats rise from the ashes of "Armageddon," one of which will unleash unforeseen horrors into the lives of Barry and his teammates… and change Team Flash forever. THE FLASH stars Grant Gustin as Barry Allen / The Flash, Candace Patton as Iris West-Allen, Danielle Panabaker as Caitlin Snow / Killer Frost, Danielle Nicolet as Cecile Horton, Kayla Compton as Allegra Garcia, Brandon McKnight as Chester P. Runk and Jesse L. Martin as Detective Joe West. Based on the characters from DC, THE FLASH is from Bonanza Productions Inc. inassociation with Berlanti Productions and Warner Bros. Television, with executive producers GregBerlanti ("Superman and Lois," "You," "Riverdale"), Eric Wallace ("Teen Wolf," "Eureka")and Sarah Schechter ("Batwoman," "You," "Riverdale").
Videos
Jordan Fisher Talks Reprising His Role In Broadway's 'Dear Evan Hansen'
Actor & singer Jordan Fisher has been one busy man these days! He recently starred in 'The Flash' as Barry's son, Impulse, and voiced a character in 'Star Wars Visions' on Disney Plus. Now that Broadway is officially back, he's gearing up and reprising his role as Evan Hansen in New York's 'Dear Evan Hansen'. Our Brandon Pope chatted with Jordan about what this show truly means to him, preparing for the role during the pandemic, dealing with mental health, and his feelings on Broadway re-opening after almost 2 years!