Meet Camrus Johnson from The CW Network's New Series Batwoman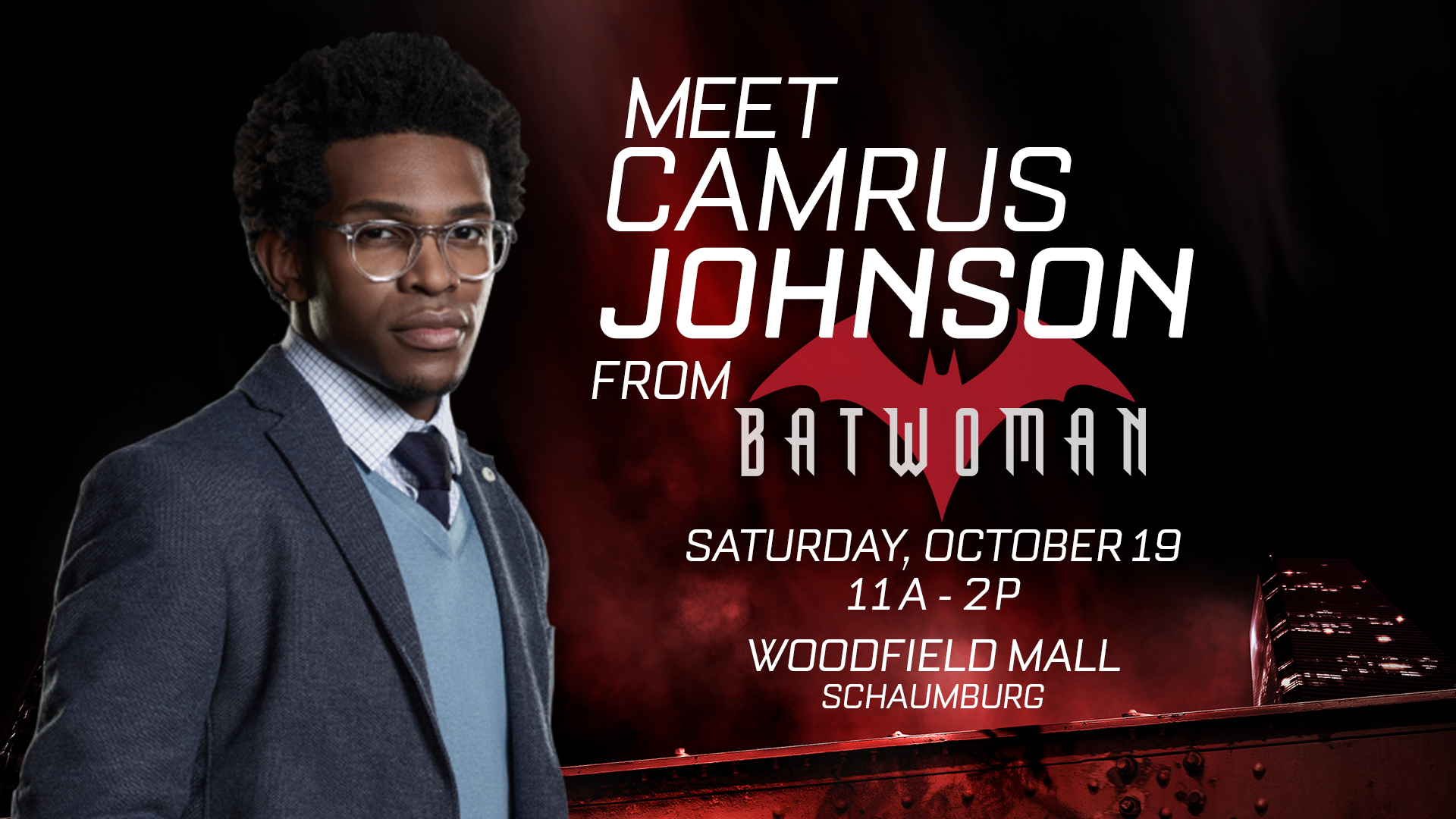 Meet Batwoman's Camrus Johnson Saturday, October 19th at Woodfield Mall in Schaumburg from 11AM - 2PM!
Hey superhero fans, join CW26 on Saturday, October 19th and meet Batwoman's Camrus Johnson at Woodfield Mall in Schaumburg, IL Saturday, October 19th from 11 AM – 2 PM!
Come dressed as your favorite superhero or character (no masks, toy or other weapons allowed) and you can win big bucks in CW26's costume contest! The first 200 people in costume will get a FREE Batwoman t-shirt!
You will also have the chance to take pictures with Camrus, spin our prize wheel for awesome giveaways, win door prizes, plus meet Felicia, Jon, and Amy from The Jam!
Join us for a fun-filled day!
Event Details:
Meet Batwoman's Camrus Johnson
Woodfield Mall
Schaumburg, IL
Saturday, October 19th
11 AM – 2 PM


Everyone planning on participating in the costume contest must be registered by 12:15P in order to be eligible to participate.
Door Prize Rules:
Win more prizes at the CW26 event! Follow us on Instagram - @cw26chicago, Facebook – CW26 Chicago, or Twitter - @cw26chicago and you will be entered into a random drawing for one of six prizes from CW26.
No purchase is necessary to enter to win prizes from CW26. To enter, show the designated staff member that you have followed or liked @cw26chicago on Instagram, Facebook, or Twitter at the event on Saturday, October 19. You will be given a ticket with a number on it. A corresponding ticket with the same number will be placed in a container. At the end of the event, 6 tickets will be randomly selected from the container and the number will be read aloud. The persons with the ticket with the matching number to the ones pulled will receive the prize. You must be in attendance to win. Only one entry per person allowed.


Costume Contest Rules:
NO PURCHASE NECESSARY. Void where prohibited. By entering, each entrant accepts and agrees to be bound by these Official Rules. Failure to comply with these rules may result in disqualification.
SPONSOR. This Sweepstakes is sponsored by 'Weigel Broadcasting Co.' and 'CW26' 26 N. Halsted, Chicago, Illinois 60661 (the "Sponsor"), which is solely responsible for the conduct of this Sweepstakes. Apple Inc. is not a sponsor of this sweepstakes.
ENTRY. A purchase is not required to enter or to win one of the three (3) prizes in each age category for the CW26 costume contest (the "Prize") from CW26. The contest will be held on Saturday, October 19, 2019 at 12:45 PM CT – 2:00 PM CT at Woodfield Mall Center Court unless extended by CW26.' To enter the contest, viewers attend the event, dress in a costume (masks and any representation of a weapon are prohibited), and must check in at costume contest sign in table located next to the children's play area in center court of the mall by 12:15 PM on Saturday, October 19. Participants will be divided into three (3) groups – 0-6 years of age, 7-14 years of age and 15 years of age and up. If more than 20 people are registered in an age division, there will be a 1st round of judging by CW26 staff at the check in table, prior to a second and final judging round. If there are fewer than 2- entrants in an age then all the entrants will move forward to the final judging round. At approximately 12:45, the top 20 (or fewer than 20) entrants by age division will be called up to the DJ booth for final judging by the Jam on-air team and special guest judge Camrus Johnson. Each group will be reviewed and scored by the panel of judges from CW26 based on the costume. There will be three (3) prizes awarded for each age category – First, Second and Third place. Winners determined by the combined scoring of the panel of judges, judges decisions are final.
ELIGIBILITY. The 'CW26 Costume Contest' is open to all legal residents of Illinois and Indiana who live in the Chicagoland television viewing area (as defined by A.C. Nielsen) and are 18 years of age or older. Participants under the age of 18 must have a parent or guardian with them and must sign a release form in order to participate in the contest. Employees and former employees of Weigel Broadcasting Co., 'CW26,' their advertising agencies, consultants, franchisees, suppliers, (collectively, "Sweepstakes Parties") are not eligible to enter or win, nor are such employees' family members. In addition, individuals who share a common household with an employee of a Sweepstakes Party or who are in any kind of domestic relationship or partnership with an employee of a Sweepstakes Party (e.g., boyfriends, girlfriends, fiancé, roommates) are not eligible to enter or win this Sweepstakes. Sponsor shall be the sole judge of what constitutes a domestic relationship or partnership in the event of a dispute.
PRIZES. Three (3) winners per age group will win prizes.
0 – 6 years of age – First Place Prize - $20 gift card. Second Place - $15 gift card. Third Place - $10 gift card.
7-14 years of age - First Place Prize - $100 gift card. Second Place - $50 gift card. Third Place - $25 gift card.
15 years of age and up - First Place Prize - $200 gift card. Second Place - $100 gift card. Third Place - $50 gift card.
PRIZE RESTRICTIONS & CONDITIONS. Prizes are non-transferable and subject to terms and conditions of the Prize provider and Sweepstakes Parties. There will be no substitute or cash redemption awarded to the Sweepstakes winners. All income and other taxes are the responsibility of the winner. By entering, the winner is consenting to the use of their name, likeness, and/or biographical information for advertising and promotional purposes without additional consideration, including any in-studio appearances.
DISCLAIMER OF LIABILITY. These Prizes are non-transferable and will be delivered to the winners at the event. Winners are responsible for income and other taxes on the Prizes. Winners will be required to sign and return an Affidavit of Eligibility, Release of Liability, Publicity Release and Letter of Indemnification on site at event. 'CW26' explicitly disclaims any and all warranties of any kind, including but not limited to, implied warranties of merchantability, fitness for a particular purpose, and non-infringement. The Sponsor and/or Sweepstakes Parties shall not be liable or responsible for those guarantees or warranties made or offered by advertisers, partners, manufacturers or suppliers, including those related to the Prize. Under no circumstances shall the Sponsor and/or Sweepstakes Parties be held responsible or liable for use of the information and/or products supplied and/or made available through the promotion or for errors or anomalies resulting in the unintended or erroneous participation, award of any prize or other benefits under the jurisdiction of these sweepstakes rules.
By participating in this Sweepstakes, all participants and prize winners agree that CW26's subsidiaries and affiliates and each of such entities' respective officers, directors, agents and employees are not responsible or liable for any injury, loss, illness, litigation or damage that may occur from participation in the Sweepstakes or acceptance, possession, use or misuse of prize. In the event that any dispute arises regarding the meaning or interpretation of these official rules, participants agree that the dispute shall be resolved by applying the laws of Illinois and that it shall be resolved by and within the state or federal courts of that state.
The Sponsor offers no assurances, warranties, or guarantees that the promotion in any media, including but not limited to on air, text/mobile phones and websites, will be uninterrupted or error-free and do not promise the accuracy or reliability of any information obtained through this sweepstakes. The Sponsor and Sweepstakes Parties will not be liable, and are not responsible, for damages of any sort connected to participation in or inability/failure to participate in the sweepstakes, whether the damages are direct, indirect, special, incidental, or consequential.
MISCELLANEOUS. The decisions made by 'CW26,' concerning any and all matters with respect to this promotion shall be final. If a Prize winner chooses to submit a photo to 'CW26,' they do so understanding that photos may be used at the sole discretion of 'CW26' – including on-air, online and social media promotional purposes. In the event of a computer, telephone failure, or any other circumstances beyond the control of 'CW26' where it becomes impracticable to award one or more Prizes, 'CW26' may, in its sole and absolute discretion, determine not to award any such Prize. This contest is void where prohibited, penalized or otherwise restricted by law. A copy of these official Sweepstakes rules are available at the 'CW26 offices located at 26 N. Halsted, Chicago, IL or by writing to 'CW26 Costume Contest' 26 N. Halsted, Chicago, IL 60661. 'CW26 must receive any request for the Winners' name, no later than November 20, 2019.