Point & Feather brings fun, darts and comfort food to River North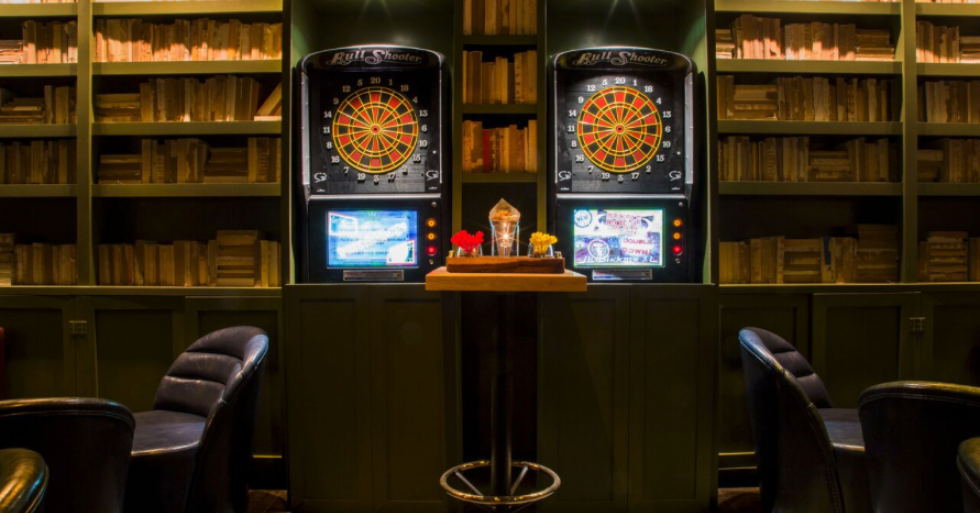 On November 9, 2017, Point & Feather, located 113 W. Hubbard Street, will host its grand opening of the new River North bar and kitchen concept. It has a self-proclaimed bohemian flair, with plenty of gathering space to unwind after work or to meet up with friends.
The concept is a remix of a classic dart bar, with integrated dart boards throughout the space. The space is divided into vintage libraries and living rooms, which are ideal nooks for friends to gather with some privacy. Each of the living rooms features distinctive art murals, Persian rugs, artifacts, vintage furniture and more.
"We wanted to create a spot that is social, casual and fun. This isn't a professional dart bar, so there won't be tournaments. Rather, this will be a communal concept that will let guests have a wide range of experiences. We'll have TVs playing select sports games, a DJ spinning the latest hits, and darts," said Adolfo Garcia of Point & Feather. "The whole space was created to be exude a vintage hotel lobby vibe that will make guests feel comfortable."
This new hang-out will also provide a menu created by Chef Ryan Wombacher that focuses on "comfort food with a sense of humor."
Menu hightlights include:
Shrimp Toast with gulf shrimp, Creole bbq, avocado, grilled bread
Chicken & Waffles with a buttermilk waffle, maple-bacon butter, hot sauce
Bisque with chestnuts, short ribs, apricot, cherries
Gyro with braised lamb, tzatziki, harissa, mint, house-made pita
The dart games are free and there are no minimums to reserve a library space. Music will span genres and decades with a mix of '80s rock, current electronic beats, alternative and punk rock. All the more reason to try out this new spot in River North.