Menu Item of the Week: Little Goat Diner's Veggie Quesadilla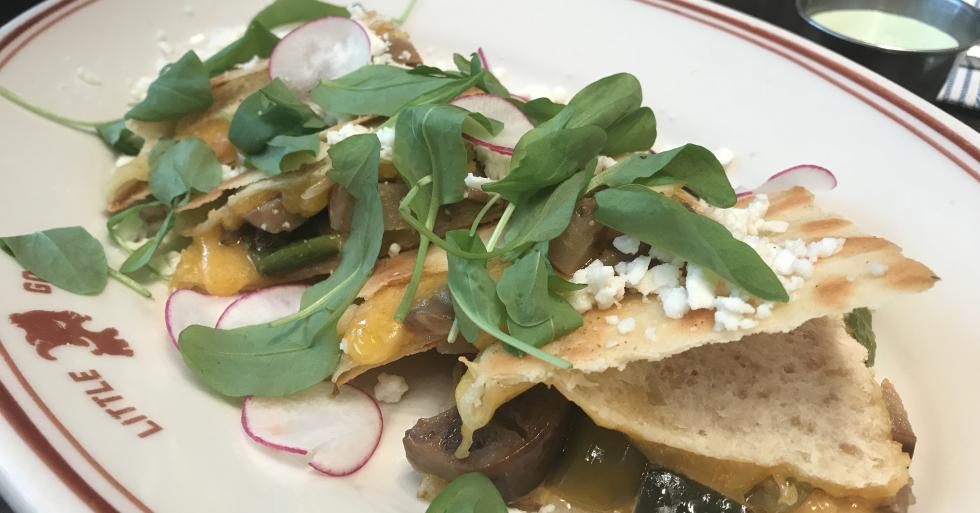 With a bold sign at the corner of Randolph and Green Street, this bustling diner can't be missed. Often with groups of hungry customers waiting outside, The Little Goat Diner is a popular spot in the West Loop. Their menu features a variety of dishes, each with a unique twist on a common menu item. For example, instead of traditional ingredients, their Reuben sandwich is topped with kimchi and their special sauce on a pretzel rye bun.
The Little Goat's remix of diner favorites led us to the restaurant, but their veggie quesadilla is what got us hooked. This quesadilla is made with cheddar cheese and stuffed with eggplant caponata. The grilled quesadilla is then sprinkled with queso fresco, radish and sorrel. Instead of sour cream, it is served with a side of chive yogurt. This unique blend of flavors created a melody that struck every taste bud. We didn't mention that every dish they serve is supersized. There will be plenty left to share or take home.
The quesadillas are priced at just $13, so next time you are in the neighborhood make sure you stop by and give it a try.