Menu Item of the Week: Chicago Pizza and Oven Grinder Company's Pizza Pot Pie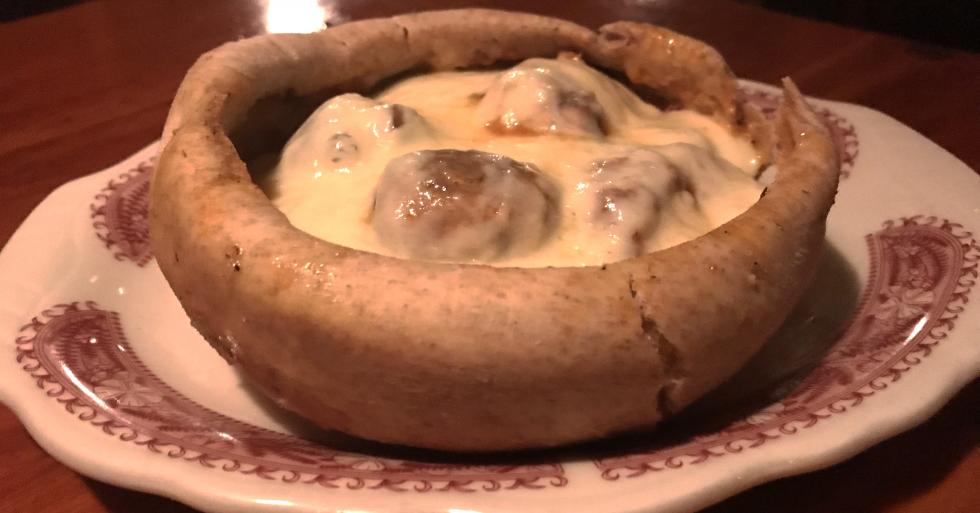 We all know Chicago is a pizza kind of town. It is the home of the deep dish pizza and has plenty of options when it comes to pizzas. However, a little place in Lincoln Park has seriously changed the game.
Chicago Pizza and Oven Grinder Co. is a small, unassuming restaurant tucked away in a historic brownstone. However, the building itself has quite the story to tell. The brownstone located at 2121 N. Clark is rumored to be the lookout point during the St. Valentine's Day Massacre that took place on February 14, 1929. Following the massacre, the building was abandoned for quite some time. In 1972, it was giving a new life.
Since then, the Chicago Pizza and Oven Grinder Co. has been serving up their famous Pizza Pot Pie. There is a line that floods out of the door of the most night out of the week, but the long wait is worth it. The Pizza Pot Pie is an individual serving, "made from scratch" with triple-raised Sicilian bread-type dough and a homemade sauce consisting of olive oil, fresh garlic, onions, green peppers, and whole plum tomatoes. It is filled with a special blend of cheeses, sausage, and fresh mushrooms. The pizza comes to the table in a bowl covered with dough and is then flipped upside-down revealing all of the goodness tucked inside.
The Pizza Pot Pie comes in a half pound size ($12.75) and a whole pound ($25.50), and trust us you will not leave the restaurant hungry. Head over to try their famous dish. Just remember to take cash since that is the only form of payment they accept. Enjoy!