Menu Item of the Week: Apple Fritters at El Che Bar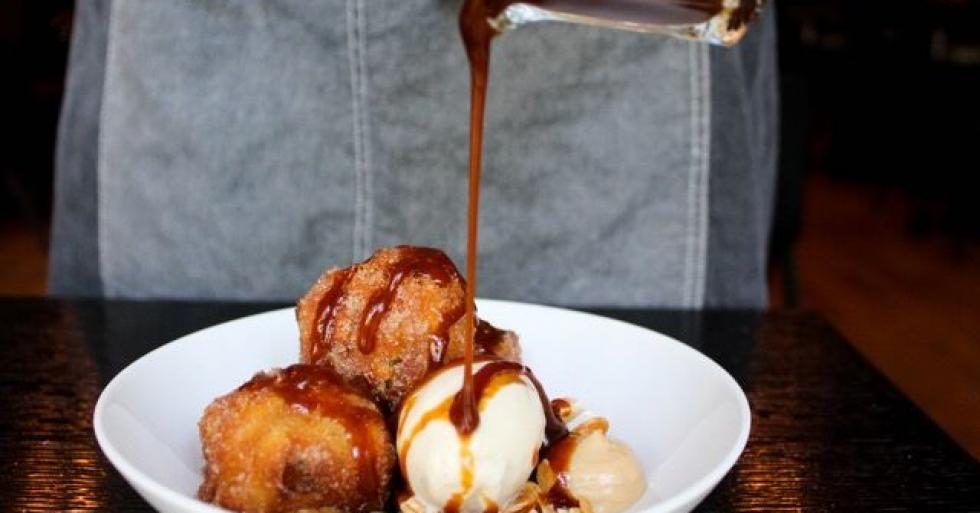 With autumn comes a host of seasonal flavors that we just can't resist. Pumpkin spice, salted caramel, and maple pecan are just a few of the flavors that remind us of falling leaves. At El Che Bar, they have introduced a menu item that brings together a few of these flavors in one sweet dish.
Executive Pastry Chef Ashley Danello has truly outdone herself here. These apple fritters are made with a sourdough starter and Honey Crisp apples from Seedling Farms in Michigan. The caramel sauce topping is made in-house. The apple fritters are served with a healthy helping of roasted cinnamon ice cream and sprinkled with candied almonds. There is plenty to share when ordering this dessert. It is priced at $12 and available for a limited time, so you definitely want to get over there and try it soon.
Now if you can't get enough of the caramel sauce, Chef Danello has provided a recipe that you can try at home. It is listed below!
Chef Danello's Caramel Sauce Recipe
4 cups apple cider
12 oz sugar
1/2 cup water
1 teaspoon salt
1/2 cup cream (cold)
Reduce apple cider over low heat to 1 cup in a saucepan. Gently stir in remaining ingredients until completely blended and smooth. Cook over low heat until the sauce is reduced to 1/2 cup, stirring often. Refrigerate for up to one week.