Chicago's Rising Stars: Elisa Latrice chats about singing on FOX's 'Empire' and whats next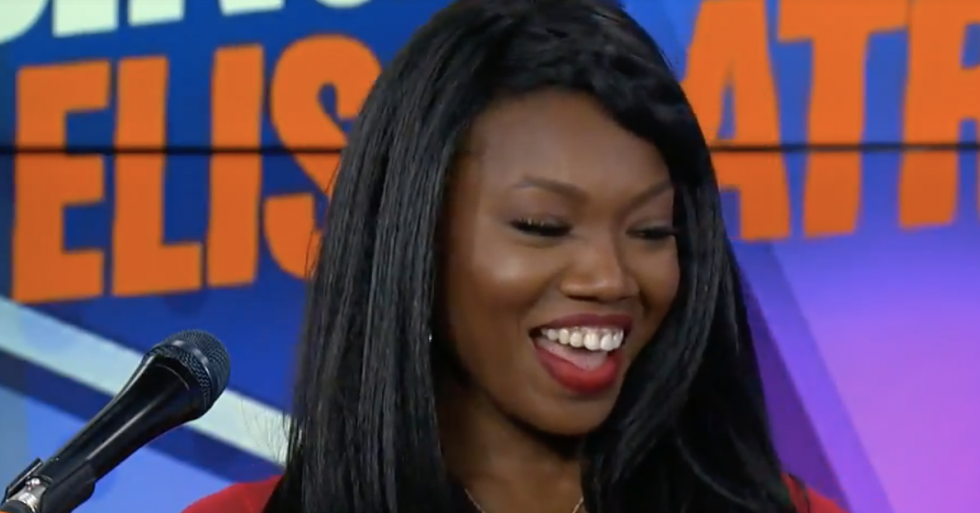 Elisa Latrice is the first artist to be featured in The Jam's "Chicago's Rising Stars" series, in which we feature up-and-coming music artists from the Chicagoland area. She pulls inspiration from Diana Ross, Tina Turner, Michael Jackson and James Brown, which can be seen in her electric stage presence and sultry voice. She is a dedicated performer who spends time studying the greats.
Latrice has performed all over Chicago and was even on FOX's hit TV show Empire. She also just released an EP titled Two the Moon with her musical partner Scott Nadeau. With Elisa Latrice's energy she will be expecting even bigger stages and brighter lights in her future.
Read more about this rising star as we sat down for a chat.
What influences your music?
Latrice: My music is influenced by life and all that I experience. Love, happiness, loss and pain are all emotions that I've managed to turn into songs. I grew up listening to dusties and old R&B. I love the Spinners, Delfonics, Teena Marie. I think growing up listening to [those artists] before knowing the music of my generation had an impact. Before Brandy, I had that. Michael Jackson is a major influence. I watch and study him to this day.
What does it mean to study a performer?
Latrice: For me, I love giving people a show and experience. I am not one of those singers that you come see and they stand in one spot singing a song. I love to interact. I study entertainers. There's a big difference between being a singer and an entertainer. Like with Beyoncé, she has a vision she is trying to execute when she performs. She knows what camera angles to use, what her makeup should look like and costume themes. I study all of these things. This is why I love going to live shows because it is always different. You can catch something that the camera may not pick up. Each audience creates a different type energy. You have to study the greats to be great. I am very happy I grew up hearing those voices and watching people like James Brown. When I was growing up singing in the mirror, I would act like him. [Laughs] I can't dance like James though. No splits yet. I am working on the turns.
Do you have a different persona onstage? Beyoncé has "Sasha Fierce" — do you embody a character when you perform?
Latrice: I have not named this persona that I take on. A lot of people tell me my voice drops and it is sultry when I am behind the mic, because in real life it is high pitched and I am soft-spoken. [Laughs] I channel a Diana Ross or Tina Turner and sometimes a little Bey. However, my grandmother is a singer and she is very sassy. Her name is Carrie, Carrie Louise, but if I were to name my persona it would be Carrie Bell. "Bell" is my great grandmother's middle name. I think I get a lot of my stage presence from my grandmother though. She's a performer at heart. Sometimes I'll call her and say we should sing together.
Do you think she may be on your next project?
Latrice: She may…. I would do that. She has a very heavy vibrato and old-school tone. I would love that.
You just released your EP. Tell us about your project.
Latrice: It is exciting and it's been a long time coming. It was one of those things that happened by accident. I was in a cover band for a couple of years and I did not really feel like I was growing. I felt like I should do my own thing. In between that, I was on Empire — that's how I met Larry, my guitar player. Then, in our first show, I met [music partner] Scott [Nadeau]. We had a jam session and were cranking out these songs. He said we should record them. I said ok. Ever since then, we have been doing shows and able to spread it with a broader audience.
Do you write a lot of your own music?
Latrice: Yes! I have been writing since high school. I didn't really take it seriously until after high school. It is probably because by then I was going through a lot more stuff. I went to Columbia [College Chicago] for journalism. I wanted to go for music, but I didn't. I had a few music classes while there. I have always been a person that keeps journals and lists. When I hear a quote, I write it down. I am working on my first album now that will be out next year.
Do you still do anything with journalism?
Latrice: I was blogging for a while. I got to interview [the actor] Rotimi from [Starz TV show] Power, SWV and Tweet. The blogging is really the extent of it.
How was the Empire experience?
Latrice: It was one of those days that did not feel like work. It was a really long day, but the crew made everyone feel like they were in the Empire family. I actually had a jam session with Terrence [Howard] which was amazing. I was playing a few keys on the piano and probably said something like, "Uhhhh." Nothing was plugged in and there was no audio. He asked what was wrong and I said I wish we could jam. Before I knew it, he picked up the mic and started singing Al Green's "Love and Happiness." The band was up there, Terrence and Snoop Dogg.
Would you go back to Empire?
Latrice: If they called me, I definitely would. I have some acting experience and I would love to pursue acting. I love being in front of the camera and playing characters.
What will be coming up next for you?
Latrice: I am working on my album and talking with a lot of producers and things. I am just looking forward to bigger stages and brighter lights. We will see what the future holds.
You do a lot of your work here in Chicago. How does the city play as a backdrop for your music career?
Latrice: I love the music scene in Chicago. I feel like there is a lot of emerging artist. Especially with people like Chance the Rapper and others. There are a couple of people here I would love to work with — Adam Ness, Jamila Woods. We are such an eclectic city. We are in the middle of everything. Whatever style of music that you like or enjoy, it is all here. I feel like the world is getting a taste of it.
How do you want people to witness you as an artist? Do you want to be a role model?
Latrice: I think as an artist, you have this platform for a reason. I want to be the type of artist that inspires. I am not perfect, but I do know the importance of having a role model. I had people to look up to growing up, whether it was one of my teachers or an older cousin. I lived in the suburbs and always felt pride coming from such a tight-knit community. Young girls now are seeing so many harmful images with social media that it can be confusing and cause all kinds of pressure. I do want to empower young girls and women. There is room out here for us all and you don't have to pretend to be something you're not. Create your own lane and love the person you are.