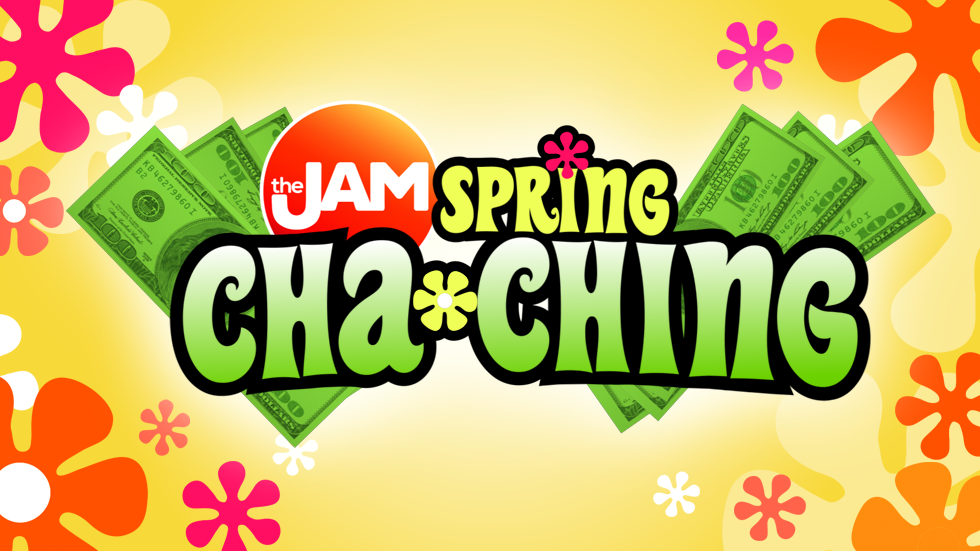 Wake up. Turn on The Jam. Win $500!
The Jam is giving away $500 a day, five days a week, for four weeks!
It's The Jam Spring CHA-CHING! Get up, get to The Jam, and you could be a winner!
Watch Felicia, Jordan, and Carly weekday mornings from 6-8A on The U! Spot the code word each hour and text it in for a chance to win $500!
It's The Jam 'Spring Cha-Ching' Sweepstakes! Weekdays from 6-8A on The U!
NO PURCHASE NECESSARY. Void where prohibited. By entering, each entrant accepts and agrees to be bound by these Official Rules. Failure to comply with these rules may result in disqualification.
SPONSOR. This Sweepstakes is sponsored by 'WCIU, The U' 26 N. Halsted, Chicago, Illinois 60661 (the "Sponsor"), which is solely responsible for the conduct of this Sweepstakes. Apple Inc. is not a sponsor of this sweepstakes.
ENTRY. A purchase is not required to enter or to win $500 (the "Prize") from The Jam and WCIU, The U. The Jam Spring Cha-Ching Sweepstakes begins Monday, April 22, 2019 at 6:00 AM CT and ends Friday, May 17, 2019 at 9:00 AM CT unless extended by WCIU, The U.' To enter the Sweepstakes, viewers must watch The Jam on WCIU, The U between 6:00 AM and 8:00 AM and on The U Too between 8:00AM and 9:00AM for (2) chances per day to text the code word shown to 31996 and win $500. Code words will be different in the 6:00AM and 7:00AM hours, the code word at 8:00AM is a rebroadcast of the 7:00AM hour of The Jam. Participants can text one (1) or two (2) code words to increase their chances of winning. One (1) winner will be selected each day during the sweepstakes from all eligible entries using a computer software winner selection tool. Winners will be contacted no later than 11:00 AM CT each day to be notified that they are a winner. Participants are permitted to win up to four (3) times during the sweepstakes period.
Sponsor is not responsible for lost, late, illegible, misdirected or mutilated entries, due to technical/network failures, human error, or any other error or malfunction. Entry materials that have been tampered with or altered are void.
Entrants agree not to upload, post, or transmit any materials which contain any computer viruses, Easter eggs, worms, Trojan Horses or other harmful component or programming routines that are intended to damage, detrimentally interfere with, surreptitiously intercept or expropriate any system, data or personal information. Any attempt to deliberately damage any website or undermine the operation of the Sweepstakes is a violation of criminal and civil laws, and the Sponsor reserves the rights to seek damages from any person who makes such attempt(s).
Any questions regarding the number of entries submitted by an individual or authorized account holder of an e-mail address shall be determined by 'WCIU, The U' in its sole discretion, and 'WCIU, The U reserves the right to disqualify any entries by persons determined to be tampering with or abusing any aspect of the Sweepstakes.
ELIGIBILITY. 'Spring Cha-Ching' is open to all legal residents of Illinois and Indiana who live in the Chicagoland television viewing area (as defined by A.C. Nielsen) and are 18 years of age or older. Employees and former employees of 'WCIU, The U,' their advertising agencies, consultants, franchisees, suppliers, (collectively, "Sweepstakes Parties") are not eligible to enter or win, nor are such employees' family members. In addition, individuals who share a common household with an employee of a Sweepstakes Party or who are in any kind of domestic relationship or partnership with an employee of a Sweepstakes Party (e.g., boyfriends, girlfriends, fiancé, roommates) are not eligible to enter or win this Sweepstakes. Sponsor shall be the sole judge of what constitutes a domestic relationship or partnership in the event of a dispute.
PRIZES. One (1) winner will be randomly selected each day of the sweepstakes to receive an award of a check in the amount of $500. Participants are permitted to win up to three (3) times during the sweepstakes period. Winners will first be notified via a phone call no later than 5:30 PM CDT each day. Following the phone call, the winner will receive an email detailing the necessary steps to prize fulfillment. Odds of winning will be determined by the total number of correct eligible entries. If a winner fails to claim their Prize within seven (7) business days, it will result in the forfeiture of the Prize and a new drawing may be held from the remaining eligible entries at the discretion of 'WCIU, The U'.