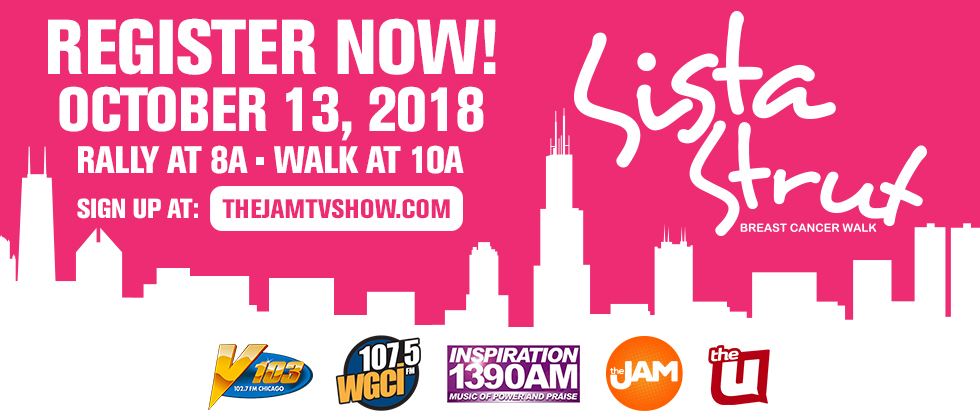 The U and The Jam is joining V103, 107.5 WGCI and Inspiration 1390 in the fight against breast cancer with the second annual Sista Strut Chicago!
Saturday, October 13, lace up your sneakers, grab your friends and meet us at Salvation Army Kroc Center as we walk to raise awareness about the issues of breast cancer among women of color.
Participating individuals or teams of two or more will check in at 1250 W. 119th St, Chicago, IL 60643. A rally will take place at 8A with the walk to follow at 10A.
Proceeds from the walk will benefit Sisters Network Inc., a national African American breast cancer survivorship organization committed to increasing local and national attention to the devastating impact that breast cancer has in the African American Community.
Click here for more information, or to register your team!

Quick Facts:
-Breast cancer is the second most common cause of cancer death among black women, surpassed only by lung cancer. 


-The median age of diagnosis is 58 for black women, compared to 62 for white women.
22 percent of breast cancer cases in black women are referred to as triple negative compared to 10-12 percent of those among women of other races/ethnicities in the US. Triple-negative breast cancers are more aggressive and have a poorer prognosis, in part because there are currently no targeted therapies for these tumors.


-The overall 5-year relative survival rate for breast cancer diagnosed in 2005-2011 was 80 percent for black women compared to 91 percent for white women.


-The later stage at diagnosis among black women has been largely attributed to lower frequency and longer intervals between mammograms, as well as the lack of timely follow-up of abnormal results.
*ACS African American 2016-2018 Cancer Facts