Rezi from Tampa, FL
Like you see he loves every empty box, every size of boxes, he's always first to discovery a box mnnaauuuu=meooowwww ;)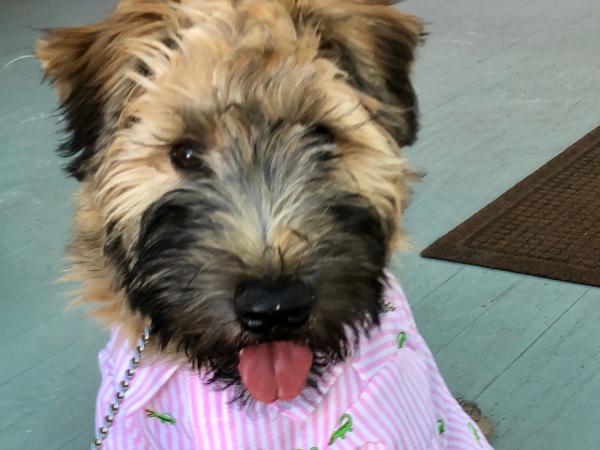 Hash Brown from Buford, GA
Hash Brown is a Wheaten Terrier who helped heal our hearts after we lost our 11 year old Wheaten - French Fry to cancer. Hash Brown is a spoiled little guy and makes everyone smile.
FRIDAY FUR-DOWN WINNERS...
742
LAST 3 CAT VICTORS...
Each week's highest voted cat and dog from the Monday through Thursday battles go head-to-head in the Friday Fur-Down to determine ultimate pet supremacy!
CAT
DOG
4617 votes
07/21
Snowball
4593 votes
09/29
Noell
4320 votes
09/25
Winnie Tuxedo
3843 votes
07/04
Noell
3132 votes
06/28
Ferdinand
2897 votes
07/12
Mordecai
46917 votes
Linda Jablonski Hassa
41855 votes
Dawn
31521 votes
Phyllis Cafagna
42 votes
Linda Jablonski Hassa
36 votes
Maria Ware Appleby
34 votes
Sally Chamness
2705 votes
Mouse VS
07/18
1530 votes
Mel


Winner!

VS
07/17
1224 votes
Small Fry


Winner!

VS
07/16
1598 votes
Mordecai


Winner!

VS
07/13
1299 votes
Mordecai


Winner!

VS
07/12
1153 votes
Diablo


Winner!

VS
07/11
1108 votes
Severus


Winner!

VS
07/10
962 votes
Spock


Winner!

VS
07/09
1810 votes
Noell


Winner!

VS
07/06
2033 votes
Noell


Winner!

VS
07/04
808 votes
Magic


Winner!

VS
07/03
778 votes
Samantha


Winner!

VS
07/02
1657 votes
Ferdinand


Winner!

VS
06/29
1475 votes
Ferdinand


Winner!

VS
06/28
votes
Samantha VS
06/27
944 votes
Tory VS
06/27
835 votes
Oscar


Winner!

VS
06/26
682 votes
Rezi VS
06/25
1706 votes
Asher VS
06/22
903 votes
Yeller


Winner!

VS
06/21
881 votes
Samantha


Winner!

VS
06/20
1067 votes
Asher


Winner!

VS
06/19
638 votes
Chaos


Winner!

VS
06/18
1297 votes
Samantha VS
06/15
908 votes
Ripley VS
06/14
1143 votes
Samantha


Winner!

VS
06/13
320 votes
Yeller VS
06/12
401 votes
Isaac (aka Small Fry) VS
06/11
747 votes
Chadwick VS
06/08
460 votes
Astro VS
06/07
797 votes
Chadwick


Winner!

VS
06/06
432 votes
Yeller VS
06/05
326 votes
Astro VS
06/04
478 votes
Lavender VS
06/01
524 votes
Lavender VS
05/31
306 votes
Astro and Yeller VS
05/30
357 votes
Astro VS
05/29
408 votes
Noah VS
05/28
717 votes
Astro and Louie VS
05/25
404 votes
Astro VS
05/24
320 votes
Astro and yeller VS
05/23
383 votes
Tabitha VS
05/22
448 votes
Astro and Louie VS
05/21
411 votes
Olaf VS
05/18
417 votes
Yeller and Teejay VS
05/17
463 votes
Yeller VS
05/16
476 votes
Astro VS
05/15
626 votes
Olaf


Winner!

VS
05/14
508 votes
Twisty VS
05/11
788 votes
Astro VS
05/10
1140 votes
Twisty VS
05/09
481 votes
Noah VS
05/08
317 votes
Astro VS
05/07
403 votes
Tabitha VS
05/04
465 votes
Astro VS
05/03
588 votes
Snicker (A.K.A. The Lion King)


Winner!

VS
05/02
1006 votes
Tabitha VS
05/01
570 votes
Samantha VS
04/30
1078 votes
Kiwi VS
04/27
1032 votes
Kiwi


Winner!

VS
04/26
335 votes
Yeller VS
04/25
401 votes
Astro VS
04/24
485 votes
Yeller VS
04/23
354 votes
Tabitha VS
04/20
77 votes
Astro VS
04/19
389 votes
Astro VS
04/18
478 votes
Yeller VS
04/17
614 votes
Tabitha VS
04/16
570 votes
Sandra VS
04/13
728 votes
Sandra VS
04/12
611 votes
Noah VS
04/11
551 votes
Yeller VS
04/10
537 votes
Astro VS
04/09
542 votes
Tabitha VS
04/06
664 votes
Tabitha VS
04/05
510 votes
Yeller VS
04/04
632 votes
Noah VS
04/03
521 votes
Astro VS
04/02
682 votes
Gabbs VS
03/30
556 votes
Astro VS
03/29
866 votes
Oscar VS
03/28
929 votes
Gabbs VS
03/27
554 votes
Astro and Louie VS
03/26
792 votes
Noah VS
03/23
516 votes
Yeller VS
03/22
467 votes
Astro VS
03/21
543 votes
Tabitha VS
03/20
735 votes
Noah VS
03/19
721 votes
Noah VS
03/16
779 votes
Isaiah VS
03/15
567 votes
Astro VS
03/14
608 votes
Tabitha VS
03/13
896 votes
Noah VS
03/12
993 votes
Omar VS
03/09
820 votes
Omar VS
03/08
748 votes
Yeller VS
03/07
676 votes
Isaiah VS
03/06
642 votes
Astro VS
03/05
713 votes
Noah VS
03/02
842 votes
Astro VS
03/01
1023 votes
Sunshine VS
02/28
1341 votes
Noah VS
02/27
1164 votes
Danzig VS
02/26
983 votes
Phoebe VS
02/23
1021 votes
Phoebe VS
02/22
982 votes
Cleo VS
02/21
695 votes
Yeller and Astro VS
02/20
975 votes
Noah VS
02/19
1162 votes
Octavio VS
02/16
1060 votes
Octavio VS
02/15
621 votes
Astro VS
02/14
726 votes
Isaiah n Noah VS
02/13
731 votes
Noah VS
02/12
724 votes
Astro VS
02/09
740 votes
Chloe VS
02/09
735 votes
Noah VS
02/07
1069 votes
Chloe VS
02/06
780 votes
Rezi VS
02/05
1517 votes
Creamsickle VS
02/02
675 votes
Yeller VS
02/01
834 votes
Astro VS
01/31
517 votes
Cat Stevens (the Other Cat Stevens) VS
01/30
1812 votes
Creamsickle VS
01/29
764 votes
Oscar VS
01/26
678 votes
Bailey VS
01/25
899 votes
Noah & Isaiah VS
01/24
928 votes
Oscar VS
01/23
680 votes
Isaiah VS
01/22
646 votes
Pierre VS
01/19
1289 votes
Pierre VS
01/18
826 votes
Yeller VS
01/17
1048 votes
Noah and Isaiah VS
01/16
940 votes
Astro VS
01/15
1426 votes
Tim VS
01/12
1307 votes
Tim


Winner!

VS
01/11
838 votes
Senana VS
01/10
853 votes
Astro VS
01/09
606 votes
Noah and Isaiah VS
01/08
591 votes
Noah and Isaiah VS
01/05
457 votes
Astro VS
01/04
729 votes
Noah and Isaiah VS
01/03
525 votes
Isaiah VS
01/02
490 votes
Beebs VS
01/01
614 votes
Tess VS
12/29
596 votes
Tess VS
12/28
545 votes
Astro VS
12/27
510 votes
Isaiah VS
12/26
413 votes
Astro VS
12/25
576 votes
John Wayne VS
12/22
500 votes
Astro VS
12/21
445 votes
Astro VS
12/20
598 votes
Puss puss VS
12/19
1159 votes
John Wayne VS
12/18
949 votes
Yeller VS
12/15
739 votes
Noah VS
12/14
866 votes
Yeller VS
12/13
689 votes
Astro VS
12/12
744 votes
Noah and Isaiah VS
12/11
1290 votes
Noah VS
12/08
995 votes
Astro VS
12/07
748 votes
Astro VS
12/06
1013 votes
Noah VS
12/05
891 votes
Miss Boots


Winner!

VS
12/04
676 votes
Noah VS
12/01
860 votes
Yeller VS
11/30
921 votes
Noah VS
11/29
602 votes
Noah and Isaiah VS
11/28
481 votes
Astro VS
11/27
1101 votes
Isaiah VS
11/24
958 votes
Isaiah


Winner!

VS
11/23
512 votes
Yeller VS
11/22
513 votes
Astro VS
11/21
584 votes
Noah VS
11/20
444 votes
Einstein VS
11/17
586 votes
Einstein VS
11/16
359 votes
Yeller VS
11/15
550 votes
Spark Plug VS
11/14
408 votes
Astro VS
11/13
1123 votes
Suzy Q VS
11/10
846 votes
Peanut Brittle VS
11/09
1330 votes
Noah


Winner!

VS
11/08
1801 votes
Suzy Q VS
11/07
902 votes
Slepka VS
11/06
652 votes
Mouse VS
11/03
1967 votes
Noah and Isaiah


Winner!

VS
11/02
1414 votes
Mimi VS
11/01
2372 votes
Mouse VS
10/31
1624 votes
Runner


Winner!

VS
10/30
2428 votes
Noah VS
10/27
1267 votes
Isaiah VS
10/26
1672 votes
Noah VS
10/25
1346 votes
Angel Bug & Demon Mouse VS
10/24
1605 votes
Nacho


Winner!

VS
10/23
1212 votes
Mayhem VS
10/20
2066 votes
Mayhem VS
10/19
1135 votes
Bixxy VS
10/18
835 votes
Jackson VS
10/17
1932 votes
Trooper the Handicapped Kitten VS
10/16
603 votes
Abby VS
10/13
735 votes
Yeller VS
10/12
895 votes
Bug VS
10/11
921 votes
Noah VS
10/10
1547 votes
Abby VS
10/09
1441 votes
REZI VS
10/06
1527 votes
Midnight


Winner!

VS
10/05
1024 votes
Astro VS
10/04
1619 votes
REZI VS
10/03
1189 votes
Megan VS
10/02
3010 votes
Winnie Tuxedo VS
09/29
609 votes
Tom cat VS
09/28
1089 votes
Oscar VS
09/27
747 votes
Hermione


Winner!

VS
09/26
1310 votes
Winnie Tuxedo


Winner!

VS
09/25
2157 votes
Precious Rose VS
09/22
728 votes
Astro VS
09/21
1797 votes
Precious Rose


Winner!

VS
09/20
656 votes
Mouse & Bug VS
09/19
615 votes
Ronon Dex VS
09/18
576 votes
Sugar Boo VS
09/15
482 votes
Yeller VS
09/14
820 votes
Taffy VS
09/13
1120 votes
Fluffy VS
09/12
1550 votes
Sugar Boo VS
09/11
1142 votes
Bug VS
09/08
761 votes
LB aka Lord Byron VS
09/07
404 votes
Yeller VS
09/06
633 votes
Oscar VS
09/05
1630 votes
Bug VS
09/04
1286 votes
Bailey VS
09/01
1218 votes
Versace VS
08/31
2853 votes
Bailey VS
08/30
1461 votes
Astro


Winner!

VS
08/29
1726 votes
REZI VS
08/28
924 votes
Sara


Winner!

VS
08/25
663 votes
Astro


Winner!

VS
08/24
875 votes
Sara


Winner!

VS
08/23
854 votes
Corky


Winner!

VS
08/22
441 votes
Oscar


Winner!

VS
08/21
527 votes
Astro and yeller


Winner!

VS
08/18
524 votes
Astro and yeller


Winner!

VS
08/17
242 votes
Oscar


Winner!

VS
08/16
465 votes
Patches


Winner!

VS
08/15
518 votes
Chiya


Winner!

VS
08/14
742 votes
Rezi


Winner!

VS
08/11
1058 votes
Rezi


Winner!

VS
08/10
1011 votes
Astro


Winner!

VS
08/09
795 votes
Yeller


Winner!

VS
08/08
786 votes
Astro


Winner!

VS
08/07
1472 votes
Ziggy


Winner!

VS
08/04
906 votes
Sheda


Winner!

VS
08/03
850 votes
Oscar


Winner!

VS
08/02
926 votes
Ziggy


Winner!

VS
08/01
826 votes
Rachel


Winner!

VS
07/31
1138 votes
Choc


Winner!

VS
07/28
1106 votes
Grey


Winner!

VS
07/27
1108 votes
Choc


Winner!

VS
07/26
1004 votes
Oscar


Winner!

VS
07/25
1006 votes
Astro and yeller


Winner!

VS
07/24
1041 votes
Tabitha


Winner!

VS
07/21
951 votes
Tag


Winner!

VS
07/20
1090 votes
Tabitha


Winner!

VS
07/19
918 votes
Yeller


Winner!

VS
07/18
684 votes
Astro


Winner!

VS
07/17
1106 votes
Kathy Nix


Winner!

VS
07/14
704 votes
Yeller


Winner!

VS
07/13
955 votes
Kathy Nix


Winner!

VS
07/12
746 votes
Oscar


Winner!

VS
07/11
815 votes
Astro


Winner!

VS
07/10
803 votes
Rezik


Winner!

VS
07/07
951 votes
Rezik


Winner!

VS
07/06
925 votes
Oscar


Winner!

VS
07/05
940 votes
Yeller


Winner!

VS
07/04
922 votes
Dazzle's Minions


Winner!

VS
07/03
720 votes
Astro


Winner!

VS
06/30
530 votes
Astro


Winner!

VS
06/29
388 votes
OSCAR


Winner!

VS
06/28
804 votes
mia


Winner!

VS
06/23
904 votes
Astro


Winner!

VS
06/22
941 votes
MJ


Winner!

VS
06/21
951 votes
mia


Winner!

VS
06/20
909 votes
Astro


Winner!

VS
06/19
870 votes
Intrepid


Winner!

VS
06/16
874 votes
Czar


Winner!

VS
06/15
778 votes
Oscar the cat from Suring WI


Winner!

VS
06/13
990 votes
Intrepid


Winner!

VS
06/12
831 votes
Ebony


Winner!

VS
06/09
878 votes
Missy


Winner!

VS
06/08
872 votes
Astro


Winner!

VS
06/07
910 votes
Ebony


Winner!

VS
06/06
875 votes
Cernobilovka


Winner!

VS
06/05
1016 votes
Sunshine


Winner!

VS
06/02
1077 votes
Sunshine


Winner!

VS
06/01
978 votes
marie


Winner!

VS
05/31
992 votes
SHEDA and SLEPKA


Winner!

VS
05/30
788 votes
Oscar


Winner!

VS
05/29
944 votes
Bozo


Winner!

VS
05/26
893 votes
Bozo


Winner!

VS
05/25
639 votes
Astro


Winner!

VS
05/24
564 votes
Yeller


Winner!

VS
05/23
614 votes
Astro and yeller


Winner!

VS
05/22
1057 votes
Snicker The other cat from Suring


Winner!

VS
05/19
971 votes
Oscar


Winner!

VS
05/18
753 votes
Astro


Winner!

VS
05/17
853 votes
Yeller


Winner!

VS
05/16
1016 votes
Snicker The other cat from Suring


Winner!

VS
05/15
944 votes
Astro


Winner!

VS
05/12
689 votes
Yeller


Winner!

VS
05/10
1081 votes
Astro


Winner!

VS
05/09
716 votes
Oscar


Winner!

VS
05/08
749 votes
Silver


Winner!

VS
05/05
659 votes
Cernobilovka


Winner!

VS
05/04
715 votes
Belinda


Winner!

VS
05/03
836 votes
Silver


Winner!

VS
05/02
766 votes
Alisha and Chloe


Winner!

VS
05/01
768 votes
Gotham Tobias and Smudge


Winner!

VS
04/28
754 votes
Molly Combs


Winner!

VS
04/27
645 votes
Astro


Winner!

VS
04/26
797 votes
Gotham Tobias and Smudge


Winner!

VS
04/25
757 votes
Cernobilovka


Winner!

VS
04/24
744 votes
Snickerdoodle


Winner!

VS
04/21
721 votes
Astro


Winner!

VS
04/20
726 votes
Snickerdoodle


Winner!

VS
04/19
723 votes
Big Boy


Winner!

VS
04/18
678 votes
Angel and Lord Byron [LB]


Winner!

VS
04/17
747 votes
Lord Byron [LB]


Winner!

VS
04/14
685 votes
Intrepid


Winner!

VS
04/13
847 votes
Lord Byron [LB]


Winner!

VS
04/12
802 votes
Fluffy


Winner!

VS
04/11
707 votes
Elsa & CREAMSICKLE


Winner!

VS
04/10
705 votes
Seren


Winner!

VS
04/07
683 votes
Max


Winner!

VS
04/06
709 votes
Lily-Paloma


Winner!

VS
04/05
756 votes
Seren


Winner!

VS
04/04
677 votes
Yeller


Winner!

VS
04/03
780 votes
Skittles


Winner!

VS
03/31
671 votes
Skittles


Winner!

VS
03/30
601 votes
Yeller


Winner!

VS
03/29
627 votes
Bailey


Winner!

VS
03/28
501 votes
Corky


Winner!

VS
03/27
724 votes
Mimi the Bengal Girl


Winner!

VS
03/24
807 votes
Mimi the Bengal Girl


Winner!

VS
03/23
616 votes
Cleo The Cat From Wisconsin


Winner!

VS
03/22
582 votes
Big Boy


Winner!

VS
03/21
443 votes
Astro and Yeller


Winner!

VS
03/20
518 votes
Oscar


Winner!

VS
03/17
491 votes
Astro


Winner!

VS
03/16
541 votes
Astro


Winner!

VS
03/15
489 votes
Astro


Winner!

VS
03/14
571 votes
Oscar


Winner!

VS
03/13
591 votes
BATMAN


Winner!

VS
03/10
507 votes
Yeller


Winner!

VS
03/09
500 votes
KILLIE


Winner!

VS
03/08
558 votes
BATMAN


Winner!

VS
03/07
470 votes
Astro


Winner!

VS
03/06
558 votes
Creamsickle


Winner!

VS
03/03
546 votes
Tiggi


Winner!

VS
03/02
580 votes
Creamsickle


Winner!

VS
03/01
482 votes
Yeller


Winner!

VS
02/28
404 votes
Astro


Winner!

VS
02/27
560 votes
Rugrat


Winner!

VS
02/24
543 votes
Sir Baby Chubbs


Winner!

VS
02/23
586 votes
Rugrat


Winner!

VS
02/22
408 votes
Astro


Winner!

VS
02/21
381 votes
Pepper


Winner!

VS
02/20
415 votes
Maria


Winner!

VS
02/17
415 votes
Maria


Winner!

VS
02/16
379 votes
USKA


Winner!

VS
02/15
333 votes
Pepper


Winner!

VS
02/14
398 votes
annie


Winner!

VS
02/13
428 votes
Tiger Lily


Winner!

VS
02/10
495 votes
Polly


Winner!

VS
02/09
464 votes
CC


Winner!

VS
02/08
503 votes
Chance


Winner!

VS
02/07
551 votes
Tiger Lily


Winner!

VS
02/06
498 votes
Bandit


Winner!

VS
02/03
387 votes
Yeller


Winner!

VS
02/02
465 votes
Smudge and Gotham Tobias


Winner!

VS
02/01
556 votes
Bandit


Winner!

VS
01/31
519 votes
Darwin


Winner!

VS
01/30
404 votes
Oscar


Winner!

VS
01/27
505 votes
Oscar


Winner!

VS
01/26
445 votes
Astro.


Winner!

VS
01/25
381 votes
Astro


Winner!

VS
01/24
356 votes
Astro


Winner!

VS
01/23
477 votes
Tiger Lily, Lily for short


Winner!

VS
01/20
386 votes
Astro


Winner!

VS
01/19
375 votes
Astro and Yeller


Winner!

VS
01/18
414 votes
Magic


Winner!

VS
01/17
668 votes
Tiger Lily, Lily for short


Winner!

VS
01/16
357 votes
Tiger


Winner!

VS
01/13
388 votes
Bella


Winner!

VS
01/12
438 votes
Tiger


Winner!

VS
01/11
386 votes
Astro


Winner!

VS
01/10
386 votes
Astro


Winner!

VS
01/09
376 votes
Astro


Winner!

VS
01/06
394 votes
Astro


Winner!

VS
01/05
336 votes
Yeller and Astro


Winner!

VS
01/04
387 votes
Yeller


Winner!

VS
01/03
377 votes
Astro


Winner!

VS
01/02
458 votes
Baby H


Winner!

VS
12/30
488 votes
Baby H


Winner!

VS
12/29
456 votes
Mia


Winner!

VS
12/28
406 votes
Yeller


Winner!

VS
12/27
369 votes
Astro


Winner!

VS
12/26
470 votes
Bailey


Winner!

VS
12/23
416 votes
Yeller


Winner!

VS
12/22
512 votes
Uska


Winner!

VS
12/21
441 votes
Astro


Winner!

VS
12/20
562 votes
Bailey


Winner!

VS
12/19
388 votes
Teejay


Winner!

VS
12/16
520 votes
Teejay


Winner!

VS
12/15
465 votes
Tag


Winner!

VS
12/14
454 votes
Oscar


Winner!

VS
12/13
430 votes
Astro


Winner!

VS
12/12
406 votes
Ellah


Winner!

VS
12/09
384 votes
Teejay and yeller


Winner!

VS
12/08
479 votes
Oscar


Winner!

VS
12/07
398 votes
Astro


Winner!

VS
12/06
511 votes
Ellah


Winner!

VS
12/05
464 votes
Lost Kitten


Winner!

VS
12/02
525 votes
Lost Kitten


Winner!

VS
12/01
471 votes
Mocha (MoJo)


Winner!

VS
11/30
417 votes
Astro


Winner!

VS
11/29
518 votes
Bailey


Winner!

VS
11/28
504 votes
Twisty


Winner!

VS
11/25
496 votes
Oscar


Winner!

VS
11/24
310 votes
Darwin


Winner!

VS
11/23
573 votes
Twisty


Winner!

VS
11/22
440 votes
Astro and Yeller


Winner!

VS
11/21
513 votes
Reggie


Winner!

VS
11/18
585 votes
Reggie


Winner!

VS
11/17
488 votes
Astro


Winner!

VS
11/16
515 votes
Frank


Winner!

VS
11/15
476 votes
Oscar


Winner!

VS
11/14
502 votes
Bogie and Bennett


Winner!

VS
11/11
547 votes
Winston


Winner!

VS
11/10
497 votes
Ralph


Winner!

VS
11/09
527 votes
Basil


Winner!

VS
11/08
586 votes
Bogie and Bennett


Winner!

VS
11/07
505 votes
Barby


Winner!

VS
11/04
541 votes
Ralph


Winner!

VS
11/03
582 votes
Bennett


Winner!

VS
11/02
606 votes
Barby


Winner!

VS
11/01
592 votes
Diablo


Winner!

VS
10/31
621 votes
Bowie


Winner!

VS
10/28
563 votes
Suz


Winner!

VS
10/27
610 votes
Suzy


Winner!

VS
10/26
590 votes
Suzy Q


Winner!

VS
10/25
722 votes
Bowie


Winner!

VS
10/24
704 votes
Bailey


Winner!

VS
10/21
684 votes
Ferdinand


Winner!

VS
10/20
550 votes
Mordecai


Winner!

VS
10/19
686 votes
Spock


Winner!

VS
10/18
760 votes
Bailey


Winner!

VS
10/17
648 votes
Chloe


Winner!

VS
10/14
738 votes
Bellatrix


Winner!

VS
10/13
743 votes
Severus


Winner!

VS
10/12
762 votes
Chloe


Winner!

VS
10/11
622 votes
Tory


Winner!

VS
10/10
659 votes
Gotham Rose


Winner!

VS
10/07
623 votes
Yeller


Winner!

VS
10/06
696 votes
Oscar


Winner!

VS
10/05
738 votes
Gotham Rose


Winner!

VS
10/04
542 votes
Astro


Winner!

VS
10/03
656 votes
Twisty


Winner!

VS
09/30
750 votes
Noell


Winner!

VS
09/29
864 votes
Twisty


Winner!

VS
09/28
739 votes
Alisha


Winner!

VS
09/27
709 votes
Miss Tigger and Mr Roo


Winner!

VS
09/26
730 votes
Elgie


Winner!

VS
09/23
738 votes
Sodie


Winner!

VS
09/22
773 votes
Elgie


Winner!

VS
09/21
646 votes
Lucy


Winner!

VS
09/20
713 votes
Tucker


Winner!

VS
09/19
749 votes
King Skeeter


Winner!

VS
09/16
686 votes
Tucker


Winner!

VS
09/15
708 votes
King Skeeter


Winner!

VS
09/14
681 votes
Timber


Winner!

VS
09/13
639 votes
Snickerdoodle


Winner!

VS
09/12
800 votes
Jett


Winner!

VS
09/09
905 votes
Jett


Winner!

VS
09/08
657 votes
Buddy


Winner!

VS
09/07
769 votes
Darwin


Winner!

VS
09/06
693 votes
Zander Kat ninja ginger


Winner!

VS
09/05
688 votes
Toby


Winner!

VS
09/02
674 votes
Hlavka and Uska


Winner!

VS
09/01
824 votes
Toby


Winner!

VS
08/31
732 votes
Libby


Winner!

VS
08/30
772 votes
Chase


Winner!

VS
08/29
662 votes
Razz


Winner!

VS
08/26
949 votes
Lucy


Winner!

VS
08/23
996 votes
Razz


Winner!

VS
08/22
1173 votes
Baby H


Winner!

VS
08/19
1081 votes
Bailey


Winner!

VS
08/18
1145 votes
Baby H


Winner!

VS
08/17
1125 votes
Alisha and Chloe


Winner!

VS
08/16
1080 votes
Zander


Winner!

VS
08/15
1167 votes
Thunder


Winner!

VS
08/12
896 votes
Oliver


Winner!

VS
08/11
1309 votes
Thunder


Winner!

VS
08/10
1038 votes
Princess


Winner!

VS
08/09
849 votes
Sooty


Winner!

VS
08/08
1265 votes
Mikey


Winner!

VS
08/05
1355 votes
Mikey


Winner!

VS
08/04
1101 votes
Astro


Winner!

VS
08/01
1592 votes
Sadie VS
07/29
1413 votes
Sadie


Winner!

VS
07/28
1148 votes
Cry baby


Winner!

VS
07/27
1376 votes
Zander Kat Ninja Ginger


Winner!

VS
07/26
5941 votes
08/30
Bailey
4789 votes
10/25
Maggie
4698 votes
09/27
Neville
3629 votes
07/18
Robbie
2221 votes
06/19
Ferdinand
2208 votes
07/04
Finnegan
42574 votes
Jill Breese Kempf
30892 votes
Michaela
25717 votes
PR_Lady_51
36 votes
Fabienne Lagneaux
35 votes
Dinah Swinehart Brock
34 votes
Pamela Smith
3629 votes
Robbie


Winner!

279 votes
Raynie
228 votes
Stella
628 votes
Cindy Lou
293 votes
Mommie
301 votes
Bobby
345 votes
Cindy Lou
281 votes
Fritz
887 votes
Finnegan
1321 votes
Finnegan
293 votes
Lou
230 votes
Zsa Zsa
828 votes
Baked Potato
1105 votes
Tigger
1 votes
Charlie


Winner!

1281 votes
Baked Potato


Winner!

801 votes
Snickers
844 votes
Huggy Bear


Winner!

1805 votes
Ferdinand


Winner!

587 votes
Silias
575 votes
Juan
723 votes
Ferdinand
472 votes
Sade
1320 votes
Murph


Winner!

972 votes
Murph


Winner!

638 votes
Sherman
538 votes
Cooper


Winner!

527 votes
Princess Mia


Winner!

863 votes
Sugar


Winner!

619 votes
Jilly


Winner!

653 votes
Farley
685 votes
Sugar


Winner!

559 votes
Buster


Winner!

663 votes
Axl Remington Laue


Winner!

887 votes
Toby


Winner!

791 votes
Murphy


Winner!

842 votes
Axl Remington Laue


Winner!

708 votes
Heaven


Winner!

881 votes
Oliver


Winner!

750 votes
Finn


Winner!

728 votes
Bailey


Winner!

753 votes
Oliver


Winner!

724 votes
Annie Bow-bannie


Winner!

645 votes
Malarky


Winner!

739 votes
Malarky


Winner!

708 votes
Fey


Winner!

716 votes
Carter


Winner!

625 votes
Morrie
793 votes
Myrtle


Winner!

803 votes
Barrett


Winner!

1237 votes
Myrtle


Winner!

641 votes
Nicky


Winner!

520 votes
Oliver


Winner!

636 votes
Cubby Bear


Winner!

697 votes
Cora


Winner!

471 votes
Toby
1332 votes
Cubby Bear


Winner!

747 votes
Wally


Winner!

1138 votes
Maggie


Winner!

463 votes
Toby
592 votes
Willow


Winner!

618 votes
Toby


Winner!

712 votes
Maggie


Winner!

573 votes
Rufus "The Doofus"


Winner!

203 votes
Henry the Dog


Winner!

669 votes
Katniss


Winner!

734 votes
BAILEY


Winner!

783 votes
Rufus "The Doofus"


Winner!

808 votes
Nicky


Winner!

885 votes
Nicky


Winner!

826 votes
Bailey


Winner!

874 votes
Katie


Winner!

781 votes
Henry Jasper


Winner!

753 votes
Cubby Bear


Winner!

799 votes
Rigby


Winner!

769 votes
Bailey


Winner!

805 votes
Cubby Bear


Winner!

775 votes
Java Bean


Winner!

808 votes
Oscar


Winner!

665 votes
Henry the Dog


Winner!

989 votes
Gabby


Winner!

1011 votes
Oscar


Winner!

684 votes
Chief and Scout


Winner!

993 votes
Maggie


Winner!

873 votes
Ogie


Winner!

742 votes
Stella


Winner!

849 votes
Rose


Winner!

898 votes
Maggie


Winner!

1095 votes
scout


Winner!

1028 votes
Belle


Winner!

1141 votes
scout


Winner!

957 votes
Seamus


Winner!

1071 votes
Drake


Winner!

1193 votes
Freddie


Winner!

1034 votes
Freddie


Winner!

999 votes
Katie


Winner!

772 votes
Skipper


Winner!

943 votes
TJ, Beta & Schuyler


Winner!

1121 votes
Annie Banannie


Winner!

1060 votes
Ali


Winner!

1233 votes
Ruby


Winner!

1623 votes
Annie Banannie


Winner!

1310 votes
Wheeler


Winner!

1031 votes
Dixie


Winner!

1053 votes
Bailey


Winner!

1041 votes
Cubby Bear


Winner!

1178 votes
Dixie


Winner!

1024 votes
Sophie


Winner!

1410 votes
Toby


Winner!

1156 votes
Toby


Winner!

761 votes
Cooper


Winner!

1026 votes
Trooper


Winner!

1021 votes
BooBoo


Winner!

1197 votes
Bailey


Winner!

1002 votes
Bailey


Winner!

1185 votes
Winston


Winner!

1135 votes
Murphy


Winner!

1049 votes
Ruby


Winner!

1655 votes
Bella


Winner!

1143 votes
Maddie


Winner!

1169 votes
Molly


Winner!

1133 votes
Cassie


Winner!

2189 votes
Bella


Winner!

1039 votes
Louie Jasper


Winner!

864 votes
Rose


Winner!

1066 votes
Willow


Winner!

1078 votes
Louie Jasper


Winner!

838 votes
Mini


Winner!

942 votes
Dakota


Winner!

1404 votes
Dakota


Winner!

1016 votes
Maggie


Winner!

1367 votes
Miss Bailey


Winner!

1198 votes
Murphy


Winner!

1511 votes
Axl & Jazz


Winner!

952 votes
Kelev and Morrie
926 votes
Riley


Winner!

1040 votes
Axl & Jazz


Winner!

817 votes
Dicey


Winner!

910 votes
Casey & Bailey


Winner!

1009 votes
Maggie


Winner!

1079 votes
Casey & Bailey


Winner!

694 votes
Dakota


Winner!

591 votes
Charlie


Winner!

742 votes
Louie Jasper


Winner!

700 votes
Shilo


Winner!

701 votes
Holly


Winner!

731 votes
Louie Jasper


Winner!

439 votes
Darby


Winner!

718 votes
Holly


Winner!

779 votes
Ellie


Winner!

671 votes
Rosie


Winner!

1016 votes
Boomer


Winner!

1429 votes
Holly


Winner!

1294 votes
Dakota


Winner!

857 votes
Ernie


Winner!

954 votes
Cubby Bear


Winner!

1105 votes
Dakota


Winner!

912 votes
Nicky


Winner!

1467 votes
Mini


Winner!

1308 votes
Mini


Winner!

1149 votes
Bruin Bella & Capri


Winner!

1060 votes
Nicky & Bella


Winner!

684 votes
Kelev and Morrie
927 votes
Nicky


Winner!

1084 votes
Penelope Jane Wigglebutt


Winner!

1186 votes
Nicky


Winner!

1009 votes
Jackson


Winner!

863 votes
Rosie


Winner!

1302 votes
Axl & Jazz


Winner!

597 votes
Kit
726 votes
Fozzie


Winner!

779 votes
Jazz


Winner!

899 votes
Axl & Jazz


Winner!

873 votes
finnegan


Winner!

804 votes
Tyler


Winner!

704 votes
Vance


Winner!

1060 votes
finnegan


Winner!

887 votes
Beta


Winner!

1318 votes
Bailey


Winner!

1176 votes
Phoebe


Winner!

688 votes
Toby
2122 votes
Bailey


Winner!

1311 votes
Mister Jasper Grumbles


Winner!

1335 votes
Morgayne


Winner!

1459 votes
Bruno
1805 votes
Wyatt


Winner!

2722 votes
Morgayne


Winner!

949 votes
Dutchie
2586 votes
Maggie


Winner!

1525 votes
Tate


Winner!

2203 votes
Maggie


Winner!

1877 votes
Cosmo


Winner!

1438 votes
Bruno
1464 votes
Grace and Griffin


Winner!

2534 votes
Grace and Griffin


Winner!

1434 votes
Nala


Winner!

1031 votes
MEATY SOUZA


Winner!

2154 votes
Cassie


Winner!

1204 votes
Ogie Bear


Winner!

1696 votes
Ogie Bear


Winner!

1309 votes
Willow


Winner!

1405 votes
Brody


Winner!

1565 votes
Jimmy


Winner!

1877 votes
Oscar and Charlie


Winner!

941 votes
Morrie
1705 votes
Oscar and Charlie


Winner!

1634 votes
Kally Rose


Winner!

1325 votes
Candy


Winner!

3195 votes
Neville


Winner!

1395 votes
Maggie


Winner!

1503 votes
Neville


Winner!

355 votes
Toby
1309 votes
Henry the Dog
2653 votes
Tyrion


Winner!

1291 votes
Cassie


Winner!

1430 votes
Tyrion
1078 votes
Charlie


Winner!

1004 votes
Cooper


Winner!

964 votes
Truffle


Winner!

1149 votes
Jack


Winner!

1156 votes
Fliss


Winner!

1891 votes
Truffle


Winner!

1658 votes
MEATY SOUZA


Winner!

1231 votes
Gretel


Winner!

877 votes
Saba


Winner!

945 votes
Paco


Winner!

1297 votes
Kedzie


Winner!

1702 votes
Gretel


Winner!

2813 votes
Bailey


Winner!

1471 votes
Matisse


Winner!

3128 votes
Bailey


Winner!

1020 votes
Bentley
2419 votes
Chloe


Winner!

256 votes
Speckles
399 votes
Speckles
253 votes
Gracelyn
206 votes
Bear
179 votes
Hank the Milwaukee Brewers' Dog
301 votes
Milo
332 votes
Milo
134 votes
Bentley
288 votes
Jazz
284 votes
Chloe
390 votes
Cohen
364 votes
Kuzco
439 votes
Cohen
233 votes
Colby
244 votes
Bubbles
732 votes
Milo
287 votes
Whisper
395 votes
Milo
313 votes
Jacob
196 votes
Leo
207 votes
Bentley
206 votes
Jazz
354 votes
Bentley
240 votes
Camero
215 votes
Morty
250 votes
Topaz
260 votes
Luigi, Missy, Ginger and Coco
369 votes
Topaz
349 votes
Spot
181 votes
Jason
231 votes
Deliah
273 votes
Casper
189 votes
Rio
142 votes
Luna
274 votes
Deliah
224 votes
Tank
252 votes
Duke
293 votes
Tank
206 votes
Maxwell