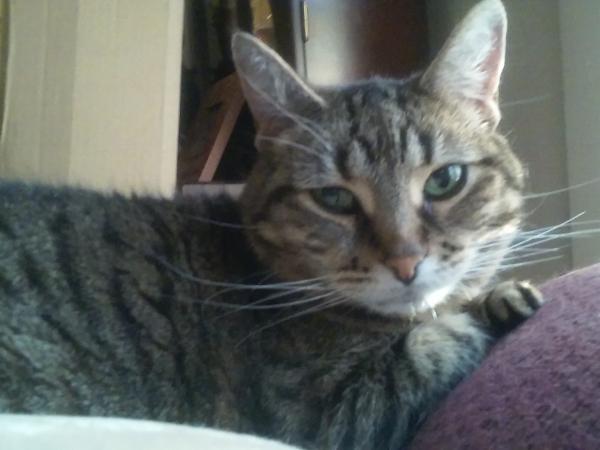 mia from
mia was abandoned by my neighbor's with her kitten when they moved. i got her kitten adopted. and kept mia. she is my Annie's bff.
FRIDAY FUR-DOWN WINNERS...
668
LAST 3 CAT VICTORS...
Each week's highest voted cat and dog from the Monday through Thursday battles go head-to-head in the Friday Fur-Down to determine ultimate pet supremacy!
CAT
DOG
4617 votes
07/21
Snowball
3508 votes
07/13
Sir Pepper
3480 votes
04/21
Thomas
2093 votes
06/01
Sunshine
1860 votes
06/12
Intrepid
1755 votes
06/20
mia
36997 votes
Dawn
27760 votes
Linda Jablonski Hassa
20649 votes
Phyllis Cafagna
804 votes
mia


Winner!

VS
06/23
904 votes
Astro


Winner!

VS
06/22
941 votes
MJ


Winner!

VS
06/21
951 votes
mia


Winner!

VS
06/20
909 votes
Astro


Winner!

VS
06/19
870 votes
Intrepid


Winner!

VS
06/16
874 votes
Czar


Winner!

VS
06/15
858 votes
Brisko


Winner!

VS
06/14
778 votes
Oscar the cat from Suring WI


Winner!

VS
06/13
990 votes
Intrepid


Winner!

VS
06/12
831 votes
Ebony


Winner!

VS
06/09
878 votes
Missy


Winner!

VS
06/08
872 votes
Astro


Winner!

VS
06/07
910 votes
Ebony


Winner!

VS
06/06
875 votes
Cernobilovka


Winner!

VS
06/05
1016 votes
Sunshine


Winner!

VS
06/02
1077 votes
Sunshine


Winner!

VS
06/01
978 votes
marie


Winner!

VS
05/31
992 votes
SHEDA and SLEPKA


Winner!

VS
05/30
788 votes
Oscar


Winner!

VS
05/29
944 votes
Bozo


Winner!

VS
05/26
893 votes
Bozo


Winner!

VS
05/25
639 votes
Astro


Winner!

VS
05/24
564 votes
Yeller


Winner!

VS
05/23
614 votes
Astro and yeller


Winner!

VS
05/22
1057 votes
Snicker The other cat from Suring


Winner!

VS
05/19
971 votes
Oscar


Winner!

VS
05/18
753 votes
Astro


Winner!

VS
05/17
853 votes
Yeller


Winner!

VS
05/16
1016 votes
Snicker The other cat from Suring


Winner!

VS
05/15
944 votes
Astro


Winner!

VS
05/12
689 votes
Yeller


Winner!

VS
05/10
1081 votes
Astro


Winner!

VS
05/09
716 votes
Oscar


Winner!

VS
05/08
749 votes
Silver


Winner!

VS
05/05
659 votes
Cernobilovka


Winner!

VS
05/04
715 votes
Belinda


Winner!

VS
05/03
836 votes
Silver


Winner!

VS
05/02
766 votes
Alisha and Chloe


Winner!

VS
05/01
768 votes
Gotham Tobias and Smudge


Winner!

VS
04/28
754 votes
Molly Combs


Winner!

VS
04/27
645 votes
Astro


Winner!

VS
04/26
797 votes
Gotham Tobias and Smudge


Winner!

VS
04/25
757 votes
Cernobilovka


Winner!

VS
04/24
744 votes
Snickerdoodle


Winner!

VS
04/21
721 votes
Astro


Winner!

VS
04/20
726 votes
Snickerdoodle


Winner!

VS
04/19
723 votes
Big Boy


Winner!

VS
04/18
678 votes
Angel and Lord Byron [LB]


Winner!

VS
04/17
747 votes
Lord Byron [LB]


Winner!

VS
04/14
685 votes
Intrepid


Winner!

VS
04/13
847 votes
Lord Byron [LB]


Winner!

VS
04/12
802 votes
Fluffy


Winner!

VS
04/11
707 votes
Elsa & CREAMSICKLE


Winner!

VS
04/10
705 votes
Seren


Winner!

VS
04/07
683 votes
Max


Winner!

VS
04/06
709 votes
Lily-Paloma


Winner!

VS
04/05
756 votes
Seren


Winner!

VS
04/04
677 votes
Yeller


Winner!

VS
04/03
780 votes
Skittles


Winner!

VS
03/31
671 votes
Skittles


Winner!

VS
03/30
601 votes
Yeller


Winner!

VS
03/29
627 votes
Bailey


Winner!

VS
03/28
501 votes
Corky


Winner!

VS
03/27
724 votes
Mimi the Bengal Girl


Winner!

VS
03/24
807 votes
Mimi the Bengal Girl


Winner!

VS
03/23
616 votes
Cleo The Cat From Wisconsin


Winner!

VS
03/22
582 votes
Big Boy


Winner!

VS
03/21
443 votes
Astro and Yeller


Winner!

VS
03/20
518 votes
Oscar


Winner!

VS
03/17
491 votes
Astro


Winner!

VS
03/16
541 votes
Astro


Winner!

VS
03/15
489 votes
Astro


Winner!

VS
03/14
571 votes
Oscar


Winner!

VS
03/13
591 votes
BATMAN


Winner!

VS
03/10
507 votes
Yeller


Winner!

VS
03/09
500 votes
KILLIE


Winner!

VS
03/08
558 votes
BATMAN


Winner!

VS
03/07
470 votes
Astro


Winner!

VS
03/06
558 votes
Creamsickle


Winner!

VS
03/03
546 votes
Tiggi


Winner!

VS
03/02
580 votes
Creamsickle


Winner!

VS
03/01
482 votes
Yeller


Winner!

VS
02/28
404 votes
Astro


Winner!

VS
02/27
560 votes
Rugrat


Winner!

VS
02/24
543 votes
Sir Baby Chubbs


Winner!

VS
02/23
586 votes
Rugrat


Winner!

VS
02/22
408 votes
Astro


Winner!

VS
02/21
381 votes
Pepper


Winner!

VS
02/20
415 votes
Maria


Winner!

VS
02/17
415 votes
Maria


Winner!

VS
02/16
379 votes
USKA


Winner!

VS
02/15
333 votes
Pepper


Winner!

VS
02/14
398 votes
annie


Winner!

VS
02/13
428 votes
Tiger Lily


Winner!

VS
02/10
495 votes
Polly


Winner!

VS
02/09
464 votes
CC


Winner!

VS
02/08
503 votes
Chance


Winner!

VS
02/07
551 votes
Tiger Lily


Winner!

VS
02/06
498 votes
Bandit


Winner!

VS
02/03
387 votes
Yeller


Winner!

VS
02/02
465 votes
Smudge and Gotham Tobias


Winner!

VS
02/01
556 votes
Bandit


Winner!

VS
01/31
519 votes
Darwin


Winner!

VS
01/30
404 votes
Oscar


Winner!

VS
01/27
505 votes
Oscar


Winner!

VS
01/26
445 votes
Astro.


Winner!

VS
01/25
381 votes
Astro


Winner!

VS
01/24
356 votes
Astro


Winner!

VS
01/23
477 votes
Tiger Lily, Lily for short


Winner!

VS
01/20
386 votes
Astro


Winner!

VS
01/19
375 votes
Astro and Yeller


Winner!

VS
01/18
414 votes
Magic


Winner!

VS
01/17
668 votes
Tiger Lily, Lily for short


Winner!

VS
01/16
357 votes
Tiger


Winner!

VS
01/13
388 votes
Bella


Winner!

VS
01/12
438 votes
Tiger


Winner!

VS
01/11
386 votes
Astro


Winner!

VS
01/10
386 votes
Astro


Winner!

VS
01/09
376 votes
Astro


Winner!

VS
01/06
394 votes
Astro


Winner!

VS
01/05
336 votes
Yeller and Astro


Winner!

VS
01/04
387 votes
Yeller


Winner!

VS
01/03
377 votes
Astro


Winner!

VS
01/02
458 votes
Baby H


Winner!

VS
12/30
488 votes
Baby H


Winner!

VS
12/29
456 votes
Mia


Winner!

VS
12/28
406 votes
Yeller


Winner!

VS
12/27
369 votes
Astro


Winner!

VS
12/26
470 votes
Bailey


Winner!

VS
12/23
416 votes
Yeller


Winner!

VS
12/22
512 votes
Uska


Winner!

VS
12/21
441 votes
Astro


Winner!

VS
12/20
562 votes
Bailey


Winner!

VS
12/19
388 votes
Teejay


Winner!

VS
12/16
520 votes
Teejay


Winner!

VS
12/15
465 votes
Tag


Winner!

VS
12/14
454 votes
Oscar


Winner!

VS
12/13
430 votes
Astro


Winner!

VS
12/12
406 votes
Ellah


Winner!

VS
12/09
384 votes
Teejay and yeller


Winner!

VS
12/08
479 votes
Oscar


Winner!

VS
12/07
398 votes
Astro


Winner!

VS
12/06
511 votes
Ellah


Winner!

VS
12/05
464 votes
Lost Kitten


Winner!

VS
12/02
525 votes
Lost Kitten


Winner!

VS
12/01
471 votes
Mocha (MoJo)


Winner!

VS
11/30
417 votes
Astro


Winner!

VS
11/29
518 votes
Bailey


Winner!

VS
11/28
504 votes
Twisty


Winner!

VS
11/25
496 votes
Oscar


Winner!

VS
11/24
310 votes
Darwin


Winner!

VS
11/23
573 votes
Twisty


Winner!

VS
11/22
440 votes
Astro and Yeller


Winner!

VS
11/21
513 votes
Reggie


Winner!

VS
11/18
585 votes
Reggie


Winner!

VS
11/17
488 votes
Astro


Winner!

VS
11/16
515 votes
Frank


Winner!

VS
11/15
476 votes
Oscar


Winner!

VS
11/14
502 votes
Bogie and Bennett


Winner!

VS
11/11
547 votes
Winston


Winner!

VS
11/10
497 votes
Ralph


Winner!

VS
11/09
527 votes
Basil


Winner!

VS
11/08
586 votes
Bogie and Bennett


Winner!

VS
11/07
505 votes
Barby


Winner!

VS
11/04
541 votes
Ralph


Winner!

VS
11/03
582 votes
Bennett


Winner!

VS
11/02
606 votes
Barby


Winner!

VS
11/01
592 votes
Diablo


Winner!

VS
10/31
621 votes
Bowie


Winner!

VS
10/28
563 votes
Suz


Winner!

VS
10/27
610 votes
Suzy


Winner!

VS
10/26
590 votes
Suzy Q


Winner!

VS
10/25
722 votes
Bowie


Winner!

VS
10/24
704 votes
Bailey


Winner!

VS
10/21
684 votes
Ferdinand


Winner!

VS
10/20
550 votes
Mordecai


Winner!

VS
10/19
686 votes
Spock


Winner!

VS
10/18
760 votes
Bailey


Winner!

VS
10/17
648 votes
Chloe


Winner!

VS
10/14
738 votes
Bellatrix


Winner!

VS
10/13
743 votes
Severus


Winner!

VS
10/12
762 votes
Chloe


Winner!

VS
10/11
622 votes
Tory


Winner!

VS
10/10
659 votes
Gotham Rose


Winner!

VS
10/07
623 votes
Yeller


Winner!

VS
10/06
696 votes
Oscar


Winner!

VS
10/05
738 votes
Gotham Rose


Winner!

VS
10/04
542 votes
Astro


Winner!

VS
10/03
656 votes
Twisty


Winner!

VS
09/30
750 votes
Noell


Winner!

VS
09/29
864 votes
Twisty


Winner!

VS
09/28
739 votes
Alisha


Winner!

VS
09/27
709 votes
Miss Tigger and Mr Roo


Winner!

VS
09/26
730 votes
Elgie


Winner!

VS
09/23
738 votes
Sodie


Winner!

VS
09/22
773 votes
Elgie


Winner!

VS
09/21
646 votes
Lucy


Winner!

VS
09/20
713 votes
Tucker


Winner!

VS
09/19
749 votes
King Skeeter


Winner!

VS
09/16
686 votes
Tucker


Winner!

VS
09/15
708 votes
King Skeeter


Winner!

VS
09/14
681 votes
Timber


Winner!

VS
09/13
639 votes
Snickerdoodle


Winner!

VS
09/12
800 votes
Jett


Winner!

VS
09/09
905 votes
Jett


Winner!

VS
09/08
657 votes
Buddy


Winner!

VS
09/07
769 votes
Darwin


Winner!

VS
09/06
693 votes
Zander Kat ninja ginger


Winner!

VS
09/05
688 votes
Toby


Winner!

VS
09/02
674 votes
Hlavka and Uska


Winner!

VS
09/01
824 votes
Toby


Winner!

VS
08/31
732 votes
Libby


Winner!

VS
08/30
772 votes
Chase


Winner!

VS
08/29
662 votes
Razz


Winner!

VS
08/26
722 votes
Rachel


Winner!

VS
08/25
993 votes
Grey


Winner!

VS
08/24
949 votes
Lucy


Winner!

VS
08/23
996 votes
Razz


Winner!

VS
08/22
1173 votes
Baby H


Winner!

VS
08/19
1081 votes
Bailey


Winner!

VS
08/18
1145 votes
Baby H


Winner!

VS
08/17
1125 votes
Alisha and Chloe


Winner!

VS
08/16
1080 votes
Zander


Winner!

VS
08/15
1167 votes
Thunder


Winner!

VS
08/12
896 votes
Oliver


Winner!

VS
08/11
1309 votes
Thunder


Winner!

VS
08/10
1038 votes
Princess


Winner!

VS
08/09
849 votes
Sooty


Winner!

VS
08/08
1265 votes
Mikey


Winner!

VS
08/05
1355 votes
Mikey


Winner!

VS
08/04
1133 votes
Astro


Winner!

VS
08/03
1256 votes
Sheda


Winner!

VS
08/02
1101 votes
Astro


Winner!

VS
08/01
1592 votes
Sadie VS
07/29
1413 votes
Sadie


Winner!

VS
07/28
1148 votes
Cry baby


Winner!

VS
07/27
1376 votes
Zander Kat Ninja Ginger


Winner!

VS
07/26
1364 votes
Chip


Winner!

VS
07/25
2350 votes
Snowball


Winner!

VS
07/22
2267 votes
Snowball


Winner!

VS
07/21
1627 votes
Magic


Winner!

VS
07/20
1504 votes
The Tiny Baby Scuppernong


Winner!

VS
07/19
1379 votes
Kahlua


Winner!

VS
07/18
2047 votes
Sir Pepper VS
07/15
1218 votes
Moo Moo


Winner!

VS
07/14
1461 votes
Sir Pepper VS
07/13
656 votes
Yeller


Winner!

VS
07/12
742 votes
Margarita


Winner!

VS
07/11
1006 votes
Ozzie


Winner!

VS
07/08
865 votes
Yeller


Winner!

VS
07/07
1009 votes
King Skeeter


Winner!

VS
07/06
773 votes
Astro


Winner!

VS
07/05
1127 votes
Ozzie


Winner!

VS
07/04
845 votes
Astro


Winner!

VS
07/01
978 votes
Astro


Winner!

VS
06/30
806 votes
Oscar


Winner!

VS
06/29
908 votes
Cornflake


Winner!

VS
06/28
803 votes
Astro


Winner!

VS
06/27
853 votes
Skittles


Winner!

VS
06/24
751 votes
Yeller


Winner!

VS
06/23
933 votes
Ozzy


Winner!

VS
06/22
851 votes
Astro


Winner!

VS
06/21
982 votes
Skittles


Winner!

VS
06/20
812 votes
Uska


Winner!

VS
06/17
1042 votes
Bailey


Winner!

VS
06/16
1301 votes
Astro


Winner!

VS
06/15
1315 votes
Uska


Winner!

VS
06/14
900 votes
Mandy


Winner!

VS
06/13
1144 votes
Frank


Winner!

VS
06/10
962 votes
Frank


Winner!

VS
06/09
880 votes
Little Bob


Winner!

VS
06/08
728 votes
Yeller


Winner!

VS
06/07
630 votes
Astro


Winner!

VS
06/06
582 votes
Mordecai


Winner!

VS
06/03
711 votes
Spock


Winner!

VS
06/02
921 votes
Mordecai


Winner!

VS
06/01
868 votes
Ferdinand


Winner!

VS
05/31
881 votes
Darwin


Winner!

VS
05/30
680 votes
PUMPKIN


Winner!

VS
05/27
998 votes
Bailey


Winner!

VS
05/26
919 votes
Cori


Winner!

VS
05/25
1012 votes
PUMPKIN


Winner!

VS
05/24
959 votes
BRISKO


Winner!

VS
05/23
785 votes
Astro


Winner!

VS
05/20
956 votes
Astro


Winner!

VS
05/19
949 votes
Yeller


Winner!

VS
05/18
786 votes
Oscar


Winner!

VS
05/17
votes
BooBoo VS
05/16
636 votes
Cupcake


Winner!

VS
05/13
548 votes
Boo and Missy


Winner!

VS
05/12
715 votes
Stevie B


Winner!

VS
05/11
890 votes
Cupcake


Winner!

VS
05/10
520 votes
Little Bob


Winner!

VS
05/09
650 votes
Chicharito


Winner!

VS
05/06
788 votes
Lucky


Winner!

VS
05/05
689 votes
Uska


Winner!

VS
05/04
884 votes
Chicharito


Winner!

VS
05/03
762 votes
Ozzy


Winner!

VS
05/02
686 votes
Pixar & Buddy


Winner!

VS
04/29
524 votes
Yeller


Winner!

VS
04/28
573 votes
Oscar


Winner!

VS
04/27
593 votes
Astro


Winner!

VS
04/26
778 votes
Pixar & Buddy


Winner!

VS
04/25
1083 votes
Snicker


Winner!

VS
04/22
818 votes
Cupcake


Winner!

VS
04/21
772 votes
Mushy


Winner!

VS
04/20
761 votes
"Flame"


Winner!

VS
04/19
905 votes
Snicker


Winner!

VS
04/18
722 votes
Sir Isaac


Winner!

VS
04/15
624 votes
Oscar


Winner!

VS
04/14
606 votes
Lover


Winner!

VS
04/13
771 votes
Sir Isaac


Winner!

VS
04/12
678 votes
Tah-ko


Winner!

VS
04/11
597 votes
Yeller


Winner!

VS
04/08
609 votes
Samantha


Winner!

VS
04/07
642 votes
Cornflake


Winner!

VS
04/06
626 votes
Oscar


Winner!

VS
04/05
815 votes
Yeller


Winner!

VS
04/04
931 votes
smokey


Winner!

VS
04/01
572 votes
Astro


Winner!

VS
03/31
811 votes
Munchkin


Winner!

VS
03/29
1052 votes
smokey


Winner!

VS
03/28
654 votes
Mister Tibbs


Winner!

VS
03/25
861 votes
Mister Tibbs


Winner!

VS
03/24
783 votes
mimi


Winner!

VS
03/23
621 votes
Yeller and Teejay


Winner!

VS
03/22
712 votes
"Flame"


Winner!

VS
03/21
720 votes
Angel


Winner!

VS
03/18
924 votes
Angel


Winner!

VS
03/17
743 votes
George


Winner!

VS
03/16
809 votes
Princess


Winner!

VS
03/15
838 votes
Eli


Winner!

VS
03/14
803 votes
Astro


Winner!

VS
03/11
857 votes
Astro


Winner!

VS
03/10
748 votes
Samantha


Winner!

VS
03/09
796 votes
Sylvester


Winner!

VS
03/08
706 votes
Nucetz


Winner!

VS
03/07
1018 votes
emerson Michael Miller


Winner!

VS
03/04
1041 votes
emerson Michael Miller


Winner!

VS
03/03
774 votes
Murphy and Mimi


Winner!

VS
03/02
856 votes
Samantha


Winner!

VS
03/01
936 votes
Elsa


Winner!

VS
02/29
1097 votes
Boo


Winner!

VS
02/26
1079 votes
Boo


Winner!

VS
02/25
780 votes
Mimi / Murf


Winner!

VS
02/24
542 votes
Oscar the cat


Winner!

VS
02/23
676 votes
Astro


Winner!

VS
02/22
645 votes
Maggie


Winner!

VS
02/19
775 votes
Maggie


Winner!

VS
02/18
745 votes
Samurai Jack


Winner!

VS
02/17
757 votes
Cernobka


Winner!

VS
02/16
631 votes
Skittles


Winner!

VS
02/15
1167 votes
Elsa,Bandit, Sheena


Winner!

VS
02/12
1282 votes
Elsa,Bandit, Sheena


Winner!

VS
02/11
724 votes
rachel and blackie


Winner!

VS
02/10
697 votes
Anubis


Winner!

VS
02/09
738 votes
Belle


Winner!

VS
02/08
700 votes
Tah-ko and Fonzy


Winner!

VS
02/05
722 votes
Tah-ko and Fonzy


Winner!

VS
02/04
657 votes
Rachel and Cernousek


Winner!

VS
02/03
559 votes
Katy the Church Cat


Winner!

VS
02/02
637 votes
Bellatrix


Winner!

VS
02/01
845 votes
uska,cernil,lova,rachel,cernobila,slepka,seda,hlavka


Winner!

VS
01/29
887 votes
uska,cernil,lova,rachel,cernobila,slepka,seda,hlavka


Winner!

VS
01/28
865 votes
mimi


Winner!

VS
01/27
658 votes
Cornflake


Winner!

VS
01/26
616 votes
Oscar


Winner!

VS
01/25
858 votes
Gypsy


Winner!

VS
01/22
1044 votes
Gypsy


Winner!

VS
01/21
747 votes
Pruzak


Winner!

VS
01/20
votes
Pruzak VS
01/20
801 votes
gizmo


Winner!

VS
01/19
791 votes
Sheena


Winner!

VS
01/18
1000 votes
Bailey


Winner!

VS
01/15
880 votes
Gypsy Girl


Winner!

VS
01/14
1026 votes
Bailey


Winner!

VS
01/13
754 votes
Samantha


Winner!

VS
01/12
872 votes
astro and louie the wciu weather tortoise of 2011


Winner!

VS
01/11
671 votes
Nibbler


Winner!

VS
01/08
896 votes
Bailey


Winner!

VS
01/07
1092 votes
Nibbler


Winner!

VS
01/06
955 votes
mimi


Winner!

VS
01/05
1001 votes
murphy


Winner!

VS
01/04
660 votes
Jasper


Winner!

VS
01/01
827 votes
Hope


Winner!

VS
12/31
903 votes
uska


Winner!

VS
12/30
1039 votes
Jasper


Winner!

VS
12/29
673 votes
Brichac


Winner!

VS
12/28
697 votes
Hlavka


Winner!

VS
12/25
951 votes
Hlavka


Winner!

VS
12/24
749 votes
"Fuzz-Duster"


Winner!

VS
12/23
883 votes
"Corduroy"


Winner!

VS
12/22
511 votes
Orange Juice


Winner!

VS
12/21
932 votes
Bug


Winner!

VS
12/18
748 votes
Brichac


Winner!

VS
12/17
547 votes
Oscar


Winner!

VS
12/16
759 votes
Bug


Winner!

VS
12/15
518 votes
Fonzy


Winner!

VS
12/14
1056 votes
Cornflake


Winner!

VS
12/11
858 votes
Arouraborealis or "Bori-Alice"


Winner!

VS
12/10
651 votes
Oscar


Winner!

VS
12/09
1066 votes
Cornflake


Winner!

VS
12/08
946 votes
Uska


Winner!

VS
12/07
772 votes
Cori


Winner!

VS
12/04
1126 votes
Cori


Winner!

VS
12/03
1001 votes
Cernil


Winner!

VS
12/02
1060 votes
Pumpkin


Winner!

VS
12/01
638 votes
Marlee


Winner!

VS
11/30
1155 votes
Pepper


Winner!

VS
11/27
420 votes
Oscar


Winner!

VS
11/25
972 votes
Pepper


Winner!

VS
11/24
866 votes
Cossette


Winner!

VS
11/23
742 votes
Bandit


Winner!

VS
11/20
votes
Bandit VS
11/20
780 votes
Tah-ko Grande


Winner!

VS
11/19
884 votes
Laceypeca


Winner!

VS
11/18
874 votes
casper


Winner!

VS
11/17
1384 votes
Bandit


Winner!

VS
11/16
1329 votes
Bailey


Winner!

VS
11/13
762 votes
Fonzy


Winner!

VS
11/12
1110 votes
Simba


Winner!

VS
11/11
1120 votes
Bailey


Winner!

VS
11/10
1054 votes
Season


Winner!

VS
11/09
1067 votes
Skyler


Winner!

VS
11/06
609 votes
Oscar


Winner!

VS
11/05
772 votes
Francine


Winner!

VS
11/04
830 votes
Skyler


Winner!

VS
11/03
651 votes
Monet


Winner!

VS
11/02
718 votes
Shadow & Amber


Winner!

VS
10/30
664 votes
Anubis


Winner!

VS
10/29
880 votes
Shadow & Amber


Winner!

VS
10/28
858 votes
Autumn


Winner!

VS
10/27
739 votes
Tyrion


Winner!

VS
10/26
725 votes
Sammy & Shadow


Winner!

VS
10/23
794 votes
Sammy & Shadow


Winner!

VS
10/22
776 votes
"Duma"


Winner!

VS
10/21
725 votes
Morty


Winner!

VS
10/20
806 votes
Fonzy


Winner!

VS
10/16
1068 votes
Io


Winner!

VS
10/15
1106 votes
Fonzy


Winner!

VS
10/14
897 votes
Cheyanne


Winner!

VS
10/13
665 votes
Cole


Winner!

VS
10/12
759 votes
Samantha


Winner!

VS
10/09
949 votes
Samantha


Winner!

VS
10/08
627 votes
Syruss


Winner!

VS
10/07
847 votes
Molly Pye


Winner!

VS
10/06
904 votes
Samantha


Winner!

VS
10/05
800 votes
Edgar


Winner!

VS
10/02
1022 votes
Desi


Winner!

VS
10/01
947 votes
Kevin and Devon


Winner!

VS
09/30
1057 votes
Edgar


Winner!

VS
09/29
915 votes
Jimmy


Winner!

VS
09/28
1038 votes
Lily-Paloma


Winner!

VS
09/25
1151 votes
Lily-Paloma


Winner!

VS
09/24
1044 votes
Beebs


Winner!

VS
09/23
937 votes
Oscar


Winner!

VS
09/22
869 votes
King Skeeter


Winner!

VS
09/21
1089 votes
Blind Pepe


Winner!

VS
09/18
1194 votes
Blind Pepe


Winner!

VS
09/17
1072 votes
Biscuit


Winner!

VS
09/16
662 votes
missy


Winner!

VS
09/15
724 votes
Pye


Winner!

VS
09/14
719 votes
Okeechobbie


Winner!

VS
09/11
923 votes
Robin


Winner!

VS
09/10
1031 votes
Aladdin


Winner!

VS
09/09
1104 votes
Okeechobbie


Winner!

VS
09/08
893 votes
Nibbler


Winner!

VS
09/07
893 votes
Max


Winner!

VS
09/04
1 votes
Oscar


Winner!

VS
09/03
1218 votes
Max


Winner!

VS
09/02
936 votes
"Flower"


Winner!

VS
09/01
633 votes
Cornflake


Winner!

VS
08/31
1008 votes
Jimmy


Winner!

VS
08/28
898 votes
Guinness


Winner!

VS
08/27
1039 votes
"Flower"


Winner!

VS
08/26
865 votes
Gypsy


Winner!

VS
08/25
1123 votes
Jimmy


Winner!

VS
08/24
870 votes
Addy


Winner!

VS
08/21
764 votes
Bali


Winner!

VS
08/20
840 votes
Molly


Winner!

VS
08/19
votes
Laceypeca VS
08/19
946 votes
Addy


Winner!

VS
08/18
719 votes
Mushy


Winner!

VS
08/17
866 votes
Buddy


Winner!

VS
08/14
839 votes
Salem


Winner!

VS
08/13
742 votes
Missy and Boo


Winner!

VS
08/12
1069 votes
Buddy


Winner!

VS
08/11
654 votes
Furby


Winner!

VS
08/10
959 votes
Samurai Jack


Winner!

VS
08/07
985 votes
Samantha


Winner!

VS
08/06
955 votes
Sophia


Winner!

VS
08/05
1079 votes
Samurai Jack


Winner!

VS
08/04
792 votes
Harry and Jaffa


Winner!

VS
08/03
952 votes
Queen Chiquita


Winner!

VS
07/31
1085 votes
Cori


Winner!

VS
07/30
1124 votes
Queen Chiquita


Winner!

VS
07/29
925 votes
Salem


Winner!

VS
07/28
875 votes
Tah-ko Grande


Winner!

VS
07/27
1264 votes
Mister Tibbs


Winner!

VS
07/24
928 votes
Boo


Winner!

VS
07/23
1072 votes
Tah-ko and Fonzy


Winner!

VS
07/22
votes
Boo VS
07/21
1181 votes
Mister Tibbs


Winner!

VS
07/20
1144 votes
Tricky Treat


Winner!

VS
07/17
993 votes
Boo


Winner!

VS
07/16
1018 votes
Oreo


Winner!

VS
07/15
927 votes
Chiquita


Winner!

VS
07/14
1322 votes
Tricky Treat


Winner!

VS
07/13
1361 votes
Calvin


Winner!

VS
07/10
857 votes
Sophia


Winner!

VS
07/09
945 votes
Patches


Winner!

VS
07/08
969 votes
Buddy


Winner!

VS
07/07
976 votes
Calvin


Winner!

VS
07/06
1256 votes
Kevin and Devon


Winner!

VS
07/03
1157 votes
Yeller


Winner!

VS
07/02
1136 votes
Midnight


Winner!

VS
07/01
1229 votes
Kevin and Devon


Winner!

VS
06/30
959 votes
Morty


Winner!

VS
06/29
1013 votes
Scally-Wags


Winner!

VS
06/26
1003 votes
Scally-Wags


Winner!

VS
06/25
925 votes
Scott


Winner!

VS
06/24
961 votes
MEOW


Winner!

VS
06/23
997 votes
Fonzy


Winner!

VS
06/22
1025 votes
Thackery Binx


Winner!

VS
06/19
1023 votes
Rachael Rae


Winner!

VS
06/18
1064 votes
"Flower"


Winner!

VS
06/17
1056 votes
"Duma"


Winner!

VS
06/16
1118 votes
Thackery Binx


Winner!

VS
06/15
1114 votes
Bali Blue Eyes


Winner!

VS
06/12
1001 votes
Douglas


Winner!

VS
06/11
1049 votes
Bali Blue Eyes


Winner!

VS
06/10
968 votes
Samantha


Winner!

VS
06/09
750 votes
Fonzy


Winner!

VS
06/08
976 votes
Ginger


Winner!

VS
06/05
1157 votes
Ginger


Winner!

VS
06/04
1071 votes
Samantha


Winner!

VS
06/03
1105 votes
Kitty


Winner!

VS
06/02
1039 votes
Shadow


Winner!

VS
06/01
1513 votes
Astro (With Louie)


Winner!

VS
05/29
1365 votes
Astro (With Louie)


Winner!

VS
05/28
1224 votes
CORNFLAKE


Winner!

VS
05/27
1254 votes
Shadow


Winner!

VS
05/26
935 votes
Skittles


Winner!

VS
05/25
1726 votes
Oscar


Winner!

VS
05/22
1438 votes
Oscar


Winner!

VS
05/21
1058 votes
Tabitha


Winner!

VS
05/20
1115 votes
Maggie Meme


Winner!

VS
05/19
1295 votes
Rusty


Winner!

VS
05/18
1096 votes
Ferdinand


Winner!

VS
05/15
1090 votes
Binkus


Winner!

VS
05/14
1223 votes
Yeller


Winner!

VS
05/13
1492 votes
Ferdinand


Winner!

VS
05/12
880 votes
Whiskers


Winner!

VS
05/11
746 votes
Oscar


Winner!

VS
05/08
736 votes
Astro


Winner!

VS
05/07
805 votes
Samantha


Winner!

VS
05/06
1064 votes
Oscar


Winner!

VS
05/05
947 votes
Winkie


Winner!

VS
05/04
1387 votes
betsy


Winner!

VS
05/01
1250 votes
Jaspurr


Winner!

VS
04/30
1355 votes
Bailey


Winner!

VS
04/29
1361 votes
betsy


Winner!

VS
04/28
1009 votes
TommyLee


Winner!

VS
04/27
2054 votes
Thomas


Winner!

VS
04/24
1129 votes
Tabitha


Winner!

VS
04/23
1289 votes
Dusty


Winner!

VS
04/22
1426 votes
Thomas


Winner!

VS
04/21
1254 votes
Phoebe VS
04/20
692 votes
Samantha


Winner!

VS
04/17
731 votes
Dusty


Winner!

VS
04/16
734 votes
Angel


Winner!

VS
04/15
755 votes
Samantha


Winner!

VS
04/14
678 votes
Ferdinand


Winner!

VS
04/13
807 votes
Spock


Winner!

VS
04/10
847 votes
Spock


Winner!

VS
04/09
829 votes
Mordecai


Winner!

VS
04/08
771 votes
Fonty


Winner!

VS
04/07
739 votes
Oscar


Winner!

VS
04/06
802 votes
Willow


Winner!

VS
04/03
686 votes
Sexy Lexy


Winner!

VS
04/02
655 votes
Sonny


Winner!

VS
04/01
839 votes
Willow


Winner!

VS
03/31
765 votes
Spot Toffelees


Winner!

VS
03/30
1154 votes
Bastet


Winner!

VS
03/27
900 votes
Bastet


Winner!

VS
03/26
784 votes
Samantha


Winner!

VS
03/25
878 votes
Bailey


Winner!

VS
03/24
855 votes
Max


Winner!

VS
03/23
758 votes
Callieann Kiwi


Winner!

VS
03/20
760 votes
Astro


Winner!

VS
03/19
776 votes
Scout


Winner!

VS
03/18
783 votes
Nevaeh Starr


Winner!

VS
03/17
794 votes
Callieann Kiwi


Winner!

VS
03/16
777 votes
Darwin


Winner!

VS
03/13
745 votes
Dolce (a.k.a.) Pipsie


Winner!

VS
03/12
817 votes
CASPER


Winner!

VS
03/11
891 votes
Darwin


Winner!

VS
03/10
544 votes
Mushy


Winner!

VS
03/09
662 votes
Belle


Winner!

VS
03/06
723 votes
Belle


Winner!

VS
03/05
677 votes
Samantha


Winner!

VS
03/04
713 votes
tiffany rose


Winner!

VS
03/03
620 votes
CheChe a.k.a Che Monster


Winner!

VS
03/02
992 votes
Roo


Winner!

VS
02/27
801 votes
jabbers


Winner!

VS
02/26
822 votes
coco


Winner!

VS
02/25
1098 votes
Roo


Winner!

VS
02/24
735 votes
Amber Lynn


Winner!

VS
02/23
751 votes
Nala Haylee


Winner!

VS
02/20
850 votes
Nala Haylee


Winner!

VS
02/19
809 votes
Chessie


Winner!

VS
02/18
709 votes
Oakley


Winner!

VS
02/17
736 votes
Max


Winner!

VS
02/16
1024 votes
Oscar


Winner!

VS
02/13
836 votes
Oscar


Winner!

VS
02/12
801 votes
Samantha


Winner!

VS
02/11
737 votes
Molly


Winner!

VS
02/10
664 votes
Kimba


Winner!

VS
02/09
758 votes
Oscar


Winner!

VS
02/06
897 votes
Oscar


Winner!

VS
02/05
794 votes
Belle


Winner!

VS
02/04
810 votes
G.G. Kitty Girl


Winner!

VS
02/03
670 votes
Stewy Jordan


Winner!

VS
02/02
715 votes
garfield


Winner!

VS
01/30
830 votes
garfield


Winner!

VS
01/29
802 votes
Princess


Winner!

VS
01/28
792 votes
ziggy


Winner!

VS
01/27
779 votes
Bailey


Winner!

VS
01/26
874 votes
Charlotte


Winner!

VS
01/23
772 votes
Danny


Winner!

VS
01/22
719 votes
Cooter


Winner!

VS
01/21
825 votes
Shadow and Sammy


Winner!

VS
01/20
837 votes
Charlotte


Winner!

VS
01/19
881 votes
Stinky


Winner!

VS
01/16
757 votes
Stinky


Winner!

VS
01/15
581 votes
Boots


Winner!

VS
01/14
687 votes
Cece


Winner!

VS
01/13
533 votes
Perky


Winner!

VS
01/12
747 votes
Pia


Winner!

VS
01/09
1071 votes
Pia


Winner!

VS
01/08
667 votes
Liberty


Winner!

VS
01/07
562 votes
Kionia


Winner!

VS
01/06
534 votes
astro


Winner!

VS
01/05
1255 votes
Safari


Winner!

VS
01/02
589 votes
G.G. Kitty Girl


Winner!

VS
01/01
531 votes
Hannah & BobbySue


Winner!

VS
12/31
538 votes
Wessie


Winner!

VS
12/30
1148 votes
Safari


Winner!

VS
12/29
473 votes
Pye


Winner!

VS
12/26
339 votes
Baby


Winner!

VS
12/25
453 votes
G.G. Kitty Girl


Winner!

VS
12/24
563 votes
Buddy


Winner!

VS
12/23
653 votes
Pye


Winner!

VS
12/22
521 votes
Tigger B


Winner!

VS
12/19
508 votes
Collin


Winner!

VS
12/18
471 votes
Molly


Winner!

VS
12/17
516 votes
Tigger B


Winner!

VS
12/16
499 votes
Doodle


Winner!

VS
12/15
668 votes
Jeffrey


Winner!

VS
12/12
553 votes
Jeffrey


Winner!

VS
12/11
501 votes
Missy


Winner!

VS
12/10
490 votes
Ginsu


Winner!

VS
12/09
490 votes
Ferdinand


Winner!

VS
12/08
581 votes
Mordecai


Winner!

VS
12/05
502 votes
Spock


Winner!

VS
12/04
523 votes
Mordecai


Winner!

VS
12/03
300 votes
Saki