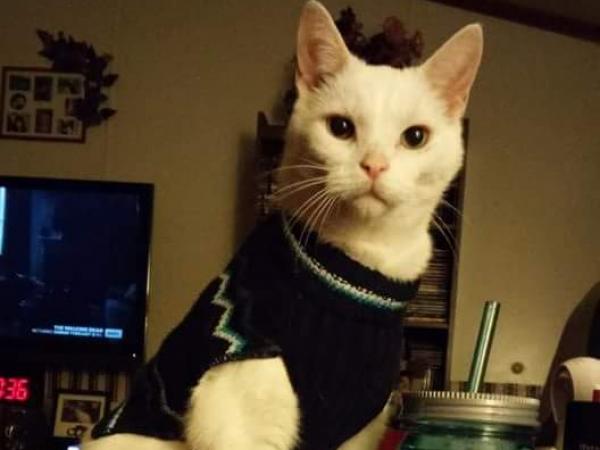 Rugrat from
This is my baby boy, Rugrat. I raised him on a bottle. He was 2wks and 2 days old when I got him. He was the only kitten that survived in his litter. I fed him every three hours, doctored and mothered him. I was determined he was going to make it. He is 12 and a half now and the joy of my life. He doesn't think he is a CAT, he's the baby boy. He's a solid white Bobtail.
FRIDAY FUR-DOWN WINNERS...
584
LAST 3 CAT VICTORS...
CAT
DOG
4617 votes
07/21
Snowball
3508 votes
07/13
Sir Pepper
3480 votes
04/21
Thomas
1146 votes
02/22
Rugrat
1054 votes
01/31
Bandit
979 votes
02/06
Tiger Lily
32941 votes
Dawn
22463 votes
Linda Jablonski Hassa
18273 votes
Phyllis Cafagna
560 votes
Rugrat


Winner!

VS
02/24
543 votes
Sir Baby Chubbs


Winner!

VS
02/23
586 votes
Rugrat


Winner!

VS
02/22
408 votes
Astro


Winner!

VS
02/21
381 votes
Pepper


Winner!

VS
02/20
415 votes
Maria


Winner!

VS
02/17
415 votes
Maria


Winner!

VS
02/16
379 votes
USKA


Winner!

VS
02/15
333 votes
Pepper


Winner!

VS
02/14
398 votes
annie


Winner!

VS
02/13
428 votes
Tiger Lily


Winner!

VS
02/10
495 votes
Polly


Winner!

VS
02/09
464 votes
CC


Winner!

VS
02/08
503 votes
Chance


Winner!

VS
02/07
551 votes
Tiger Lily


Winner!

VS
02/06
498 votes
Bandit


Winner!

VS
02/03
387 votes
Yeller


Winner!

VS
02/02
465 votes
Smudge and Gotham Tobias


Winner!

VS
02/01
556 votes
Bandit


Winner!

VS
01/31
519 votes
Darwin


Winner!

VS
01/30
404 votes
Oscar


Winner!

VS
01/27
505 votes
Oscar


Winner!

VS
01/26
445 votes
Astro.


Winner!

VS
01/25
381 votes
Astro


Winner!

VS
01/24
356 votes
Astro


Winner!

VS
01/23
477 votes
Tiger Lily, Lily for short


Winner!

VS
01/20
386 votes
Astro


Winner!

VS
01/19
375 votes
Astro and Yeller


Winner!

VS
01/18
414 votes
Magic


Winner!

VS
01/17
668 votes
Tiger Lily, Lily for short


Winner!

VS
01/16
357 votes
Tiger


Winner!

VS
01/13
388 votes
Bella


Winner!

VS
01/12
438 votes
Tiger


Winner!

VS
01/11
386 votes
Astro


Winner!

VS
01/10
386 votes
Astro


Winner!

VS
01/09
376 votes
Astro


Winner!

VS
01/06
394 votes
Astro


Winner!

VS
01/05
336 votes
Yeller and Astro


Winner!

VS
01/04
387 votes
Yeller


Winner!

VS
01/03
377 votes
Astro


Winner!

VS
01/02
458 votes
Baby H


Winner!

VS
12/30
488 votes
Baby H


Winner!

VS
12/29
456 votes
Mia


Winner!

VS
12/28
406 votes
Yeller


Winner!

VS
12/27
369 votes
Astro


Winner!

VS
12/26
470 votes
Bailey


Winner!

VS
12/23
416 votes
Yeller


Winner!

VS
12/22
512 votes
Uska


Winner!

VS
12/21
441 votes
Astro


Winner!

VS
12/20
562 votes
Bailey


Winner!

VS
12/19
388 votes
Teejay


Winner!

VS
12/16
520 votes
Teejay


Winner!

VS
12/15
465 votes
Tag


Winner!

VS
12/14
454 votes
Oscar


Winner!

VS
12/13
430 votes
Astro


Winner!

VS
12/12
406 votes
Ellah


Winner!

VS
12/09
384 votes
Teejay and yeller


Winner!

VS
12/08
479 votes
Oscar


Winner!

VS
12/07
398 votes
Astro


Winner!

VS
12/06
511 votes
Ellah


Winner!

VS
12/05
464 votes
Lost Kitten


Winner!

VS
12/02
525 votes
Lost Kitten


Winner!

VS
12/01
471 votes
Mocha (MoJo)


Winner!

VS
11/30
417 votes
Astro


Winner!

VS
11/29
518 votes
Bailey


Winner!

VS
11/28
504 votes
Twisty


Winner!

VS
11/25
496 votes
Oscar


Winner!

VS
11/24
310 votes
Darwin


Winner!

VS
11/23
573 votes
Twisty


Winner!

VS
11/22
440 votes
Astro and Yeller


Winner!

VS
11/21
513 votes
Reggie


Winner!

VS
11/18
585 votes
Reggie


Winner!

VS
11/17
488 votes
Astro


Winner!

VS
11/16
515 votes
Frank


Winner!

VS
11/15
476 votes
Oscar


Winner!

VS
11/14
502 votes
Bogie and Bennett


Winner!

VS
11/11
547 votes
Winston


Winner!

VS
11/10
497 votes
Ralph


Winner!

VS
11/09
527 votes
Basil


Winner!

VS
11/08
586 votes
Bogie and Bennett


Winner!

VS
11/07
505 votes
Barby


Winner!

VS
11/04
541 votes
Ralph


Winner!

VS
11/03
582 votes
Bennett


Winner!

VS
11/02
606 votes
Barby


Winner!

VS
11/01
592 votes
Diablo


Winner!

VS
10/31
621 votes
Bowie


Winner!

VS
10/28
563 votes
Suz


Winner!

VS
10/27
610 votes
Suzy


Winner!

VS
10/26
590 votes
Suzy Q


Winner!

VS
10/25
722 votes
Bowie


Winner!

VS
10/24
704 votes
Bailey


Winner!

VS
10/21
684 votes
Ferdinand


Winner!

VS
10/20
550 votes
Mordecai


Winner!

VS
10/19
686 votes
Spock


Winner!

VS
10/18
760 votes
Bailey


Winner!

VS
10/17
648 votes
Chloe


Winner!

VS
10/14
738 votes
Bellatrix


Winner!

VS
10/13
743 votes
Severus


Winner!

VS
10/12
762 votes
Chloe


Winner!

VS
10/11
622 votes
Tory


Winner!

VS
10/10
659 votes
Gotham Rose


Winner!

VS
10/07
623 votes
Yeller


Winner!

VS
10/06
696 votes
Oscar


Winner!

VS
10/05
738 votes
Gotham Rose


Winner!

VS
10/04
542 votes
Astro


Winner!

VS
10/03
656 votes
Twisty


Winner!

VS
09/30
750 votes
Noell


Winner!

VS
09/29
864 votes
Twisty


Winner!

VS
09/28
739 votes
Alisha


Winner!

VS
09/27
709 votes
Miss Tigger and Mr Roo


Winner!

VS
09/26
730 votes
Elgie


Winner!

VS
09/23
738 votes
Sodie


Winner!

VS
09/22
773 votes
Elgie


Winner!

VS
09/21
646 votes
Lucy


Winner!

VS
09/20
713 votes
Tucker


Winner!

VS
09/19
749 votes
King Skeeter


Winner!

VS
09/16
686 votes
Tucker


Winner!

VS
09/15
708 votes
King Skeeter


Winner!

VS
09/14
681 votes
Timber


Winner!

VS
09/13
639 votes
Snickerdoodle


Winner!

VS
09/12
800 votes
Jett


Winner!

VS
09/09
905 votes
Jett


Winner!

VS
09/08
657 votes
Buddy


Winner!

VS
09/07
769 votes
Darwin


Winner!

VS
09/06
693 votes
Zander Kat ninja ginger


Winner!

VS
09/05
688 votes
Toby


Winner!

VS
09/02
674 votes
Hlavka and Uska


Winner!

VS
09/01
824 votes
Toby


Winner!

VS
08/31
732 votes
Libby


Winner!

VS
08/30
772 votes
Chase


Winner!

VS
08/29
662 votes
Razz


Winner!

VS
08/26
722 votes
Rachel


Winner!

VS
08/25
993 votes
Grey


Winner!

VS
08/24
949 votes
Lucy


Winner!

VS
08/23
996 votes
Razz


Winner!

VS
08/22
1173 votes
Baby H


Winner!

VS
08/19
1081 votes
Bailey


Winner!

VS
08/18
1145 votes
Baby H


Winner!

VS
08/17
1125 votes
Alisha and Chloe


Winner!

VS
08/16
1080 votes
Zander


Winner!

VS
08/15
1167 votes
Thunder


Winner!

VS
08/12
896 votes
Oliver


Winner!

VS
08/11
1309 votes
Thunder


Winner!

VS
08/10
1038 votes
Princess


Winner!

VS
08/09
849 votes
Sooty


Winner!

VS
08/08
1265 votes
Mikey


Winner!

VS
08/05
1355 votes
Mikey


Winner!

VS
08/04
1133 votes
Astro


Winner!

VS
08/03
1256 votes
Sheda


Winner!

VS
08/02
1101 votes
Astro


Winner!

VS
08/01
1592 votes
Sadie VS
07/29
1413 votes
Sadie


Winner!

VS
07/28
1148 votes
Cry baby


Winner!

VS
07/27
1376 votes
Zander Kat Ninja Ginger


Winner!

VS
07/26
1364 votes
Chip


Winner!

VS
07/25
2350 votes
Snowball


Winner!

VS
07/22
2267 votes
Snowball


Winner!

VS
07/21
1627 votes
Magic


Winner!

VS
07/20
1504 votes
The Tiny Baby Scuppernong


Winner!

VS
07/19
1379 votes
Kahlua


Winner!

VS
07/18
2047 votes
Sir Pepper VS
07/15
1218 votes
Moo Moo


Winner!

VS
07/14
1461 votes
Sir Pepper VS
07/13
656 votes
Yeller


Winner!

VS
07/12
742 votes
Margarita


Winner!

VS
07/11
1006 votes
Ozzie


Winner!

VS
07/08
865 votes
Yeller


Winner!

VS
07/07
1009 votes
King Skeeter


Winner!

VS
07/06
773 votes
Astro


Winner!

VS
07/05
1127 votes
Ozzie


Winner!

VS
07/04
845 votes
Astro


Winner!

VS
07/01
978 votes
Astro


Winner!

VS
06/30
806 votes
Oscar


Winner!

VS
06/29
908 votes
Cornflake


Winner!

VS
06/28
803 votes
Astro


Winner!

VS
06/27
853 votes
Skittles


Winner!

VS
06/24
751 votes
Yeller


Winner!

VS
06/23
933 votes
Ozzy


Winner!

VS
06/22
851 votes
Astro


Winner!

VS
06/21
982 votes
Skittles


Winner!

VS
06/20
812 votes
Uska


Winner!

VS
06/17
1042 votes
Bailey


Winner!

VS
06/16
1301 votes
Astro


Winner!

VS
06/15
1315 votes
Uska


Winner!

VS
06/14
900 votes
Mandy


Winner!

VS
06/13
1144 votes
Frank


Winner!

VS
06/10
962 votes
Frank


Winner!

VS
06/09
880 votes
Little Bob


Winner!

VS
06/08
728 votes
Yeller


Winner!

VS
06/07
630 votes
Astro


Winner!

VS
06/06
582 votes
Mordecai


Winner!

VS
06/03
711 votes
Spock


Winner!

VS
06/02
921 votes
Mordecai


Winner!

VS
06/01
868 votes
Ferdinand


Winner!

VS
05/31
881 votes
Darwin


Winner!

VS
05/30
680 votes
PUMPKIN


Winner!

VS
05/27
998 votes
Bailey


Winner!

VS
05/26
919 votes
Cori


Winner!

VS
05/25
1012 votes
PUMPKIN


Winner!

VS
05/24
959 votes
BRISKO


Winner!

VS
05/23
785 votes
Astro


Winner!

VS
05/20
956 votes
Astro


Winner!

VS
05/19
949 votes
Yeller


Winner!

VS
05/18
786 votes
Oscar


Winner!

VS
05/17
votes
BooBoo VS
05/16
636 votes
Cupcake


Winner!

VS
05/13
548 votes
Boo and Missy


Winner!

VS
05/12
715 votes
Stevie B


Winner!

VS
05/11
890 votes
Cupcake


Winner!

VS
05/10
520 votes
Little Bob


Winner!

VS
05/09
650 votes
Chicharito


Winner!

VS
05/06
788 votes
Lucky


Winner!

VS
05/05
689 votes
Uska


Winner!

VS
05/04
884 votes
Chicharito


Winner!

VS
05/03
762 votes
Ozzy


Winner!

VS
05/02
686 votes
Pixar & Buddy


Winner!

VS
04/29
524 votes
Yeller


Winner!

VS
04/28
573 votes
Oscar


Winner!

VS
04/27
593 votes
Astro


Winner!

VS
04/26
778 votes
Pixar & Buddy


Winner!

VS
04/25
1083 votes
Snicker


Winner!

VS
04/22
818 votes
Cupcake


Winner!

VS
04/21
772 votes
Mushy


Winner!

VS
04/20
761 votes
"Flame"


Winner!

VS
04/19
905 votes
Snicker


Winner!

VS
04/18
722 votes
Sir Isaac


Winner!

VS
04/15
624 votes
Oscar


Winner!

VS
04/14
606 votes
Lover


Winner!

VS
04/13
771 votes
Sir Isaac


Winner!

VS
04/12
678 votes
Tah-ko


Winner!

VS
04/11
597 votes
Yeller


Winner!

VS
04/08
609 votes
Samantha


Winner!

VS
04/07
642 votes
Cornflake


Winner!

VS
04/06
626 votes
Oscar


Winner!

VS
04/05
815 votes
Yeller


Winner!

VS
04/04
931 votes
smokey


Winner!

VS
04/01
572 votes
Astro


Winner!

VS
03/31
811 votes
Munchkin


Winner!

VS
03/29
1052 votes
smokey


Winner!

VS
03/28
654 votes
Mister Tibbs


Winner!

VS
03/25
861 votes
Mister Tibbs


Winner!

VS
03/24
783 votes
mimi


Winner!

VS
03/23
621 votes
Yeller and Teejay


Winner!

VS
03/22
712 votes
"Flame"


Winner!

VS
03/21
720 votes
Angel


Winner!

VS
03/18
924 votes
Angel


Winner!

VS
03/17
743 votes
George


Winner!

VS
03/16
809 votes
Princess


Winner!

VS
03/15
838 votes
Eli


Winner!

VS
03/14
803 votes
Astro


Winner!

VS
03/11
857 votes
Astro


Winner!

VS
03/10
748 votes
Samantha


Winner!

VS
03/09
796 votes
Sylvester


Winner!

VS
03/08
706 votes
Nucetz


Winner!

VS
03/07
1018 votes
emerson Michael Miller


Winner!

VS
03/04
1041 votes
emerson Michael Miller


Winner!

VS
03/03
774 votes
Murphy and Mimi


Winner!

VS
03/02
856 votes
Samantha


Winner!

VS
03/01
936 votes
Elsa


Winner!

VS
02/29
1097 votes
Boo


Winner!

VS
02/26
1079 votes
Boo


Winner!

VS
02/25
780 votes
Mimi / Murf


Winner!

VS
02/24
542 votes
Oscar the cat


Winner!

VS
02/23
676 votes
Astro


Winner!

VS
02/22
645 votes
Maggie


Winner!

VS
02/19
775 votes
Maggie


Winner!

VS
02/18
745 votes
Samurai Jack


Winner!

VS
02/17
757 votes
Cernobka


Winner!

VS
02/16
631 votes
Skittles


Winner!

VS
02/15
1167 votes
Elsa,Bandit, Sheena


Winner!

VS
02/12
1282 votes
Elsa,Bandit, Sheena


Winner!

VS
02/11
724 votes
rachel and blackie


Winner!

VS
02/10
697 votes
Anubis


Winner!

VS
02/09
738 votes
Belle


Winner!

VS
02/08
700 votes
Tah-ko and Fonzy


Winner!

VS
02/05
722 votes
Tah-ko and Fonzy


Winner!

VS
02/04
657 votes
Rachel and Cernousek


Winner!

VS
02/03
559 votes
Katy the Church Cat


Winner!

VS
02/02
637 votes
Bellatrix


Winner!

VS
02/01
845 votes
uska,cernil,lova,rachel,cernobila,slepka,seda,hlavka


Winner!

VS
01/29
887 votes
uska,cernil,lova,rachel,cernobila,slepka,seda,hlavka


Winner!

VS
01/28
865 votes
mimi


Winner!

VS
01/27
658 votes
Cornflake


Winner!

VS
01/26
616 votes
Oscar


Winner!

VS
01/25
858 votes
Gypsy


Winner!

VS
01/22
1044 votes
Gypsy


Winner!

VS
01/21
747 votes
Pruzak


Winner!

VS
01/20
votes
Pruzak VS
01/20
801 votes
gizmo


Winner!

VS
01/19
791 votes
Sheena


Winner!

VS
01/18
1000 votes
Bailey


Winner!

VS
01/15
880 votes
Gypsy Girl


Winner!

VS
01/14
1026 votes
Bailey


Winner!

VS
01/13
754 votes
Samantha


Winner!

VS
01/12
872 votes
astro and louie the wciu weather tortoise of 2011


Winner!

VS
01/11
671 votes
Nibbler


Winner!

VS
01/08
896 votes
Bailey


Winner!

VS
01/07
1092 votes
Nibbler


Winner!

VS
01/06
955 votes
mimi


Winner!

VS
01/05
1001 votes
murphy


Winner!

VS
01/04
660 votes
Jasper


Winner!

VS
01/01
827 votes
Hope


Winner!

VS
12/31
903 votes
uska


Winner!

VS
12/30
1039 votes
Jasper


Winner!

VS
12/29
673 votes
Brichac


Winner!

VS
12/28
697 votes
Hlavka


Winner!

VS
12/25
951 votes
Hlavka


Winner!

VS
12/24
749 votes
"Fuzz-Duster"


Winner!

VS
12/23
883 votes
"Corduroy"


Winner!

VS
12/22
511 votes
Orange Juice


Winner!

VS
12/21
932 votes
Bug


Winner!

VS
12/18
748 votes
Brichac


Winner!

VS
12/17
547 votes
Oscar


Winner!

VS
12/16
759 votes
Bug


Winner!

VS
12/15
518 votes
Fonzy


Winner!

VS
12/14
1056 votes
Cornflake


Winner!

VS
12/11
858 votes
Arouraborealis or "Bori-Alice"


Winner!

VS
12/10
651 votes
Oscar


Winner!

VS
12/09
1066 votes
Cornflake


Winner!

VS
12/08
946 votes
Uska


Winner!

VS
12/07
772 votes
Cori


Winner!

VS
12/04
1126 votes
Cori


Winner!

VS
12/03
1001 votes
Cernil


Winner!

VS
12/02
1060 votes
Pumpkin


Winner!

VS
12/01
638 votes
Marlee


Winner!

VS
11/30
1155 votes
Pepper


Winner!

VS
11/27
420 votes
Oscar


Winner!

VS
11/25
972 votes
Pepper


Winner!

VS
11/24
866 votes
Cossette


Winner!

VS
11/23
742 votes
Bandit


Winner!

VS
11/20
votes
Bandit VS
11/20
780 votes
Tah-ko Grande


Winner!

VS
11/19
884 votes
Laceypeca


Winner!

VS
11/18
874 votes
casper


Winner!

VS
11/17
1384 votes
Bandit


Winner!

VS
11/16
1329 votes
Bailey


Winner!

VS
11/13
762 votes
Fonzy


Winner!

VS
11/12
1110 votes
Simba


Winner!

VS
11/11
1120 votes
Bailey


Winner!

VS
11/10
1054 votes
Season


Winner!

VS
11/09
1067 votes
Skyler


Winner!

VS
11/06
609 votes
Oscar


Winner!

VS
11/05
772 votes
Francine


Winner!

VS
11/04
830 votes
Skyler


Winner!

VS
11/03
651 votes
Monet


Winner!

VS
11/02
718 votes
Shadow & Amber


Winner!

VS
10/30
664 votes
Anubis


Winner!

VS
10/29
880 votes
Shadow & Amber


Winner!

VS
10/28
858 votes
Autumn


Winner!

VS
10/27
739 votes
Tyrion


Winner!

VS
10/26
725 votes
Sammy & Shadow


Winner!

VS
10/23
794 votes
Sammy & Shadow


Winner!

VS
10/22
776 votes
"Duma"


Winner!

VS
10/21
725 votes
Morty


Winner!

VS
10/20
806 votes
Fonzy


Winner!

VS
10/16
1068 votes
Io


Winner!

VS
10/15
1106 votes
Fonzy


Winner!

VS
10/14
897 votes
Cheyanne


Winner!

VS
10/13
665 votes
Cole


Winner!

VS
10/12
759 votes
Samantha


Winner!

VS
10/09
949 votes
Samantha


Winner!

VS
10/08
627 votes
Syruss


Winner!

VS
10/07
847 votes
Molly Pye


Winner!

VS
10/06
904 votes
Samantha


Winner!

VS
10/05
800 votes
Edgar


Winner!

VS
10/02
1022 votes
Desi


Winner!

VS
10/01
947 votes
Kevin and Devon


Winner!

VS
09/30
1057 votes
Edgar


Winner!

VS
09/29
915 votes
Jimmy


Winner!

VS
09/28
1038 votes
Lily-Paloma


Winner!

VS
09/25
1151 votes
Lily-Paloma


Winner!

VS
09/24
1044 votes
Beebs


Winner!

VS
09/23
937 votes
Oscar


Winner!

VS
09/22
869 votes
King Skeeter


Winner!

VS
09/21
1089 votes
Blind Pepe


Winner!

VS
09/18
1194 votes
Blind Pepe


Winner!

VS
09/17
1072 votes
Biscuit


Winner!

VS
09/16
662 votes
missy


Winner!

VS
09/15
724 votes
Pye


Winner!

VS
09/14
719 votes
Okeechobbie


Winner!

VS
09/11
923 votes
Robin


Winner!

VS
09/10
1031 votes
Aladdin


Winner!

VS
09/09
1104 votes
Okeechobbie


Winner!

VS
09/08
893 votes
Nibbler


Winner!

VS
09/07
893 votes
Max


Winner!

VS
09/04
1 votes
Oscar


Winner!

VS
09/03
1218 votes
Max


Winner!

VS
09/02
936 votes
"Flower"


Winner!

VS
09/01
633 votes
Cornflake


Winner!

VS
08/31
1008 votes
Jimmy


Winner!

VS
08/28
898 votes
Guinness


Winner!

VS
08/27
1039 votes
"Flower"


Winner!

VS
08/26
865 votes
Gypsy


Winner!

VS
08/25
1123 votes
Jimmy


Winner!

VS
08/24
870 votes
Addy


Winner!

VS
08/21
764 votes
Bali


Winner!

VS
08/20
840 votes
Molly


Winner!

VS
08/19
votes
Laceypeca VS
08/19
946 votes
Addy


Winner!

VS
08/18
719 votes
Mushy


Winner!

VS
08/17
866 votes
Buddy


Winner!

VS
08/14
839 votes
Salem


Winner!

VS
08/13
742 votes
Missy and Boo


Winner!

VS
08/12
1069 votes
Buddy


Winner!

VS
08/11
654 votes
Furby


Winner!

VS
08/10
959 votes
Samurai Jack


Winner!

VS
08/07
985 votes
Samantha


Winner!

VS
08/06
955 votes
Sophia


Winner!

VS
08/05
1079 votes
Samurai Jack


Winner!

VS
08/04
792 votes
Harry and Jaffa


Winner!

VS
08/03
952 votes
Queen Chiquita


Winner!

VS
07/31
1085 votes
Cori


Winner!

VS
07/30
1124 votes
Queen Chiquita


Winner!

VS
07/29
925 votes
Salem


Winner!

VS
07/28
875 votes
Tah-ko Grande


Winner!

VS
07/27
1264 votes
Mister Tibbs


Winner!

VS
07/24
928 votes
Boo


Winner!

VS
07/23
1072 votes
Tah-ko and Fonzy


Winner!

VS
07/22
votes
Boo VS
07/21
1181 votes
Mister Tibbs


Winner!

VS
07/20
1144 votes
Tricky Treat


Winner!

VS
07/17
993 votes
Boo


Winner!

VS
07/16
1018 votes
Oreo


Winner!

VS
07/15
927 votes
Chiquita


Winner!

VS
07/14
1322 votes
Tricky Treat


Winner!

VS
07/13
1361 votes
Calvin


Winner!

VS
07/10
857 votes
Sophia


Winner!

VS
07/09
945 votes
Patches


Winner!

VS
07/08
969 votes
Buddy


Winner!

VS
07/07
976 votes
Calvin


Winner!

VS
07/06
1256 votes
Kevin and Devon


Winner!

VS
07/03
1157 votes
Yeller


Winner!

VS
07/02
1136 votes
Midnight


Winner!

VS
07/01
1229 votes
Kevin and Devon


Winner!

VS
06/30
959 votes
Morty


Winner!

VS
06/29
1013 votes
Scally-Wags


Winner!

VS
06/26
1003 votes
Scally-Wags


Winner!

VS
06/25
925 votes
Scott


Winner!

VS
06/24
961 votes
MEOW


Winner!

VS
06/23
997 votes
Fonzy


Winner!

VS
06/22
1025 votes
Thackery Binx


Winner!

VS
06/19
1023 votes
Rachael Rae


Winner!

VS
06/18
1064 votes
"Flower"


Winner!

VS
06/17
1056 votes
"Duma"


Winner!

VS
06/16
1118 votes
Thackery Binx


Winner!

VS
06/15
1114 votes
Bali Blue Eyes


Winner!

VS
06/12
1001 votes
Douglas


Winner!

VS
06/11
1049 votes
Bali Blue Eyes


Winner!

VS
06/10
968 votes
Samantha


Winner!

VS
06/09
750 votes
Fonzy


Winner!

VS
06/08
976 votes
Ginger


Winner!

VS
06/05
1157 votes
Ginger


Winner!

VS
06/04
1071 votes
Samantha


Winner!

VS
06/03
1105 votes
Kitty


Winner!

VS
06/02
1039 votes
Shadow


Winner!

VS
06/01
1513 votes
Astro (With Louie)


Winner!

VS
05/29
1365 votes
Astro (With Louie)


Winner!

VS
05/28
1224 votes
CORNFLAKE


Winner!

VS
05/27
1254 votes
Shadow


Winner!

VS
05/26
935 votes
Skittles


Winner!

VS
05/25
1726 votes
Oscar


Winner!

VS
05/22
1438 votes
Oscar


Winner!

VS
05/21
1058 votes
Tabitha


Winner!

VS
05/20
1115 votes
Maggie Meme


Winner!

VS
05/19
1295 votes
Rusty


Winner!

VS
05/18
1096 votes
Ferdinand


Winner!

VS
05/15
1090 votes
Binkus


Winner!

VS
05/14
1223 votes
Yeller


Winner!

VS
05/13
1492 votes
Ferdinand


Winner!

VS
05/12
880 votes
Whiskers


Winner!

VS
05/11
746 votes
Oscar


Winner!

VS
05/08
736 votes
Astro


Winner!

VS
05/07
805 votes
Samantha


Winner!

VS
05/06
1064 votes
Oscar


Winner!

VS
05/05
947 votes
Winkie


Winner!

VS
05/04
1387 votes
betsy


Winner!

VS
05/01
1250 votes
Jaspurr


Winner!

VS
04/30
1355 votes
Bailey


Winner!

VS
04/29
1361 votes
betsy


Winner!

VS
04/28
1009 votes
TommyLee


Winner!

VS
04/27
2054 votes
Thomas


Winner!

VS
04/24
1129 votes
Tabitha


Winner!

VS
04/23
1289 votes
Dusty


Winner!

VS
04/22
1426 votes
Thomas


Winner!

VS
04/21
1254 votes
Phoebe VS
04/20
692 votes
Samantha


Winner!

VS
04/17
731 votes
Dusty


Winner!

VS
04/16
734 votes
Angel


Winner!

VS
04/15
755 votes
Samantha


Winner!

VS
04/14
678 votes
Ferdinand


Winner!

VS
04/13
807 votes
Spock


Winner!

VS
04/10
847 votes
Spock


Winner!

VS
04/09
829 votes
Mordecai


Winner!

VS
04/08
771 votes
Fonty


Winner!

VS
04/07
739 votes
Oscar


Winner!

VS
04/06
802 votes
Willow


Winner!

VS
04/03
686 votes
Sexy Lexy


Winner!

VS
04/02
655 votes
Sonny


Winner!

VS
04/01
839 votes
Willow


Winner!

VS
03/31
765 votes
Spot Toffelees


Winner!

VS
03/30
1154 votes
Bastet


Winner!

VS
03/27
900 votes
Bastet


Winner!

VS
03/26
784 votes
Samantha


Winner!

VS
03/25
878 votes
Bailey


Winner!

VS
03/24
855 votes
Max


Winner!

VS
03/23
758 votes
Callieann Kiwi


Winner!

VS
03/20
760 votes
Astro


Winner!

VS
03/19
776 votes
Scout


Winner!

VS
03/18
783 votes
Nevaeh Starr


Winner!

VS
03/17
794 votes
Callieann Kiwi


Winner!

VS
03/16
777 votes
Darwin


Winner!

VS
03/13
745 votes
Dolce (a.k.a.) Pipsie


Winner!

VS
03/12
817 votes
CASPER


Winner!

VS
03/11
891 votes
Darwin


Winner!

VS
03/10
544 votes
Mushy


Winner!

VS
03/09
662 votes
Belle


Winner!

VS
03/06
723 votes
Belle


Winner!

VS
03/05
677 votes
Samantha


Winner!

VS
03/04
713 votes
tiffany rose


Winner!

VS
03/03
620 votes
CheChe a.k.a Che Monster


Winner!

VS
03/02
992 votes
Roo


Winner!

VS
02/27
801 votes
jabbers


Winner!

VS
02/26
822 votes
coco


Winner!

VS
02/25
1098 votes
Roo


Winner!

VS
02/24
735 votes
Amber Lynn


Winner!

VS
02/23
751 votes
Nala Haylee


Winner!

VS
02/20
850 votes
Nala Haylee


Winner!

VS
02/19
809 votes
Chessie


Winner!

VS
02/18
709 votes
Oakley


Winner!

VS
02/17
736 votes
Max


Winner!

VS
02/16
1024 votes
Oscar


Winner!

VS
02/13
836 votes
Oscar


Winner!

VS
02/12
801 votes
Samantha


Winner!

VS
02/11
737 votes
Molly


Winner!

VS
02/10
664 votes
Kimba


Winner!

VS
02/09
758 votes
Oscar


Winner!

VS
02/06
897 votes
Oscar


Winner!

VS
02/05
794 votes
Belle


Winner!

VS
02/04
810 votes
G.G. Kitty Girl


Winner!

VS
02/03
670 votes
Stewy Jordan


Winner!

VS
02/02
715 votes
garfield


Winner!

VS
01/30
830 votes
garfield


Winner!

VS
01/29
802 votes
Princess


Winner!

VS
01/28
792 votes
ziggy


Winner!

VS
01/27
779 votes
Bailey


Winner!

VS
01/26
874 votes
Charlotte


Winner!

VS
01/23
772 votes
Danny


Winner!

VS
01/22
719 votes
Cooter


Winner!

VS
01/21
825 votes
Shadow and Sammy


Winner!

VS
01/20
837 votes
Charlotte


Winner!

VS
01/19
881 votes
Stinky


Winner!

VS
01/16
757 votes
Stinky


Winner!

VS
01/15
581 votes
Boots


Winner!

VS
01/14
687 votes
Cece


Winner!

VS
01/13
533 votes
Perky


Winner!

VS
01/12
747 votes
Pia


Winner!

VS
01/09
1071 votes
Pia


Winner!

VS
01/08
667 votes
Liberty


Winner!

VS
01/07
562 votes
Kionia


Winner!

VS
01/06
534 votes
astro


Winner!

VS
01/05
1255 votes
Safari


Winner!

VS
01/02
589 votes
G.G. Kitty Girl


Winner!

VS
01/01
531 votes
Hannah & BobbySue


Winner!

VS
12/31
538 votes
Wessie


Winner!

VS
12/30
1148 votes
Safari


Winner!

VS
12/29
473 votes
Pye


Winner!

VS
12/26
339 votes
Baby


Winner!

VS
12/25
453 votes
G.G. Kitty Girl


Winner!

VS
12/24
563 votes
Buddy


Winner!

VS
12/23
653 votes
Pye


Winner!

VS
12/22
521 votes
Tigger B


Winner!

VS
12/19
508 votes
Collin


Winner!

VS
12/18
471 votes
Molly


Winner!

VS
12/17
516 votes
Tigger B


Winner!

VS
12/16
499 votes
Doodle


Winner!

VS
12/15
668 votes
Jeffrey


Winner!

VS
12/12
553 votes
Jeffrey


Winner!

VS
12/11
501 votes
Missy


Winner!

VS
12/10
490 votes
Ginsu


Winner!

VS
12/09
490 votes
Ferdinand


Winner!

VS
12/08
581 votes
Mordecai


Winner!

VS
12/05
502 votes
Spock


Winner!

VS
12/04
523 votes
Mordecai


Winner!

VS
12/03
300 votes
Saki


Winner!

VS
12/02
401 votes
Mushy


Winner!

VS
12/01
1200 votes
Magic


Winner!

VS
11/28
353 votes
Yeller


Winner!

VS
11/27
347 votes
Astro


Winner!

VS
11/26
412 votes
Percy


Winner!

VS
11/25
444 votes
Magic VS
11/24
446 votes
Nigel


Winner!

VS
11/21
324 votes
Yumi


Winner!

VS
11/20
398 votes
Nigel


Winner!

VS
11/19
397 votes
Fred


Winner!

VS
11/18
3 votes
Bishop VS
11/17
4403 votes
07/13
Bella
4126 votes
07/21
Levi
3508 votes
07/28
Jack
714 votes
02/23
Rosco
444 votes
02/16
Shadow
441 votes
02/08
Max
29301 votes
Jill Breese Kempf
22348 votes
Michaela
17954 votes
PR_Lady_51
301 votes
Rosco
413 votes
Rosco
376 votes
Clapton
318 votes
Chocolate
258 votes
Jax
182 votes
Shadow
262 votes
Shadow
211 votes
Morton
141 votes
Bah Humbug
163 votes
Freeway
164 votes
Max
154 votes
Buzz
277 votes
Max
202 votes
Chewey
183 votes
Whiskers
160 votes
Rocky
225 votes
Rocky
138 votes
Mandy
187 votes
Tundra
147 votes
Tigger
133 votes
Max
158 votes
Tigger
268 votes
Cooper
269 votes
Bobby
279 votes
Max
207 votes
Marty
249 votes
Marty
218 votes
GiGi
222 votes
Jake
226 votes
Nellie
175 votes
Twix
177 votes
Tigger
200 votes
Jackie
247 votes
Twix
187 votes
Baked Potato
128 votes
Tonta
196 votes
Taz
194 votes
Hazel
244 votes
Tonta
219 votes
Nixon
173 votes
Rosa
219 votes
Rosa
193 votes
Hawk
185 votes
Rollo
174 votes
Gabriel
172 votes
Nadine
175 votes
Al Fresco
204 votes
Nadine
196 votes
Butterfree
154 votes
Romo
222 votes
Bootsie
241 votes
Peter
363 votes
Bootsie
222 votes
Lux
189 votes
Buster
205 votes
Willow
229 votes
Sassy
309 votes
Willow
266 votes
Blanca
152 votes
Frannie
253 votes
Patch
281 votes
Harmony
303 votes
Milly
308 votes
Patch
212 votes
Missy
238 votes
Mindee
186 votes
Finley
180 votes
Murray
255 votes
Mindee
182 votes
Marty
295 votes
Buddy
264 votes
Pepper
244 votes
Leo
260 votes
Coco
264 votes
Buddy
212 votes
Pepper
270 votes
Finley
274 votes
Pepper
222 votes
Luigi
250 votes
Leo
230 votes
Sgt. Pepper
268 votes
Missy
408 votes
Sgt. Pepper
295 votes
Rocky
204 votes
Zsa Zsa
251 votes
Sadie Benzzz
247 votes
Lou
320 votes
Sadie Benzzz
240 votes
Snickers
205 votes
Milo
265 votes
Brady
256 votes
Pookie
258 votes
Percy
310 votes
Brady
234 votes
Oscar
268 votes
Petey
278 votes
Little Morrie. And Kelev
344 votes
Petey
257 votes
Flea
265 votes
Cindy Lou
232 votes
Will
272 votes
Speckles
272 votes
Sapper
286 votes
Will
219 votes
Mommie
274 votes
Nala
313 votes
fella
322 votes
Fritz
334 votes
Nala
321 votes
Jimbo
291 votes
Valo
285 votes
Missy and Louie
316 votes
Valo
257 votes
Henry
262 votes
BenJen
381 votes
Jewel
324 votes
Lola
335 votes
Jewel
249 votes
Toto
291 votes
Maverick
309 votes