T.D. Jakes premieres September 12 on The U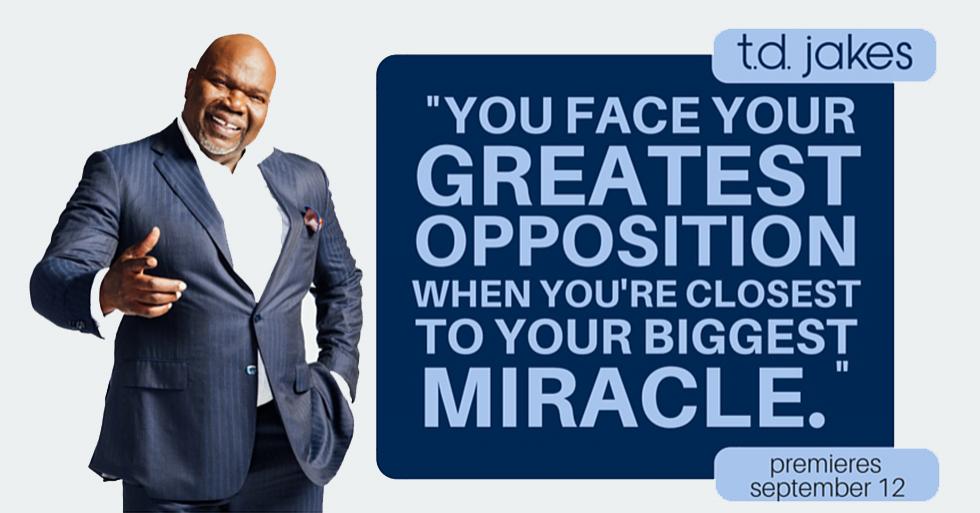 You've heard of Bishop T.D. Jakes. You know the contributions of The Potter's House. You embrace his presence and respect his message. On September 12th, you can welcome Bishop Jakes into your home with his brand-new, syndicated talk show called simply T.D. JAKES.
T.D. JAKES will feature personal stories and honest conversations with celebrity and non-celebrity guests, alongside the signature wisdom and insight that only Bishop Jakes can bring. Filled with his powerful authenticity, T.D. JAKES will deliver powerful interviews that will motivate you each and every day. Every show will carry his uplifting spirit and entertaining wit. It will be one moment that will change the rest.
Bishop Jakes is the right man at the right time to have a daily conversation with America. He is a voice of unity, a voice of the human spirit and a voice of HOPE. As Americans attempt to talk in a new way, an open way, a way we've never talked before, let Mr. Jakes guide us all through that dialogue with grace, openness and humor.
Bishop Jakes is a prominent, prolific and highly respected Dallas-based pastor, entrepreneur, author and businessman, whose reach extends far beyond the pulpit of his 30,000-member church and humanitarian organization, The Potter's House. His online presence includes 11 million social media followers across Facebook, Twitter and Instagram, with nearly three million listeners tuning in each week through radio syndication.
He is a best-selling author of more than 40 books, including his latest Destiny, which debuted in the top ten on The New York Times Bestseller List in August 2015, and his bestseller Instinct, which continues to resonate with readers around the world. He has produced Grammy Award winning music and several feature films including the recent box office hit "Miracles from Heaven," starring Jennifer Garner, which has topped $60 million in domestic sales and eight million internationally; as well as "Sparkle," "Jumping the Broom," and others.
Additionally, T.D. Jakes has advised the last three U.S. Presidents, was a featured speaker at the historic 2009 Inauguration of President Barack Obama and gave remarks at the 2011 White House Easter Prayer Breakfast and the funeral of Whitney Houston in 2012. He is a frequent commentator for the media including CBS This Morning, the TODAY Show, CNN, MSNBC and The Fox News Channel. Called "America's Treasure" by Oprah Winfrey, he is a welcomed guest on OWN's Oprah's Next Chapter, Lifeclass and Super Soul Sunday. He is a trusted advisor to Dr. Phil and serves on the advisory boards for the Soledad O'Brien + Brad Raymond Foundation and for prolific producers Mark Burnett and Roma Downey. T.D. Jakes participates in op-ed articles for Time Magazine, CNN.com, The Washington Post, The Huffington Post, Inc. and Bloomberg/BusinessWEEK, and pens his own columns for ESSENCE Magazine and others.
T.D. JAKES will air weekdays on local television stations all across the country. Visit Facebook.com/TDJakesShow to learn more and find out when his show will be on in your hometown. You can also participate in the show online and in social media. As Bishop Jakes says, this is everyone's opportunity to "Join the Village"!
T.D. JAKES will enrich your life. And we can't wait to hear how it has!