John O'Hurley Takes 5 With The U
John O'Hurley was in town last week on tour with the musical, Chicago. We had a chance to Take 5 with him to chat about everything from his relationship with the real J. Peterman and his favorite Chicago restaurant.



WCIU: How did your character on Seinfeld and the real J. Peterman become friends and business partners?
JO: Well, we did. The parody of the Seinfeld version of John Peterman was done without permission; that's the way Seinfeld works. So, they handed me the catalog and they just said, we want him to sound the way the catalog was written, as though this is an adventure story about an oxford button down. It sounds like a Hemingway novel. So, that's how the character started off, and it sounded to me like a '40s radio drama and a little bit of a bad Charles Kuralt.
So after that, because of the arc of the character, John Peterman, the owner of the company, and I actually met on a talk show one day. We became fast friends, and I would share stories with him, wine with him, and he would send me clothing. So it was just a nice friendship all the way through the run of Seinfeld. Helped their company enormously. Then, a few years later after Seinfeld ended, they had a huge economic hiccup and they went into chapter seven.
Long story short, he called me about a year later and said we had the intellectual property of the company back again, I'd like to put the company back together again under our parallel strengths – you and me. So, since 1999 I have owned the J. Peterman catalog with the real J. Peterman. I guess you could say I liked the role so much I bought the company.
WCIU: What happens when you both are together and people scream out, "J. Peterman!"?
JO: Oh, it's hysterical. We'll finish a board meeting in New York City, and he and I will go out to lunch together. We'll be walking out on Madison Avenue and cops will roll down the windows and say, "Hey Peterman!" They're not talking to him. It's the greatest act of identity theft ever and I'm not giving it back.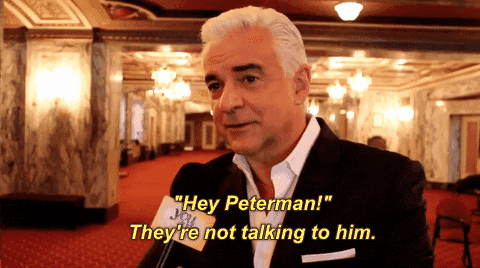 WCIU: What do you enjoy doing on your off-time when you're in Chicago?
JO: Listen, I'll tell you exactly what I do. The second I finish the show, I'm out the back door and heading over to RL restaurant, Ralph Lauren's Restaurant. I think it's my favorite restaurant in America. I'll tell you why I like it. They have the filet with a port wine reduction sauce that may be the best thing I've ever tasted. When I'm here this week, I'll have five different reservations there all week long.
Not only that, I have used this year as a special event. Each night that I'm here, I've auctioned the tickets off somewhere for a children's charity around the country. I've raised about $50,000 for the children's charities just by being here, just from doing the show and going to dinner after. I'm grateful to be able to do it, and grateful to the people who said yes, so it's going to be a lot of fun.
Watch Seinfeld on The U, weeknights and Sunday nights at 10 PM and 10:30 PM!