Interview: Larry Thomas, a.k.a. the Soup Nazi of 'Seinfeld'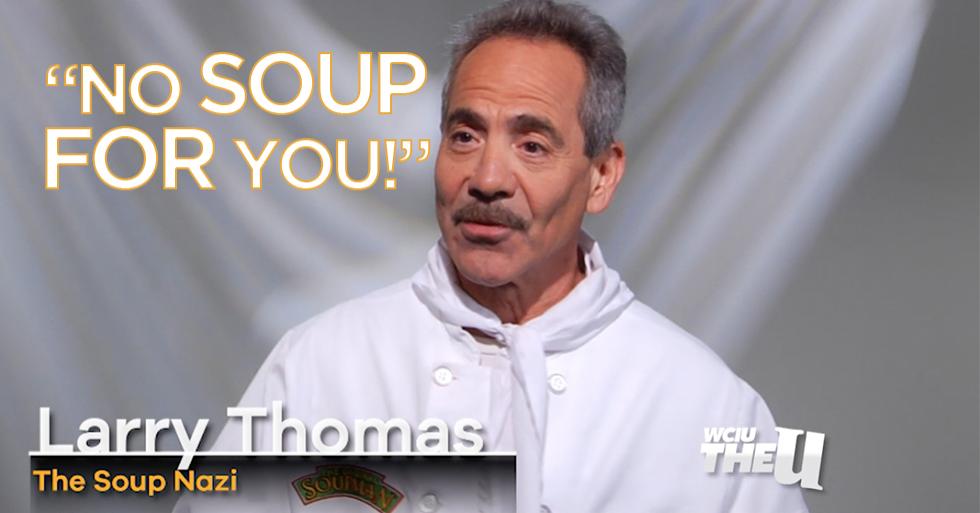 "The Soup Nazi" is one of the most memorable characters in Seinfeld history, maybe even TV history. The delivery of his line, "No soup for you," has become a classic quote and stretched far beyond that episode's premiere. The star of the 116th Seinfeld episode, Larry Thomas dropped by The U to talk about Chicago, what he's up to now and of course, that epic episode.
Larry Thomas is unquestionably a foodie. Soup is most likely his favorite, but when it comes to pizza we had to know: New York or Chicago? Thomas is from New York, so it's expected he's partial to their pizza. "I think everyone's favorite pizza is the first pizza they ever tasted."
However, he is fond of another Chicago foodie favorite. "Nobody has an Italian beef like Chicago," he proclaims. He doesn't have a favorite spot, but says he's never had a bad one in Chicago. You cut it close there, Larry.
Larry Thomas is currently a spokesman for The Original Soupman. Before the classic punchline on Seinfeld, it all started in 1984 at Al Yegeneh's legendary soup kitchen in NYC. At a place where there are constantly lines, you know the food is good. Now, these soups (for you!) are available at Al's restaurant and grocery stores. While the Lobster Bisque is Thomas' current favorite, the new Shrimp Bisque, which hits shelves in September, might take his number one spot. "It's absolutely delicious," Thomas says before admitting he loves them all.
As far as being on the set of Seinfeld, Thomas said it was "so easy." See what else he had to say below!
Watch Seinfeld weeknights at 10:30pm on WCIU, The U!