Game of the Week: Redefining rivalry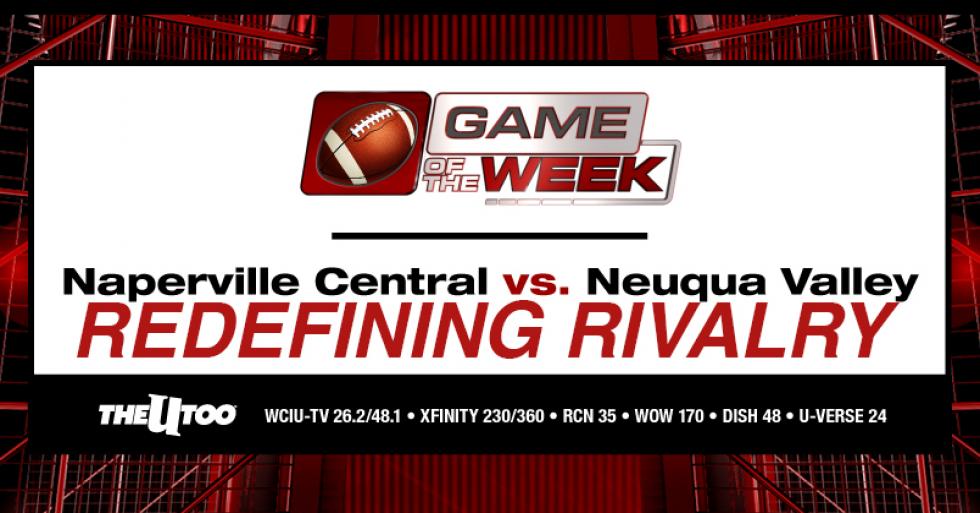 Neuqua Valley versus Naperville Central. As a fan, you walk into the stadium with certain expectations. It's five minutes until kick off, and the stadium is electric. The Friday night lights illuminate a sea of school colors: blue, gold, red, and white blur together. Two schools, one community, come together to pack the seats and cheer their teams on. You came hoping to fade into the energy that binds all fans together, regardless of your allegiance.
However, as soon as the seconds start to roll on the clock, the elements that were previously shared between the schools become the common difference. The teams fight against each other to be crowned 'winners'; the pride that previously brought them together now drives them apart in their fight to be victorious. You can see the divide occur on and off the field. The players go to their bench and the fans pick sides. The town is divided in two.
We have all heard the phrase 'cross-town rivalry'. You may even still remember your own high school nemesis with some sense of bitterness. While Neuqua Valley and Naperville Central maintain all the makings of your typical high school football rivalry, the teams have another level of competition that isn't rooted in those traditions that separate us. Naperville's 'cross town' game doesn't have that divisional moment; Neuqua and Central have more in common than just the want to win.
It's a former coach and teacher that provides the bridge between the two rivals. Tom Schlegel graduated from Naperville Central High School in 1978 and moved on to teach, as well as coach football, at Neuqua Valley. Although Mr. Schlegel passed away in 2006, his legacy of serving others continues to grow and influence students every year, especially those on the football teams.
A new tradition emerged in 2015: the winner of the NVHS vs. NCHS game would be awarded the WildHawk trophy, a blending of the respective mascots of both schools. In addition, the game would be no longer known as the 'cross-town rival', but instead the annual Tom Schlegel Memorial game.
This decision has changed the the focal point of the game. "It's way bigger than just playing Naperville Central," said Coach Bill Ellinghaus of Neuqua Valley.
While both teams want bragging rights for the year, this win will be different. For players, it's bigger than the right to say 'we won'. Tonight's win, regardless of the victor, memorializes the work and commitment of an influential teacher and community member.
Neuqua quarterback, Jack Bastable, summed up what the win would mean to the team, "There's honor in it and it's special to both schools to keep it all year."
The annual Tom Schlegel Memorial football game brings new meaning to 'crosstown classic.' It brings the community together and keeps them together despite the outcome of the game--a rarity in the world of high school sports.
Molly Frank, Sports Editor for "The Echo"
(Neuqua Valley High School)