Check out the plans for a major new development on Chicago's South Side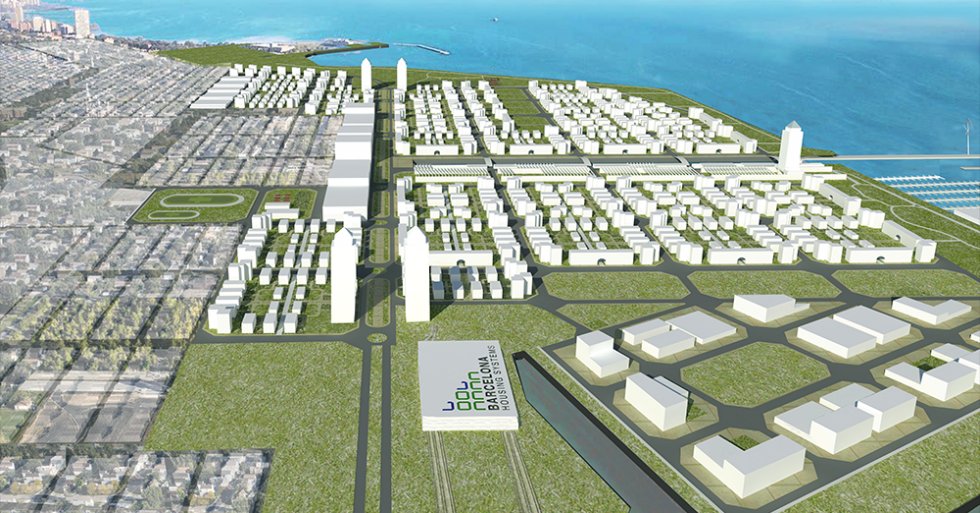 Image: Barcelona Housing Systems
A 440-acre parcel of land on Chicago's South Side is slated for a major redevelopment. The parcel of land was formerly home to the US Steel South Works manufacturing plant, which was closed in 1992. Over the past 25 years, there have been many plans to develop the land near the mouth of the Calumet River, with no success until recently. On Tuesday, August 1, Mayor Rahm Emmanuel reached a purchase agreement with Emerald Living, a green-tech development company.
"This agreement is a major milestone towards converting an unused stretch of land that represents Chicago's industrial past into a vibrant community that will contribute to Chicago's economic, cultural and recreational future," Mayor Emanuel said. "I look forward to seeing the community's dynamic vision for this site become a reality."
The project has been named the "New Southworks." Emerald Living's partner, Barcelona Housing Systems, has created a preliminary plan for a mixed-use development with 20,000 environmentally-friendly homes. There will also be opportunities for offices and commercial spaces. Visit the BHS website for more cool visions of how this development might look when completed.
There will still be quite some time before we see development on the project. The buyers and the City of Chicago have entered a 5-month due diligence period before the sale closes. There will then be an additional 5-month environmental review.