Danielle Robay talks about taking risk and the opposite side of fear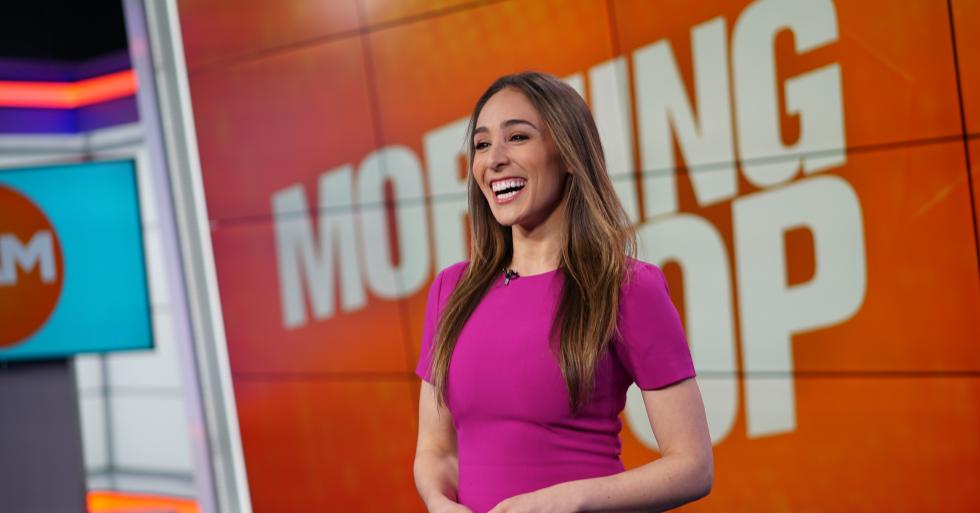 Danielle Robay keeps us up-to-date on all of the latest in pop culture. She is also a passionate millennial woman with a desire to tell compelling stories about everyday people who are making a change in the world. She chatted with us about the things that fuel her passion for life.
You give us the inside scoop about celebs in the 'Morning Pop' segment on 'The Jam' and you are a social media powerhouse. What are you doing when you are not on camera?
Besides sleeping (laughs). I actually really love my bed. I am a big believer in giving 110% to everything you do. So, when I am working, I give it my all. When I'm not working I take my time to really recharge. I need that otherwise, I can't give that 110%.
AIso, I watch a lot of political shows and I love hearing all the commentary. I think reading is the key to life. So I read a ton of books about history, politics, feminism and women's issues.
I watch Oprah videos and I study interviews like crazy. I watch Barbara Walters and Diane Sawyer and Robin Roberts. I watch people I think are great. I just try and take notes and learn from them.
Do you have a favorite book about feminism?
I have so many at home. My library looks like a shrine to feminism, with a few inspirational books and memoirs sprinkled in!
But, right now I actually just read a book called Beauty Sick. It was written by a professor at Northwestern, Dr. Renee Engeln. I was so moved by the book that I had her come in for an interview. It talked about how no matter how powerful, or smart, or amazing women are at the end of the day society makes us feel like we're only valued by our looks. The book talks about how to get out of that mindset or at least lessen it.
One thing I always find fascinating about you is that you are involved so many different areas and doing so many different things. How do you how do you go about balancing your time?
I don't necessarily believe in balance. I always think about it in terms of seasons. For me, when I took this job, I knew that this was a season to commit to work. So, you know I used to read a little more, that lessened. I used to go to more dinners with friends, that lessened.
But, I just try to really plan my weeks. On Sundays, I look at the whole week and try to schedule things out. I make sure I get in the family time, that's usually great on the weekends.
I think if I'm honest my friend time took a little bit of a hit, but I just chalk it up to a season. You know, your real friends understand that you're just grinding and you'll be back. I just think that when you're doing a lot of it's because you're passionate about it.
You mentioned "grind" and yours is off the Richter scale. How do you go about identifying opportunities and working it into your life plan? What motivates you?
Good question! Well recently, and this is sort of a tangent, I read a book called Essentialism. I was feeling overwhelmed and it really helped me determine what was the most important. I've learned to say "no" sometimes. That actually amplifies the things that you can say "yes" to. That has been hard and I still struggle with it. I want to say yes to everything. But, I have learned that you can't.
But what motivates me is something that I feel is the same thing that I've been motivated by since I was a young girl. For better or worse, I've always felt like I had so much to say (laughs). I have a ton of opinions! And also, I really want to be a good role model for young girls.
I know that sounds weird. I don't even know if I've earned the right to be a role model. But, you know growing up, people like Lindsay Lohan and Paris Hilton were glorified and those were the people that everybody was obsessed with in the media.
My body did not look like theirs and my values didn't fall in line with theirs. There was no one young that I could relate to that I felt like was a role model for me. They were all older. So I always felt like I like I wanted to be somebody that young girls could relate to, someone that was being honest, kind, and real. I want to be an advocate and an ally for women.
For example, navigating one's career is so hard and I've made many mistakes. If I can help people avoid some of those mistakes, that is so valuable! I feel fired up every morning by young girls. I think they're going to take over the world. I see like people like the Parkland students. Especially young girls like Emma González. She is doing so much to impact other people's lives.
I want to amplify that. As a journalist, I want to help tell those stories.
Outside of work, you have some other things you enjoy like travel. What are some of the places that make you happy?
I wish traveling wasn't so expensive, I would do a lot more of it (laughs). I really love Miami. I had a bunch of older relatives there growing up and so my family would go there for Thanksgiving and it became a family tradition. So that place means a lot and I have a ton of good memories there.
Also, I really love anything with historical significance. I studied abroad in Tel Aviv my junior year of college. Over spring break I traveled to Europe for three weeks and I went to a few places and stayed with friends on their couches and stuff. I loved Greek and Roman mythology and I loved Italian history.
So when I got to Rome the first thing I did was go to the Colosseum and I was like "I read this in the history books and now I'm here!" I try to integrate some touring and learning and some shopping and food when I travel (laughs).
What is something else that we can expect to see from you on 'The Jam?
I'm going to start doing more content highlighting millennials. I have a piece coming out called "18 in 18." It's all about 17-year-old people turning 18 in 2018. It highlights their incredible activism and their role in reform. I'm really excited for the piece. I have another piece about Planned Parenthood, so more social impact pieces.
With you being so young and already at a successful moment in life, what kind of advice would you give to someone who is trying to get to their "place?"
Well, one is figuring out what your 'thing' is, which can be difficult.
Mark Cuban has a great article about this. He says everyone says to follow your passion, but don't do that. Follow what you consume the most, what are you read about, think about and watch the most. That is really where your interests lie. I think that's the first piece of advice - really figuring out what that is for you and being honest with yourself about it.
Then also to not be afraid to go for it. I think we make up a lot of excuses. I still do it. I catch myself living in the fear of making a move and as long as it is an educated jump you have to leap. You can't be afraid of failure and it sounds cliche. But, all the best things happen on the other side of fear. Everything that has ever been most exciting or most valuable or most worthwhile in my life happened when I took a leap.
To see more from Danielle, watch The Jam weekdays from 6-8A!